2019 World Cup Finals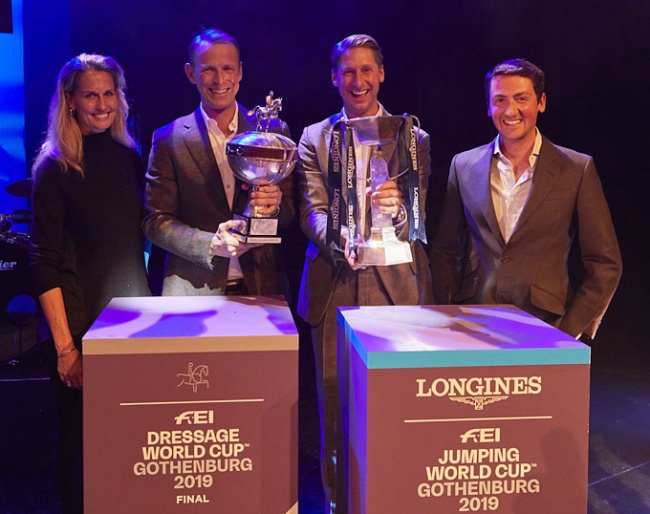 The Lorensberg Theatre in the city of Gothenburg played host in the evening on Wednesday 3 April 2019 to the draws for both the Jumping World Cup™ and Dressage World Cup™ Finals 2019 with competitors, officials and guests from all around the globe enjoying the party atmosphere. 
Now it's all-systems-go, as a total of 35 riders from 20 countries are set to battle it out over three days of Jumping, while 18 riders from 12 nations will contest the Dressage title.
Sweden's Patrik Kittel and Dominican Republic's Yvonne Losos de Muniz first pulled out the names and numbers for Friday's Dressage Grand Prix, and Kittel was delighted to slot into the no. 17 spot of the 18 starters, while Losos de Muniz will be sixth into the Scandinavium Arena. 
Going first is never any rider's choice, but Ireland's Judy Reynolds is no shrinking violet and when her name was announced as pathfinder she just muttered determinedly, "and that's where I intend to stay!" Some of the other heavy hitters didn't get their ideal slot either, Germany's Helen Langehanenberg will be first after the half-way break in tenth place while her compatriot and double defending champion Isabell Werth will be next, going 11th. Denmark's Daniel Bachmann Andersen will start in 14th place and America's Laura Graves 15th.  
Tanya Seymour will fly the South African flag and one of the interesting twists to this year's Dressage Final is the number of older horses competing. There are five 17-year-olds - Seymour's Ramoneur, Reynolds' Vancouver K, Don Auriello ridden by Sweden's Tinne Vilhelmson, Langehanenberg's Damsey FRH and Graves' Verdades who are all showing incredible form.
Facts and Figures:
Defending champion, Germany's Isabell Werth, is going for her third consecutive FEI World Cup™ Dressage title and her fifth overall.
She recorded her first victory with Fabienne in 1992 in Gothenburg (SWE), her second in Las Vegas (USA) in 2007 with Warum Nicht, and won again in Omaha (USA) in 2017 and Paris (FRA) in 2018 with Weihegold OLD.     
The first FEI World Cup™ Dressage Final was held in 's-Hertogenbosch, The Netherlands in 1986 where Denmark's Anne-Grethe Jensen and Marzog reigned supreme.
The youngest Dressage rider at this year's Final is 26-year-old Morgan Barbançon representing France. The youngest Dressage horse is the 10-year-old Rheinlander stallion Sun of May Life, ridden by Russia's Regina Isachkina. 
About the FEI World Cup™ Finals
The FEI Dressage World Cup™ Dressage and the Longines FEI Jumping World Cup™ 2019 Finals bring together the world's top horses and riders at the Scandanavium Arena, Gothenburg (SWE). Qualified from leagues right across the globe, Olympic, World and European champions are amongst the representatives from 24 countries hoping to claim the prestigious titles in front of 60,000 fans.
The Draw for the Grand Prix
1. 13:00 Vancouver K - Judy Reynolds
2. 13:09 Coroado - Maria Caetano
3. 13:18 Don Auriello-  Tinne Vilhelmson Silfvén
4. 13:27 Ramoneur -  Tanya Seymour
5. 13:36 Sandro D Amour - Olga Safronova
6. 13:45 Aquamarijn - Yvonne Losos de Muñiz
7. 13:54 Dream Boy - Hans Peter Minderhoud
8. 14:03 Sir Donnerhall II OLD - Morgan Barbançon
9. 14:12 Goerklintgaards Dublet - Kasey Perry-Glass
10. 14:43 Damsey FRH - Helen Langehanenberg
11. 14:52 Weihegold OLD -  Isabell Werth
12. 15:01 Sun of may life - Regina Isachkina
13. 15:10 Salvino - Adrienne Lyle
14. 15:19 Blue Hors Zack - Daniel Bachmann Andersen
15. 15:28 Verdades - Laura Graves
16. 15:37 Daily Mirror - Benjamin Werndl
17. 15:46 Delaunay OLD  - Patrik Kittel
18. 15:55 Apache - Emmelie Scholtens
Text by Louise Parkes
Related Link
Eurodressage coverage of the 2019 World Cup Final