FEI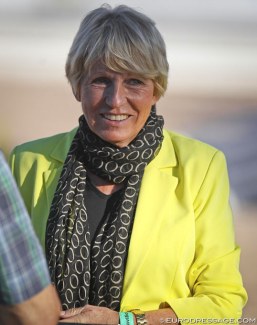 The FEI Dressage Committee has appointed the ground jury that will be officiating at the 2020 Olympic Games in Tokyo, Japan, on 23 - 29 July 2020.
As there is no Japanese 5* dressage judge a president of the ground jury from a different country has been appointed. Experienced German judge Katrina Wust has been honoured with this prestigious role. 
She will be joined by Andrew Gardner (GBR), Francis Verbeek (NED), Hans-Christian Matthiesen (DEN), Janet Foy (USA), Susie Hoevenaars (AUS), and Magnus Ringmark (SWE).
The FEI Delegate is Mary Seefried (AUS). The chief dressage steward is Jacques van Daele (BEL).
The veterinary commission is led by Japanese Tomohiko Amaya. The FEI footing specialist is Oliver Hoberg (GER), the FEI medical officer is Peter Whitehead (GBR).
The Appeal Committee, FEI Tribunal, Dressage Supervisory Panel & Limb Sensitivity Veterinarians will be appointed by the end of 2019. 
Photo © Astrid Appels
Related Links
Ground Jury for 2016 Olympic Games in Rio Appointed
Judges' Long List for 2016 Olympic Games Announced
Stephen Clarke Appointed President of Ground Jury for 2012 Olympic Games
Ground Juries Appointed for 2012 Olympic Games and World Cup Final
London 2012 Dressage Judges' Long List Announced