Israel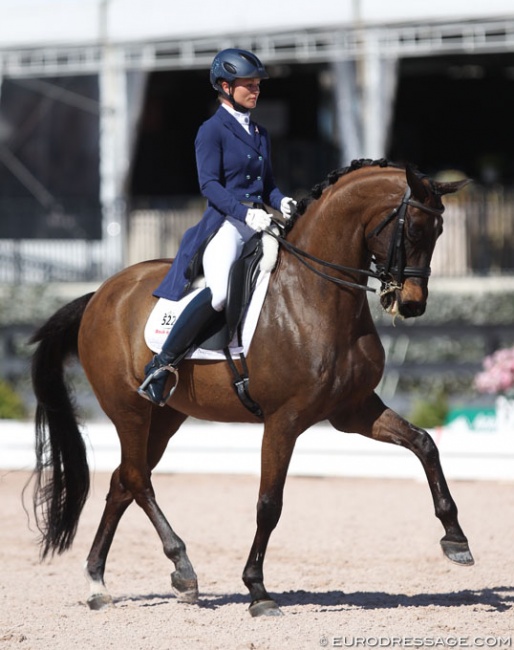 Israeli Micah Deligdish is making an attempt to qualify for the 2019 European Dressage Championships in Rotterdam and has leased Devon Kane's Destiny as her partner in crime for the endeavour. 
The American born Deligdish declared for Israel in February 2019.
The 27-year old Micah Deligdish is a new comer to the high performance dressage world. She made her international show debut at small tour level in Wellington at the beginning of March 2019 competing the 11-year old Westfalian Santos (by Stedinger x Donnerruf).
She has now leased Devon Kane's Destiny for her future ventures. 
"I have always enjoyed watching Destiny at shows and always loved the way his presence," Micah told Eurodressage. "Devon is a very quiet and elegant rider and I try to emulate that elegant style of riding. Devon knew my goals and wanted to support me, so she approached us about the opportunity. They call him the dragon because he has a lot of fire to him and has quite a presence in the arena. However, he has one of the sweetest personalities!"
Destiny is a 16-year old Danish warmblood gelding by Diamond Hit out of Midt West Regina (by Rubinstein). 
He was purchased by the Kane family in 2008 as a 5-year old and trained through the levels. In 2012 Devon and Destiny made their CDI debut at small tour level at the CDI West Palm Beach. They finished sixth at the 2011 and 2012 U.S. Developing PSG Horse Championships. They skipped CDI's in 2013 and moved to Grand Prix level in 2014 for international showing at the Global Dressage Destival. The won the Grand Prix at the 2014 U.S Dressage Finals. Their most successful season was in 2015. Devon represented the U.S.A. at the 2015 CDIO Falsterbo in Sweden. 
The horse has been on and off with some injuries and missed out on 2016 as well as on 2018, but he returned to fitness this year and competed in two CDI's in Wellington this year with Devon. 
Micah aims to make her debut on Destiny at the CDI Tryon in April. 
"And then we are going to solidify our goals for the rest of the summer," she said. "We hope to end up at Rotterdam [for the European Championships] in August. I look forward to training and competing in Europe for a bit before Rotterdam.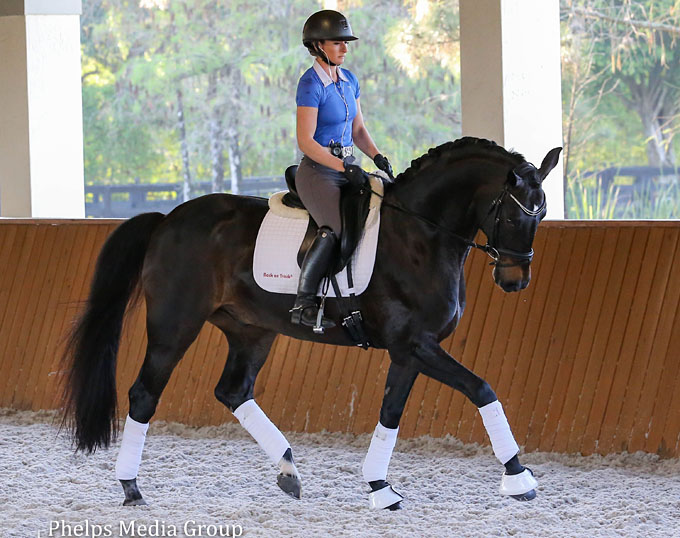 Other Israeli dressage riders currently competing at Grand Prix level are Eyal Zlatin and Sahar Hirosh, although both riders have their 2019 registration with the FEI missing.
"Eyal Zlatin has already qualified for Rotterdam which is really exciting," Micah explained. "As of now, we do not have enough riders with horses currently competing to make a Nations Cup team but I am hoping in the future that changes so we have a bigger string of dressage riders representing Israel. It has been inspiring to see the growth and strength of the Israeli show jumping team. I really admire their efforts and I am really looking forward to hopefully being a part of the development of the dressage team."
Trained by Australian Nicholas Fyffe in Wellington, Florida, Micah studied political journalism at American University in Washington DC but has decided on a career in horses and set up a business, Gemini Dressage, in Wellington. 
"I fell in love with journalism in high-school and I was always politically active. At the time, American University had one of the best journalism programs in the country and being in Washington, D.C. it was very politically inclined. When I graduated with my bachelors degree, I accepted a full-time job in DC. I had saved up enough money to start showing again after not showing dressage for a few years while I was in school. I started competing and felt like there was so much more I could accomplish in the ring that I hadn't and I wasn't satisfied having to divide my time professionally with my career. So, I decided to quit my job and take a job on a dressage farm. I gave myself a year and told myself if things went well I would keep doing it. I had a fire in my belly and I went after it."
When asked if the lease of Destiny for one season, Micah replied, "it's too soon in our partnership to put an end date on it. I am really looking forward to developing our partnership and seeing what we can accomplish together in the ring."
Photo © Astrid Appels
Related Links
Eurodressage Photo Database: Destiny
Fraser and Lyle Lead Small 5* Field at 2019 CDI Wellington
Jorst and Nintendo Win 3* Grand Prix at 2017 CDI Wellington
Swedes Soar to Home Victory at 2015 CDIO Falsterbo
First Round of Championship Titles Awarded at 2014 US Dressage Finals
Haddad Replaces Kane on U.S. Team for 2014 CDIO Rotterdam
U.S. Dressage Combinations Ready for European Competition
Scores: 2012 U.S. Young Horse Championships
Scores: 2011 U.S. Young Dressage Horse Championships