2019 CDI Wellington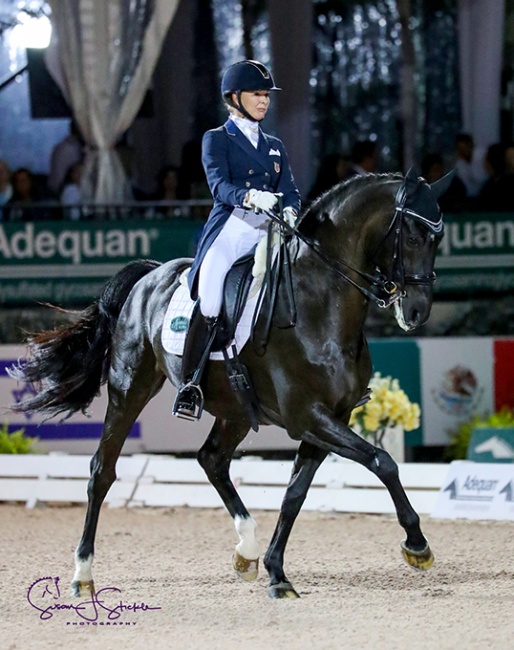 In the final "Friday Night Stars" of the 2019 Global Dressage Festival (AGDF), Katherine Bateson Chandler (USA) and Alcazar captured the win in the Grand Prix Freestyle 4* on Friday, March 29. Also competing on Friday night, Ashley Holzer (USA) and Havanna won the Grand Prix Freestyle 3*.
It was a night full of freestyle competition with two classes held under the lights with a full crowd of spectators. With the final Grand Prix Freestyle win of the season, Bateson Chandler and Alcazar, Jane Forbes Clark's 14-year-old KWPN gelding by Contango, have shown growth and potential through the circuit.
Their win tonight garnered a final score of 75.850% from the judges, a personal best for the pair.
"This is the fourth time I have done this test and the other three times I've always done something wrong," said Bateson Chandler. "I've either been off with the music or done something that was not supposed to happen. [In] this test I got a tiny bit behind my music but pretty much stayed on and I'm really happy. I have tweaked my choreography and upped the degree of difficulty a little bit, so I'm happy that now we are starting to pull it off and get the scores higher and higher each time. I'm really happy he came in today and went around and did his business.
"I'm thrilled that now he is way more confident," she continued. "He always really suffered from nerves, but I think as you grow in a partnership – I've had him a long time now – you learn to really trust each other. When you feel that trust, there's no feeling or drug in the world that can compare to an amazing ride and connection. It's something not really describable."
Second place went to Michael Klimke (GER) on Royal Dancer 33, his 13-year-old Hanoverian gelding by Royal Blend, on a score of 73.300%. His choreography was designed by Nicole Penzig.
"Time is flying, and the season is over. From the riders' point of view, we had perfect circumstances; the ground and the organization," said Klimke. "We got a lot of money today, which is also helpful in this sport. I have been here five years and for me it was more or less the most successful season from a sport point of view, and I will come back next year with three horses that are close to grand prix. I hope Royal Dancer can go [back to the] Special again because under the lights is really a challenge because he is really nervous. But tonight he handled it very well. Thank you to everyone who makes it happen."
Karen Lipp (USA) and Whitney, Kathleen Oldford's 14-year-old Hanoverian mare by White Star x Hauptstutbuch Grace, rounded out the top three with a score of 71.875% with music and choreography by Karen Robinson.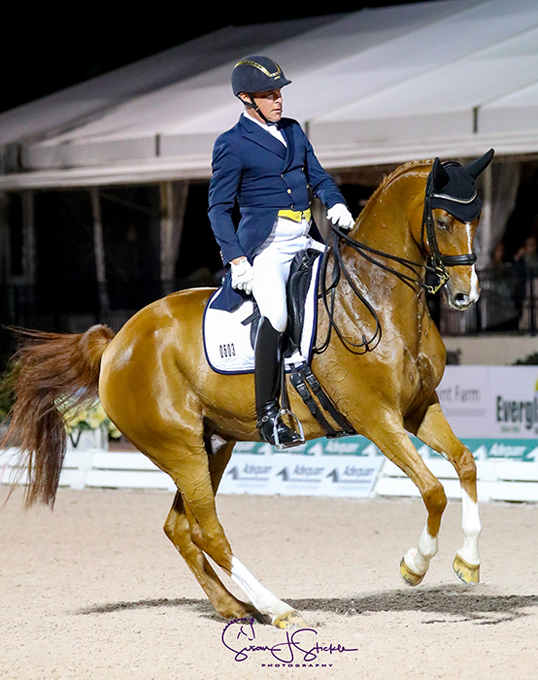 Lipp and Whitney competed at the 2018 AGDF and a CDI3* test event in Tryon, NC, in April 2018, but then did not return to the CDI show ring until the 2019 AGDF.
"I haven't really been doing the CDI ring in a really long time," said Lipp. "She's a very hot, nervous red head. I felt like this was the first time that I have gone in there and she worked with me. I stayed with my music, I didn't make a lot of mistakes, I didn't get nervous and sit there paralyzed. I liked that I actually rode the piaffe/passage tonight. I tried really hard to make it clear and crisp and did a really good job with that. She tried really hard for me, so I was happy. She gives red-headed mares a good name."
Judge at C, Jane Weatherwax, stated, "I really had a good time tonight. I thought we had really nice quality in the three-star and the four-star. I thought the music were really good choices, and I think the quality of riding is always wonderful here. The atmosphere and the organization are always fabulous, and I love coming here."
"Being a dressage rider myself, I know how incredibly difficult this sport is and for us as a real estate company, a great portion of our business comes from the equestrian world," said Scott Durkin, President and COO of Douglas Elliman Real Estate. "For me it is a passion and I am in awe of all of [the riders]. It was a great evening, and we always want the season to keep going, but when it ends and you want more, it's a great feeling. We will be here next year."
"This has been another amazing journey and there have been so many wonderful people to thank along the way, especially the riders, horses, owners, judges, and the organizers," said Allyn Mann of title sponsor Adequan®. "I really have enjoyed this season and got to see a lot of new riders. This is one of the most challenging disciplines out there, and my advice is always to enjoy the moment."
Thomas Baur, Director of Sport at AGDF, added, "There are some exciting things we are thinking about for 2020, but I would just like to say thanks to the riders, grooms, owners, sponsors, officials, my crew here in the office, the grounds crew. Thank you!"
Holzer and Havanna Return to the Arena after 8-Month Break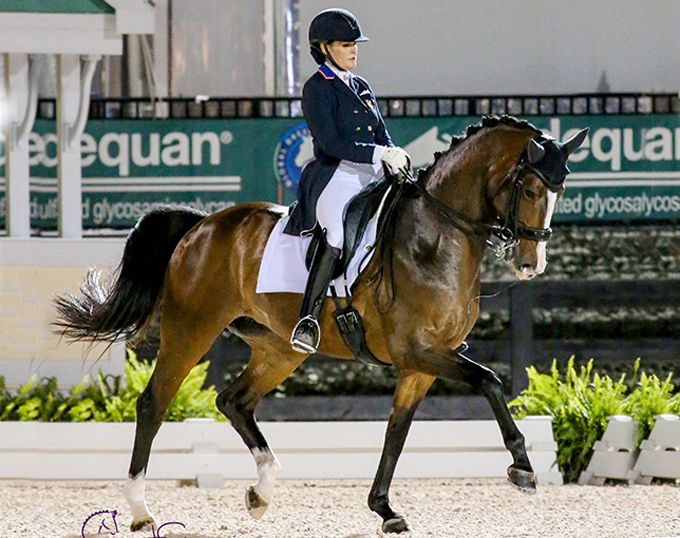 Earlier in the evening, the winner of the Grand Prix Freestyle CDI3* was Ashley Holzer riding Havanna 145, owned by Diane Fellows. Holzer and Havanna performed a high degree of difficulty test to music based around the pop hit "Havana" by Camila Cabello, with music and choreography by Tom Hunt. The judges rewarded them with a final score of 76.995%.
"[In] the end she started to really settle with the Havana music and she came to that last piaffe and really sat down and started to swing in her back," Holzer recalled. "I'm very happy that she was able to settle at the end. She started to feel really good so that was exciting. The passage half-pass felt nice for me."
Second place went to Heather Blitz (USA) riding Semper Fidelis, a 13-year-old Oldenburg mare by Sir Donnerhall owned by Rowan O'Riley. They scored 76.705%. Anna Marek (USA) and Dee Clair scored 71.650% for third place. Dee Clair is an 11-year-old DWB mare owned by Diane Morrison.
It was a nice return to the ring for Havanna, a 12-year-old Hanoverian mare by Hochadel, whose last competition was in July 2018 at the Aachen CDI4*.
"We had some medical problems after Aachen and this is the first time she's really come back from the medical problems," said Holzer. "I was hoping to get her out a little earlier in the season, but she really wasn't ready, and I didn't want to push. I'm happy I did it. My husband said it's a nice ending to a new beginning and that's exactly what it was. The [AGDF] season ended, unfortunately, but it has given her a new beginning and we can work from here and go places. She's showing that she's much stronger and fitter than I thought she was.
"This mare is an incredibly talented mare," she continued. "It's going to take a little time, but that freestyle has potential of scoring really high once she's settled and a bit more relaxed with the atmosphere."
Johnson, Rizvi and Irving Collect More Trophies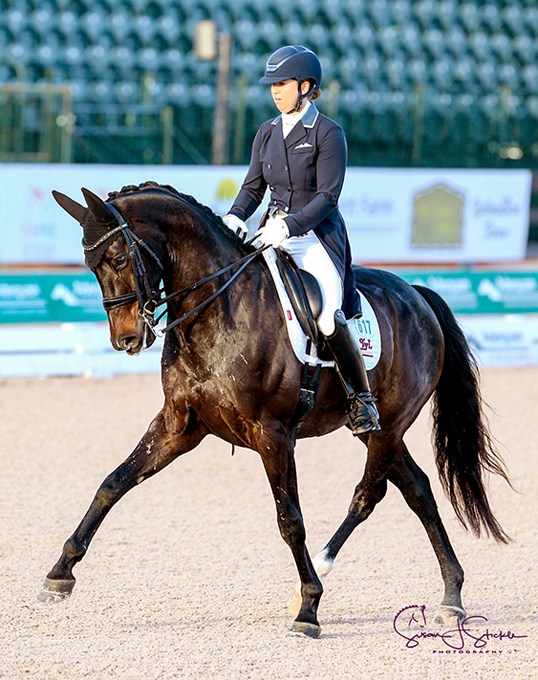 Starting out the day, Katie Johnson (USA) rode Paxton, Kylee Lourie's eight-year-old Westphalian gelding by Dante Weltino, to victory in the FEI Prix St. Georges CDI1* with a 72.402%.
P.J. Rizvi (USA) was the winner of the Grand Prix Special 3* riding her own Breaking Dawn, an 18-year-old KWPN gelding by Akribori, with a score of 70.362%.
The Grand Prix Special 4* was also held on Friday afternoon with Jill Irving (CAN) and Degas 12, her own 17-year-old Hanoverian gelding by De Niro, taking the top prize on a score of 70.511%.
- GDF Press released, edited by Eurodressage - 
Photos © Sue Stickle
Related Links
Scores: 2019 CDI Wellington
Kozel, Irving, Blitz, Kristiansen Win Their Grand Prix on Last Weekend of 2019 Global Dressage Festival