2019 CDI-W 's Hertogenbosch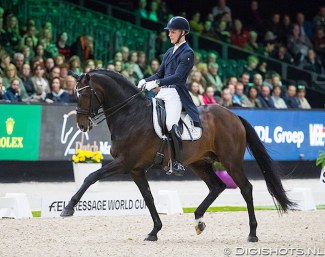 Danish star rider Daniel Bachmann Andersen is on fire at the moment. With Zack and Don Olymbrio, the Blue Hors stud head rider has been climbing the board steadily this winter indoor show season to finish all the way at the top at the 2019 CDI-W 's Hertogenbosch in The Netherlands. 
That Bachmann's star is rising has been very clear from his ever increasing scores that have gone from a 73-75% level in the Grand Prix to a consistent 74 - 78% level just over the last few months. 
Although the winter season highlight, the 2019 World Cup Finals in Gothenburg, are three weeks away, Bachmann already tasted the icing on the cake in Den Bosch, where he won three out of four rounds and placed second once.
Zack Back in Business
Daniel returned to the show scene with the 15-year old Dutch warmblood stallion Blue Hors Zack (by Rousseau x Jazz), whose last start was at the CDI Herning in October, where they won the Kur with 83.375%. A small injury sidelined the popular breeding stallion for a while, but the dark bay returned to Den Bosch with full fitness and scored 76.109% in the Grand Prix for second place and 84.890% to win the Kur, beating German strongheads Helen Langehanenberg and Isabell Werth.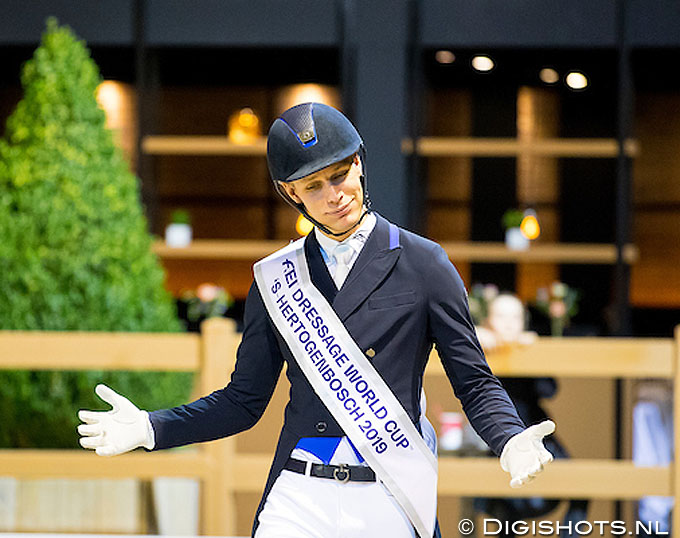 "Zack felt better than ever in den Bosch," Daniel told Eurodressage. "He has improved a lot in the suppleness and that's showing especially in the piaffe. He has not been competed for five months, but been in training all the time. He was only off for two weeks after Neumünster. He had to walk because of his hoof, which luckily recovered quickly."
Daniel qualified for the 2019 World Cup Finals in Sweden on 3 - 7 April 2019 as the fourth ranked rider on the Western European League World Cup ranking. To prepare Zack for Gothenburg, Daniel will just keep the stallion on a light training schedule.
"My preparation for Gothenburg will be very easy going, as Zack needs some light work at least one week and then we will slowly build up again," Daniel explained. "He knows he's job and he just needs to be happy and supple."
Also not to exhaust the breeding stallion too much, Zack will only begin supplying fresh semen after Gothenburg.
"It was really nice to be back in the ring with him again. He is so special to me and he is a great example that the horses doesn't have go Grand Prix, when they are eight to make it to top sport," Daniel stated."
Don Olymbrio Besting Barn Mate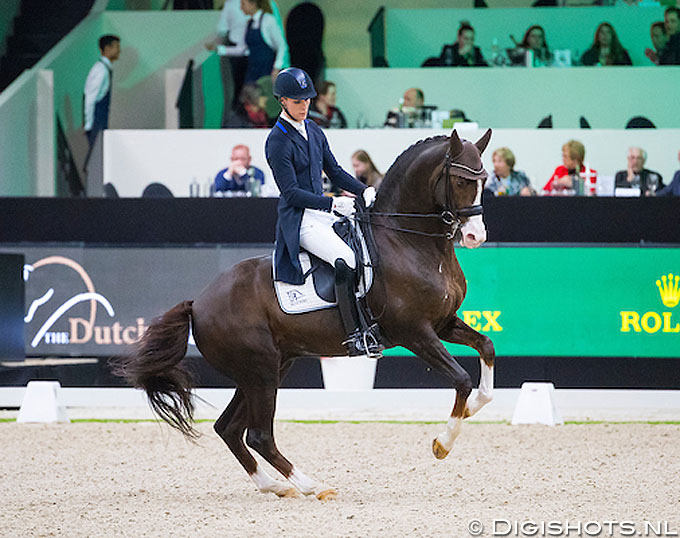 Daniel also brought along the 11-year old Dutch warmblood stallion Blue Hors Don Olymbrio (by Jazz x Ferro) to Den Bosch and swept the CDI 3* tour with 78.848% in the Grand Prix and 84.195% in the freestyle. Don Olymbrio is on the heels of stall mate Zack, lately posting even better scores than Daniel's more experienced ride Zack, who too Daniel to represent Denmark at the 2018 World Equestrian Games in Tryon, U.S.A., where they finished 17th in the Special.
"Don O is just getting stronger all the time," said Daniel. "I have to say the biggest "change" was after Amsterdam in January. He just came home so happy and full of energy after that show and he has been going better and better since. I think what I have tried to do was to ride as little and gentle as possible so that he would think it's easy to be at the show. And it works. He knows he's job he just have to be through the body and happy."
The liver chestnut has been focusing on his dressage career more than breeding as Blue Hors only offers frozen semen of Don Olymbrio at the moment. 
"In the daily work I do mostly conditioning training and transitions," said Daniel about Don O's training schedule. "He knows the exercises of the Grand Prix so well, so no need of going through them all the time."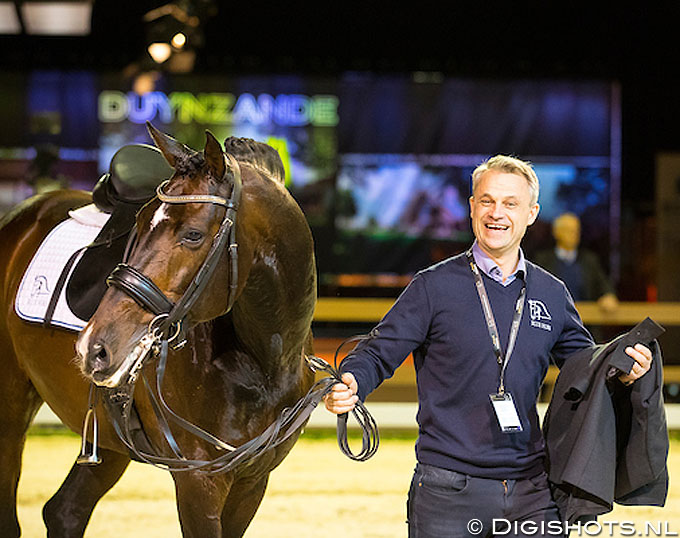 As main rider at Blue Hors stud in Randboel, Daniel is coached by American based Lars Petersen who works with the rider via video stream as well as visits the yard on a regular basis. There are more eyes on the ground assisting Daniel: Danish Grand Prix rider and trainer Ulrik Sorensen is sport director at Blue Hors and team trainer Nathalia zu Sayn-Wittgenstein is hands on where her country's top riders go.
Den Bosch was a thrilling weekend for Bachmann Andersen, who admitted he didn't expect to win but who is ambitious enough to go for that top spot. 
"I went to den Bosch with a super feeling and with the feeling that my horses are in super shape; not over worked at home, but simply ready," said Daniel. "That's the fine line you have to try and find as a rider. Of course I didn't expect to win almost everything down there, but as it happened it just feels amazing and I'm very proud and thankful of my entire team that is supporting me all the time."
Photos © Digishots
Related Links
Scores: 2019 CDI-W 's Hertogenbosch
2019 World Cup Finals Line-Up Almost Complete
Denmark's Bachmann Andersen Wins Dramatic Last Leg at 2019 CDI-W Den Bosch
Eurodressage coverage of the 2018-2019 World Cup Dressage Show Circuit