2019 CDIO Wellington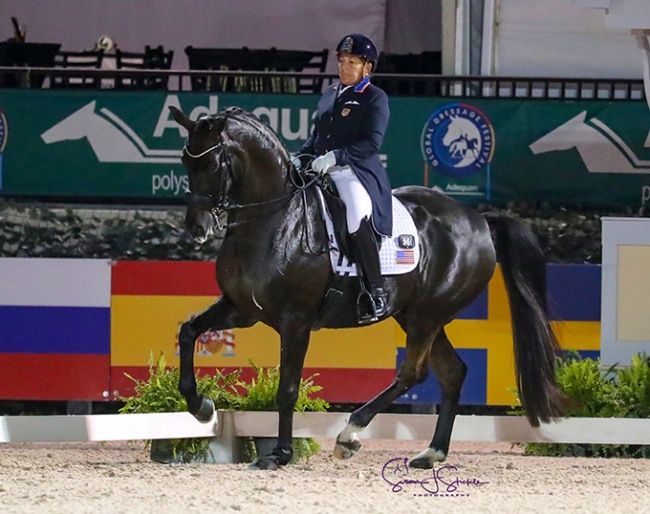 The second day of competition for the 2019 FEI Nations Cup™ CDIO 3* in Wellington, Florida, saw a victory and a gold medal for the United States team with 437.693 points. The Canadian team took silver with 433.685 points, and team Germany took the bronze with 402.724 points.
This was the second day of team competition, and the teams will be honored in their medal ceremony during the "Friday Night Stars" competition on Friday evening, March 15. 
Wellington Nations Cup with Mixed Small and Big Tour Teams
The U.S. riders secured their victory after strong performances in the FEI Intermediate 1* CDIO3* and FEI Grand Prix Special CDIO3*.
Shelly Francis (USA) and Danilo took the top spot again today in the FEI Grand Prix Special CDIO3* with a score of 71.447% after an error in her test. Francis commented, "I was really excited with Danilo with this whole show so far because he's getting more consistent. He feels awesome, and he feels more honest. I feel like it was a great show."
Francis spoke to the team aspect of the Nations Cup, "When I went off course I was like 'Oh my god, everybody is going to be mad. That's it, I just ruined the whole thing.' I was trying to make it pretty perfect and sometimes that happens. It is really fun to do a team competition."
Charlotte Jorst (USA) and Kastel's Nintendo took the second spot in the Special with a score of 71.064%. "I thought it was a tremendous experience to be here in Wellington," commented Jorst on the Nations Cup. "I was weak in the knees when I saw my teammates go in. You're more nervous for them than you would ever be for yourself, and I think it's such a fantastic opportunity for us. We're so thankful to The Dutta Corp. and to everybody for putting this together for us."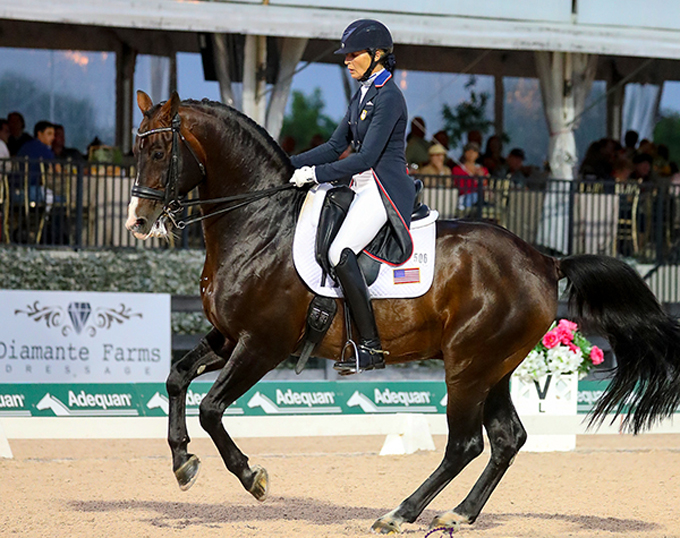 Jorst spoke to the highlight of her rides with the 16-year-old KWPN gelding by Negro x Rodieni R owned by Kastel Denmark. "The highlight for me was the learning experience from yesterday today," she said. "For me it's always having great rides and getting better at something. So yesterday I messed up my changes, and today I got better at my changes and I got my confidence back."
Ashley Holzer (USA) and Valentine, her nine-year-old Oldenburg mare by Sir Donnerhall, took the third highest score in the FEI Intermediate 1* CDIO3*. The pair rode to a 71.265%. "I'm very honored to be on the American team with these amazing riders and friends," said Holzer. "I think it's amazing to have more opportunities to ride on a team. There is a team pressure that comes on, no matter if it's a Nations Cup here in Wellington where you ride a lot.
"I do think that the more you used to get used to riding as a team you can feel a little bit more supported by your teammates, instead of feeling pressured by them," concluded Holzer.
Jennifer Baumert (USA) and Handsome, a 14-year-old Hanoverian gelding by Hochadel owned by Betsy Juliano LLC, captured the fourth-highest score in the FEI Intermediate 1* CDIO3*, a 70.941%. "I'm certainly very honored to have made the team," shared Baumert. "It feels amazing to have these three wonderful ladies here with me and to have won the gold."
Tina Irwin (CAN) rode Laurencio, her 12-year-old Oldenburg gelding, to the leading score of 73.588% in the I-1 division, which helped Canada to the silver medal. She spoke to her experience this season leading up to the Nations Cup, "The season has been full of highs and lows for me. I started off back at small tour this year after doing grand prix last year. I was a little bit rusty, so getting my feet wet and getting back into it. Then I got kicked, and thought I broke my hand. Luckily, I did not. I had entered the show two weeks ago and thought, 'I can't ride, clearly,' so I gave my husband Jaimey the ride, and he did amazing."
Irwin was able to recover in time for the Nations Cup. "Luckily I was able to get back into shape fairly quickly. I had to push through the pain a little bit, but I can't complain really. Laurencio is steady, he has temperament for a 10, he has quality, and he's so fun to ride. I feel really lucky to have a horse like him," concluded Irwin.
Patricia Koschel (GER) spoke on behalf of the bronze German team. She and Leuchtfeuer DE scored 69.088% in the I-1 division. "For me it's a really big honor to sit here with such amazing athletes," she said. "It was also a great honor to be a part of this Nations Cup team, and it's great that we have the possibility here to have a mixture of Grand Prix and Prix St Georges [riders].
"Being part of a Nations Cup team is really special, and now we have a really nice German community here [in Wellington]," continued Koschel. "I think you could see it, there were a lot of people cheering. Today I was really, really happy, a little bit over the moon."
First Place for Lauren Asher in Second Round of CDIO-U25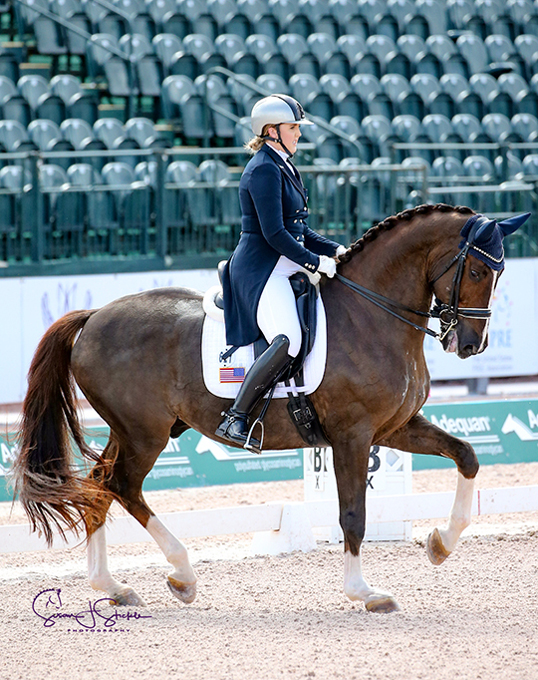 In the Short Grand Prix 16-25 CDIO-U25, Lauren Asher (USA) and West Side, a 16-year-old KWPN gelding by Florett AS owned by her own company Select Equine International, rode to a win with a score of 70.051%, taking home her second gold medal after helping her U.S. team to gold on Wednesday.
"I always try and come into a competition with an open mind," said Asher. "When you compete, you want to do your absolute best, but I never have the attitude that 'Hey, I want to be on top.'
"I don't want to put an expectation on it, I just want to have the best possible ride that I can with the horse at that moment," continued Asher. "I think it's just a compilation of things really. Being prepared, having a good setup, and the management at home. I'm really fortunate I have a super team behind me."
Naima Moreira Laliberte (CAN) and I Do Kiss took the silver medal with a score of 69.564%. "I found him, and I thought, 'I love him.' There's something in him that touches my gut feeling and my heart,'" said Laliberte of the 13-year-old Swedish warmblood stallion by French Kiss x Idonna owned by her father's Luxembourg based company KML sarl. "For me that's the most important thing when you find a partner. "
After finding the Swedish owned stallion I Do Kiss in Germany, Laliberte "went back to basics" with him and started from the ground up, bringing him up to the Grand Prix level in two years' time.
"Eventually he came together at the right time and I was like that's it, he's worth putting time and investment into," continued Laliberte. "Today it's amazing to see him go and improve like that. I'm actually really proud of him and of us."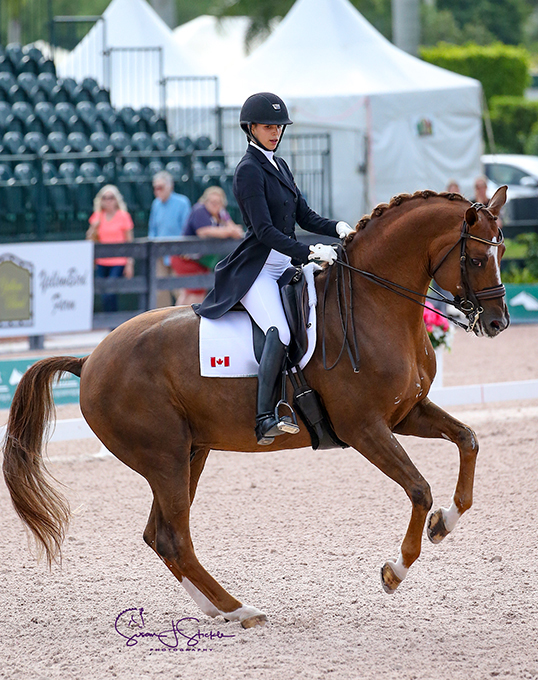 The bronze medal went to Kerrigan Gluch (USA) and Bolero CXLVIII, who rode to a score of 68.333%. "Bolero is the most honest horse that I've had the opportunity to work with yet," said Gluch of the 15-year-old P.R.E stallion by Utrerano VII x Felina XVIII owned by Hampton Green Farm. "At home, in the show ring, on the trails, anything, he's the same horse. I never have to worry that he's going to bat an eyelash.
"I think that is honestly the best thing about him, and that makes going in and doing a Grand Prix test more enjoyable. You know what you're getting, and that's super," concluded Gluch.
U25 riders will have the opportunity to ride under the lights on Friday, March 14, in the Grand Prix Freestyle CDIO-U25, where they will receive their final individual medals of the Nations Cup week.
-- GDF press release, edited by Eurodressage - Photos © Sue Stickle
Related Links
Scores: 2019 CDIO Wellington
American Under 25 Team wins Nations Cup at 2019 CDIO Wellington