2019 CDIO Wellington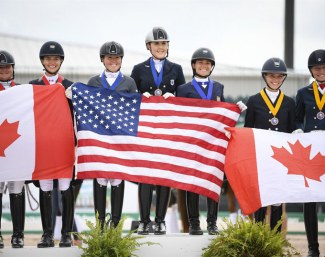 It was a banner day for the U.S. dressage teams as the FEI Nations Cup got underway at the 2019 Global Dressage (AGDF) Week 10 in Wellington, Fla. The Under 25 team secured gold, while the U.S. senior mixed team is currently in the lead position after the Prix St Georges and Grand Prix for the FEI Nations Cup leg in Wellington.
A gold-medal victory for the U.S. CDIO-U25 Team in the Nations Cup Intermediate II 16-25 kicked off the competition, while the senior U.S. mixed PSG-GP Team leads the way headed into Thursday's competition. 
The American U25 Team topped the podium on Wednesday 13 March 2019 after securing gold in the CDIO-U25 FEI Nations Cup. Earning the win for the USA with a total score of 138.559 were team members Lauren Asher (Wellington, Fla.), Kerrigan Gluch (Wellington, Fla.), and Natalie Pai (Wellington, Fla.), led by Chef d'Equipe Charlotte Bredahl.
Finishing less than a point behind the U.S. for silver with a score of 137.882 was the Canada I team, while the bronze went to the Canada II team with a score of 118.441.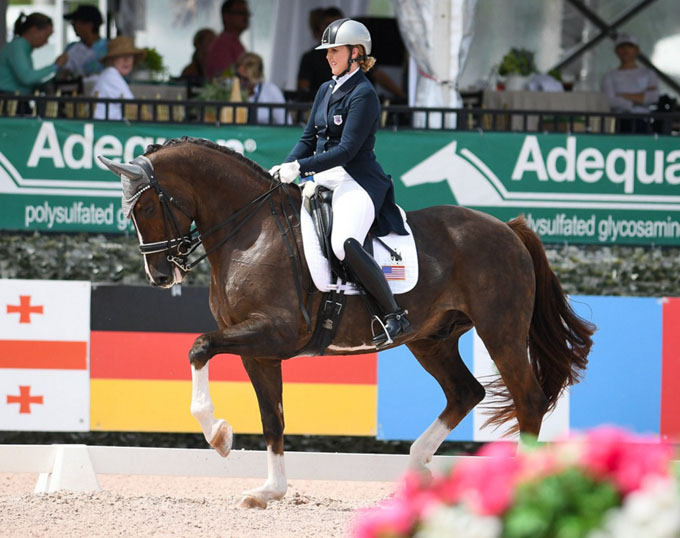 "I was very happy with all of them," said Bredahl. "It really shows that their previous experience as they've been coming up is paying off. All three of them have competed in Europe, so they have really good show nerves and can handle the pressure. They're already used to being on a team. It shows how the program is working as far as giving them that experience. It really pays off as they move forward. It's fantastic to have the experience competing as a team, developing team spirit, and again, riding under the pressure. I think it's invaluable."
Leading the U.S. team was Asher, 22, who turned in a personal best score of 70.471% aboard West Side, a 16-year-old Dutch Warmblood gelding owned by Select Equine International.
"I'm really thrilled with my ride, and first of all to have the opportunity to be here," said Asher, who was competing on her first CDIO-U25 Nations Cup team, but no stranger to team experience. "Thank you to the United States Equestrian Federation for making it possible for us, Charlotte Bredahl for being a great chef, and my awesome teammates. To have a personal best is really just the icing on the cake today. I had a good feeling going into the competition all week. Then to have my horse be there for me, especially on a big day like this, it was just great. I'm really happy."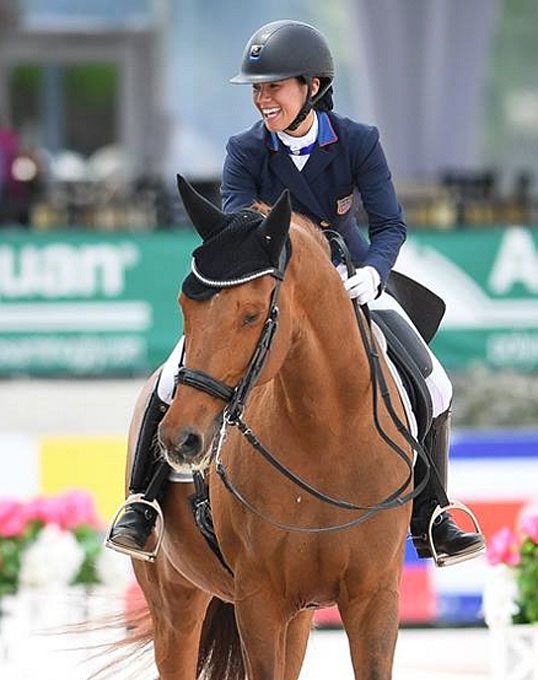 Similarly, a score of 68.088% marked one of her high scores of the season for Pai and Unlimited, Melanie Pai's 17-year-old Dutch Warmblood gelding.
"It is always super fun being able to be on a team and be a part of something," said Pai, 21, who was riding in CDIO-U25 Nations Cup competition for the second time. "As always, thank you to the [team at] the United States Equestrian Federation and everyone for making this possible and having everything run smoothly for us."
Finishing one position behind Pai in the class rankings, with a score of 66.853%, was Gluch aboard Bolero CXLVII, a 14-year-old P.R.E. stallion owned by Hampton Green Farm.
"I thought actually today was the best test I've had on him in the show ring!" said Gluch, 22. "Every moment, he was with me. He's a very honest guy, but today, he was even a little extra, which is something that's really awesome to feel. I thought our changes were super today. He gets a little excited in them, and today, he relaxed and settled down and had some nice changes."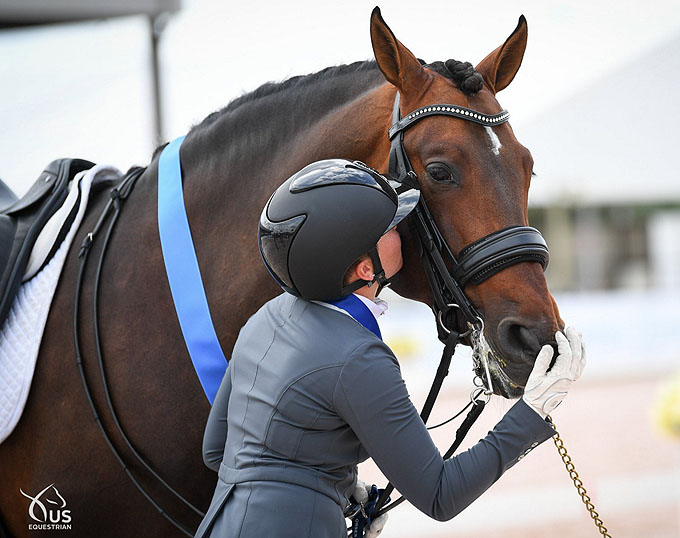 -- USEF press release, edited by Eurodressage - Photos © Taylor Pence/USEF
Related Links
Scores: 2019 CDIO Wellington
Riders Named on American Teams for 2019 CDIO Wellington
Canadian Teams for 2019 CDIO Wellington Named
Geesteren and Järvenpää Added to 2019 FEI Nations Cup Series