2019 Danish Warmblood Young Horse Championship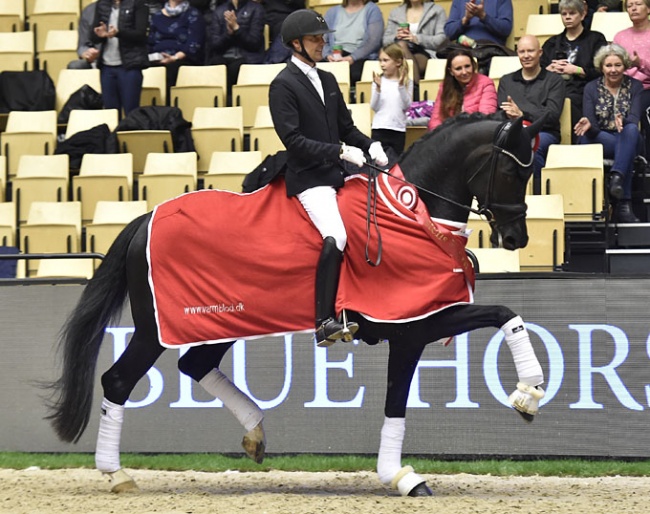 Bolette Wandt's black mare Queenparks Wendy became the winner of the 2019 Danish Warmblood Young Horse Championship for 5-year olds, held at the Danish Warmblood Stallion Licensing in Herning on Sunday 10 March 2019.
The Danish Warmblood Young Horse Championships is an annual feature at the stallion licensing and consists of three rounds: the first is a presentation under saddle by the rider, the second round is an assessment of the horse performing the 5-year old preliminary test and the third round is a guest judge rider testing riding the horses on rideability and potential.
Andreas Helgstrand steered his investor Bolette Wandt's Queenparks Wendy (by Sezuan x Soprano) to an easy victory, winning all three rounds.  In round 1 Queenparks Wendy tied in first place with Portuguese Frederico Mexia de Almeida on the Bregnerødgård owned chestnut mare Tophøjs Florentina (by Floriscount x Solos Landtinus), but in round 2 the mare built up an advantage, winning the preliminary test  with 8.5 for walk, 9.5 for trot, 10 for canter, 9.5 for rideability and 10 for potential. Test rider Patrik Kittel rewarded the horse on Sunday with two 10s for rideability and potential. His commentary on the mare was, "oh my god."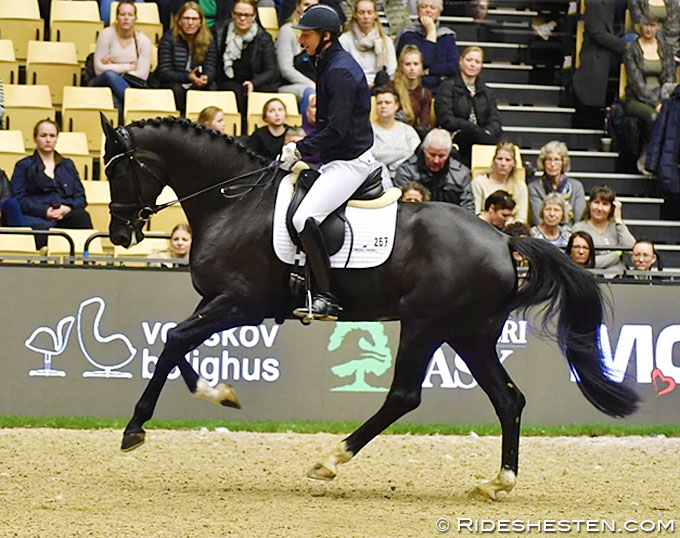 Betina Jaeger and Soren Gronborg and Andreas Helgstrand's stallion Zidan-DN (by Sezuan x Future Cup) worked their way up through the rounds to finish in silver medal position. They were 16th in round one with 8.5 for walk, 7.5 for trot and 8 for canter. In round 2 they moved to fourth place after receiving 9 for walk, 8 for trot, 9 for canter, 8.5 for rideability and 9 for potential. Kittel rewarded the stallion with a 10 for rideability and 9.5 for potential.
The bronze medal went to Camilla Ahlers Pedersen about Vivi and Christian Vang Lauridsen's gelding Sogaards Bon Royal (by Bon Bravour x De Noir). They were very consistent in all three rounds with a fifth place in round one (8.5 for walk and canter and 9 for trot.), a third place in round 2 (8.5 for walk, 9 for trot, 8 for canter, and 9 for rideability and potential) and another third in the test rider round. Kittel rewarded the gelding with 9 for rideability and 9.5 for potential. 
Photos © Ridehesten
Results - 2019 DWB young horse championship for 5-year olds - Herning (top 10 only)
1. Andreas Helgstrand - Queenparks Wendy (by Sezuan x Soprano) - 974.000
2. Betina Jæger - Zidan DN (by Sezuan x Future Cup) - 901.000
3. Camilla Ahlers Pedersen - Sogaards Bon Royal (by Bon Bravour x De Noir) - 895.000
4. Meike Lang - Elverhoks Raccolto (by Sezuan x Sandro Hit) - 889.000
5. Frederico Mexia de Almeida - Tophojs Florentina (by Floriscount x Solos Landtinus) - 887.000
6. Mette Sejbjerg Jensen - Straigh Horse De Milla (by De Niro x Zack) - 880.000
7. Hannes Lüth - Ziva Enshoj (by Zack x UNO Don Diego) - 873.000
8. Nanna Skodborg Merrald - Touch of Olympic (by Don Olymbrio x Fidermark) - 850.000
9. Cathrine DufourD - Sauternes (by Sezuan x Londonderry) - 843.000
10. Karin Nissen - Miss Holsteins Marikka (by Johnson x florencio) -  836.000
Related Links
Queenparks Wendy on Her Way to 2019 DWB Young Horse Champion's Title
Tophøjs Florentina and Queenparks Wendy Take Strong Start in Herning
Previous Winners
Zhaplin Langholt Wins 2018 Danish Warmblood Young Horse Championships
Zancor Wins 2017 Danish Warmblood Young Horse Championships
Jukebox Wins 2016 Danish Warmblood Young Horse Championships
Hot Shot W Wins the 2014 Danish Warmblood Young Horse Championship in Herning
Zick Flower Wins 2013 Danish Warmblood Young Horse Championship
Charmeur Leads the 2008 Danish Young Horse Championships in Herning
Polka Hit Nexen Wins Herning 5-year old Championship
Helgstrand and Donna Fetti in the Lead in the 2006 Danish Warmblood Young Horse Championship