2019 CDI-W Wellington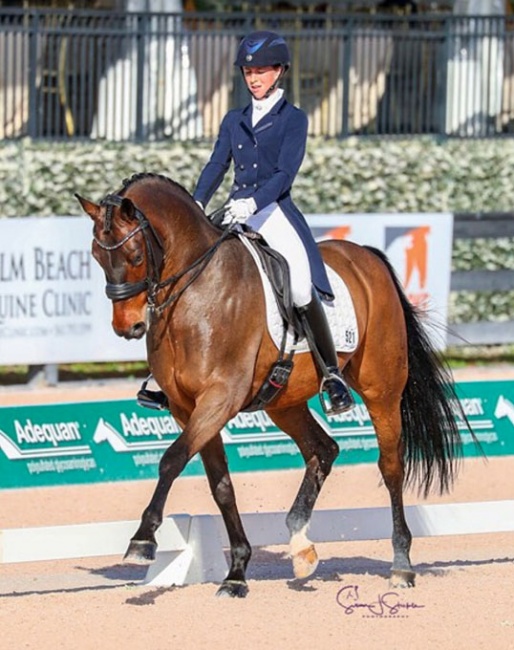 A brand new American Grand Prix duo made its way down the centerline at the 2019 CDI-W Wellington on 22 - 24 February 2019: Rebecca Waite and Shelly Francis' squad listed team horse, Doktor.
Waite and Doktor placed third in the Grand Prix for Special with 68.391% and fifth in the Grand Prix Special with 68.638%.
"It was our first CDI together and Doktor felt great," a thrilled Rebecca told Eurodressage. "He's a very smart horse and knows his job quite well. I have only be riding him a short time so we have been figuring each other out and I have been learning how to ride him." 
Waite wanted to produce a solid ride in his first Wellington CDI at Grand Prix level.
"My goals going into this CDI was to have a good first show and put in our best effort and I felt he gave me everything I asked of him," she said. "He's got this confidence about him in there which really helped!"
Commitment Rewarded, Ride on Doktor
American Grand Prix rider Rebecca Waite saw her commitment and dedication to trainer Shelly Francis rewarded by receiving the ride on the internationally successful Grand Prix horse Doktor as a schoolmaster. 
Owned by Patricia Stempel, the 16-year old Oldenburg gelding Doktor (by Diamond Hit x Renoir) made his international CDI debut at small tour level with Shelly Francis in 2012. He moved up to Grand Prix level one year later. From 2013 through 2018, Shelly and Doktor were an American force to be reckoned with, competing at high profile CDI's in the U.S.A. and Europe including Aachen.
Doktor's good health and spirit were unwavering, so when he turned 16 in 2019 Francis and Stempel agreed that a retirement would be too early.
Initially the pair wanted to give back to American Dressage by offering an ambitious American Under 25 rider the unique chance to lease Doktor, but noone was interested enough. The condition was that Doktor had to stay at Francis' yard in Wellington and be trained by this seasoned U.S. team rider. Their hopes were in vain and no Under 25 rider saw the once-in-a-lifetime opportunity in the offer.
Instead the eager 27-year old Rebecca Waite was put in Doktor's saddle four months ago and it proved a match. 
"I have only been actually riding Doktor since November but we know each other pretty well because I have taken care of him for the past 5 years and traveled with him to shows here and in Europe with Shelly," said Rebecca. "I have watch her train and ride him so the transition was relatively easy! This is a great opportunity and I feel very fortunate to be his rider! He's a very special horse."
Worth the Waite
After graduating from college in Maine, Rebecca decided to follow her dreams and move down to Wellington, Florida, where she started working for Shelly five years ago.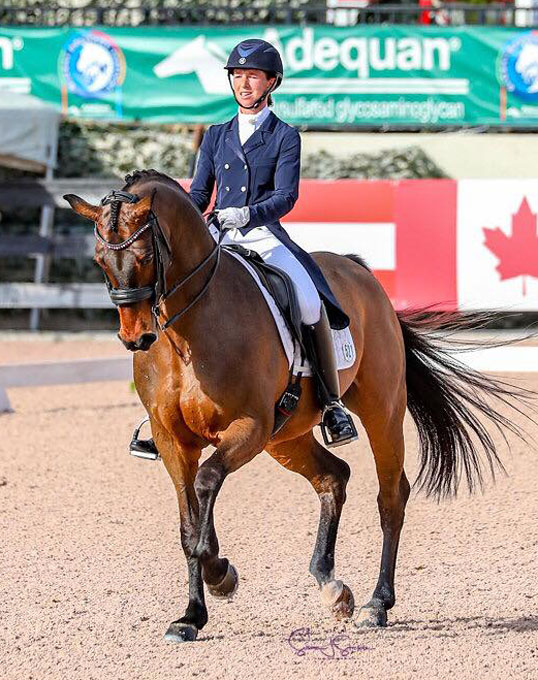 Waite is no stranger to CDI level competition. In 2017 she competed Shelly's 15-year old Oldenburg bred Le Roi (by L'Andiamo x Donnerhall) at small tour level in Wellington, but her last CDI start dated back to two years ago and never at Grand Prix level.
"I was fortunate enough to start riding some of Shelly and Pat's horses," she said. "I showed Shelly's horse Le Roi in the small tour and also did a few Grand Prix tests with him. He was new to Grand Prix but he has taught me so much over the last few years."
In preparation of her debut on Doktor, Rebecca rode two national shows with him, before going down the international centerline at the Global Dressage Festival. "I needed to just get in the arena and feel how he is in the show ring. We did a few Grand Prix (test)s and one Grand Prix Special test," Waite added. 
Waite has not stopped dreaming and onboard of Doktor sky's the limit. 
"I will continue to do a few more CDI's with Doktor while campaigning for the Pan Am Games this summer," she said. "That would be a dream come true. Doktor gives me so much out there in the show ring and I think he's really enjoying teaching me to ropes!"
Text by Astrid Appels - Photos © Sue Stickle
Related Links
Eurodressage Photo Database: Doktor
Scores: 2019 CDI-W Wellington
Shelly Francis and Patricia Stempel's Doktor and Danilo Emerging in the International Dressage Arena
Shelly Francis Celebrates Winning Streak at 2018 CDI-W Wellington
Shelly Francis Receives Walsh Company Sponsorship
United States Victorious in 2013 Wellington Nations Cup CDIO 3*