2019 CDI-W Wellington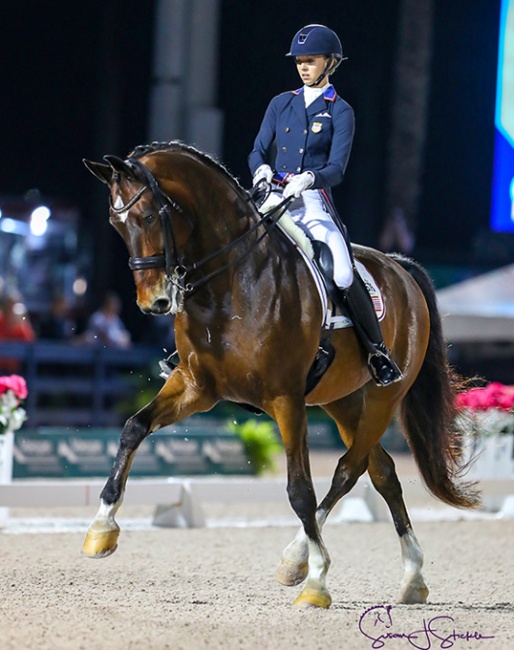 The "Friday Night Stars" Grand Prix Freestyle CDI-W ended a day of top dressage competition with a sweep of the top three places by U.S. women at week 8 of the Global Dressage Festival (AGDF), which continues through Sunday, March 3.
Laura Graves (USA) and Verdades rode to a score of 84.535% to secure their third qualifying score for the FEI Dressage World Cup™ Final and to win the freestyle.
"I don't count anything until it's for certain." said Graves. "Once I went down centerline, I thought, 'Ok, hopefully this is my ticket to Sweden," Graves said. "Honestly I started thinking about this venue and the sponsors that mean so much to me. This is my last freestyle here this year. That was what went through my mind, not anything through the test. I wasn't hardly thinking about that, I was thinking more about all of what has happened in six years here for me. It was different perspective for me."
Kasey Perry-Glass (USA) and Goerklintgaards Dublet took second place in the freestyle with a score of 83.875%, their second highest score ever.
"He had a lot of energy. I wasn't expecting that," commented Perry-Glass on the 16-year-old Danish Warmblood gelding by Diamond Hit owned by Kasey's mom Diane Perry. "Coming off of a show last week I thought he was going to be a little more tired, but he was actually more lit than I've felt him in a while. We had little bucks and switches. It's a good thing for him.
"[Our trainer] Debbie [McDonald] the whole time in my warm-up was just like, 'Tell him he's beautiful to calm him down a little bit.' It was an amazing test," she expressed. "I came out crying. It was one of those tests that just gave me goosebumps and made me feel lucky to have my horse," concluded Perry-Glass.
Adrienne Lyle (USA) and Salvino came in third with a score of 80.160%, also their second-highest score together. "Salvino was also pretty lit today, which caught us both by surprise. I figured it was a hot week and he'd be tired tonight, but he came out on fire," said Lyle of the 12-year-old Hanoverian gelding by Sandro Hit owned by Betsy Juliano. "That was a little different strategy for me to deal with in the warm-up.
"What I was happy with is that he really just pulled it all together when we went down centerline. He really let me keep my leg on and push him into the bridle better and get a little bit more consistent power throughout the test," continued Lyle, who is extremely close with Perry-Glass and Graves, her fellow FEI World Equestrian Games™ Tryon 2018 teammates. "Breaking into the 80s again is huge for us. I'm really excited. He just wants to try and keep up with his older brothers [Verdades and Goerklintgaards Dublet]."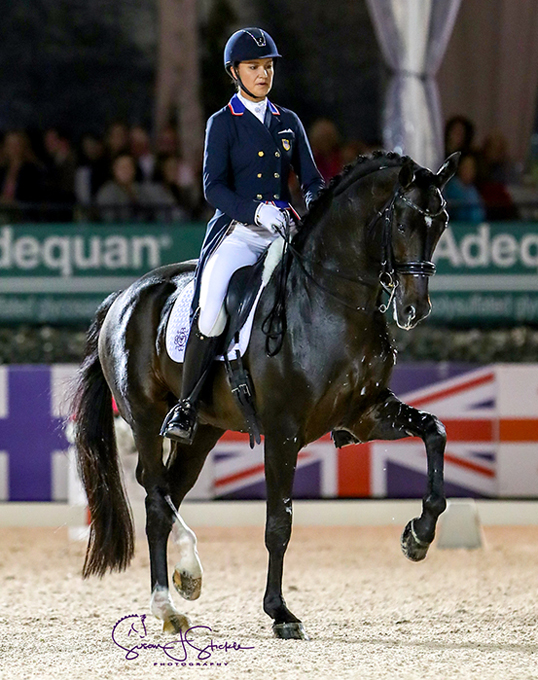 Judge at C, Irina Maknami commented, "For me, it was really a pleasure to judge these fantastically talented ladies with their amazing horses. It's really a special feeling when you see them and think, 'I'm so lucky to be a judge,' to be able to enjoy this. I think they're just great. There was so much progress, and I wish them the best of luck at the World Cup Finals."
Betsy Juliano of Havensafe Farm said, "It was breathtaking for me. The point of being here year after year and why we value being here at this wonderful facility is to watch and promote the horse's training. One of the great joys, in addition to knowing these three women – who are all very dear to me – is watching their horses improve year after year. I was so thrilled to stand there with these three who I love so much and to see them do so well. It doesn't get better than that."
Earlier in the day Endel Ots (USA) and Lucky Strike, a nine-year-old Hanoverian gelding by Lord Laurie, rode to a score of 72.598% to win the Prix St. Georges CDI1*.
In the Intermediate I CDI3*, Ashley Holzer (USA) rode Valentine, her nine-year-old Oldenburg mare by Sir Donnerhall, to a win with a score of 74.902%.
-- GDF press release, edited by Eurodressage - Photos © Sue Stickle
Related Links
Scores: 2019 CDI-W Wellington
WEG Team One-Two-Three in Grand Prix at Final 2019 East Coast CDI-W Wellington
Eurodressage coverage of the 2018-2019 World Cup Dressage Show Circuit