2019 CDI-W Wellington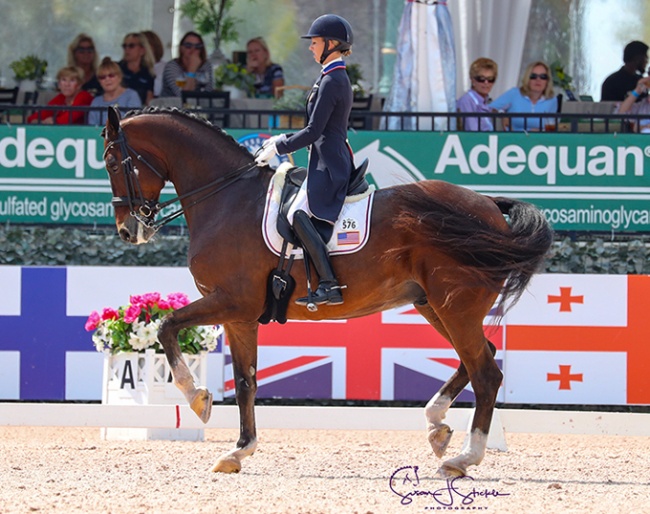 Week 8 of the Global Dressage Festival (AGDF) - the Palm Beach Derby - kicked off on Thursday 28 February 2018 with top CDI-W and CDI3* dressage competition.
Laura Graves (USA) and Verdades returned to Wellington and won the Grand Prix CDI-W. The pair earned a score of 80.239% to qualify for the FEI Grand Prix Freestyle CDI-W tomorrow night, where they plan to secure their last qualifying score for the Dressage World Cup™ Finals in April.
"I thought he was relaxed, but I also at the same time maybe warmed him up too much," said Graves of her 17-year-old Danish Warmblood gelding by Florett AS. "We have this technique we've been using where we give him a very short warm-up and just send him in. Sometimes the longer you warm him up he gets tired, and then he gets hotter in his mind, but tired in his body.
"He was very, very clean today. I thought he was very very honest," continued Graves, who last competed with Verdades at AGDF 3. "I was super happy with my zig-zag. I just remember looking up at one point and how much ground we had covered sideways, and I thought 'Uh oh, can I do that the other way?' I pushed, and sure enough he went that far. The canter tour felt really secure, and I'm happy with his relaxation."
Graves noted of her goal for Friday night, "[It] is our last qualifier for World Cup, so just want to check that off of the list and know that we have a ticket to Sweden."
Graves's FEI World Equestrian Games™ Tryon 2018 teammates, Kasey Perry-Glass and Adrienne Lyle, finished in second and third place respectively. The three riders shared their laps of honor by trotting down the centerline side by side. "We've been waiting for this," Graves shared. "We've been planning [that] for weeks and weeks and weeks. The three of us are such good friends that we've been hoping for a sweep like that. It was fun to be able to laugh with each other and go down centerline, to have such amazing teammates."
Perry-Glass and Goerklintgaards Dublet, a 16-year-old Danish Warmblood gelding by Diamond Hit x La Costa and owned by Diane Perry, placed second with a score of 78.630%. In third place was Lyle riding Salvino, a 12-year-old Hanoverian gelding by Sandro Hit x Dynastie and owned by Betsy Juliano LLC. They received a score of 74.543%.
Earlier in the day, Charlotte Jorst (USA) and Nintendo, a 16-year-old KWPN gelding by Negro owned by Kastel Denmark, won the Grand Prix CDI3*. The pair rode to a score of 71.152%.
Yvonne Losos De Muniz (DOM) and Foco Loco W, her 14-year-old Belgian Warmblood by Sierappel, took second place with a score of 69.543%. Third place went to Masano Takahashi (JPN) and Eaton Unitechno, a 10-year-old KWPN gelding by Wynton owned by Unitechno, Inc. The pair earned a score of 68.739%.
Photos © Sue Stickle - Lily Forado
Related Link
Scores: 2019 CDI-W Wellington