2019 CDI-W Wellington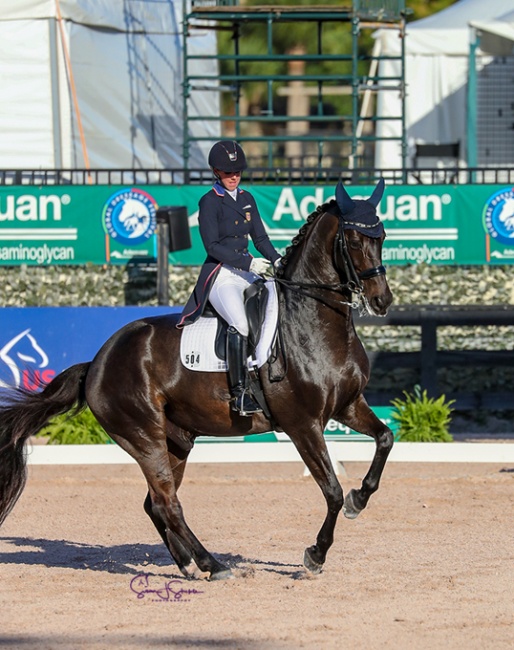 Week 7 of the Global Dressage Festival (GDF) kicked off on Thursday, February 21, with a win for Kasey Perry-Glass (USA) and Goerklintgaards Dublet in the Grand Prix CDI-W, presented by Helgstrand Dressage in Wellington, FL.
The pair earned a score of 77.217% to qualify for the "Friday Night Stars" Grand Prix Freestyle CDI-W, also presented by Helgstrand Dressage, on February 22.
"Today was a really good ride. I felt like he was a little bit tighter and tenser than normal, but it's our second show out for the season so we're still getting our feet wet a little bit," said Perry-Glass of the 16-year-old Danish Warmblood gelding by Diamond Hit owned by Diane Perry. "The highlights were the piaffe and the two [tempis]. I felt they were amazing. The passage got a little bit tense, but he always does it so well that it's such a highlight for him."
Perry-Glass is looking forward to her freestyle test on Friday night. "I want to go out and have fun with him," she said. "I love doing the freestyle, and it's a chance to for us to kind of go out and dance together. I'm hoping to put in a solid test for a solid score, for hopefully another qualifying score for the World Cup, and just to have fun.
"The only [other] show I can do is [AGDF 8], so I'll be doing these two [CDI-W's] back to back. Which I think with him works perfect," said Perry-Glass of her competition plans. "He's a very solid horse and we focus a lot on physical health. I think it's just going to make him even better for next week, doing it back to back."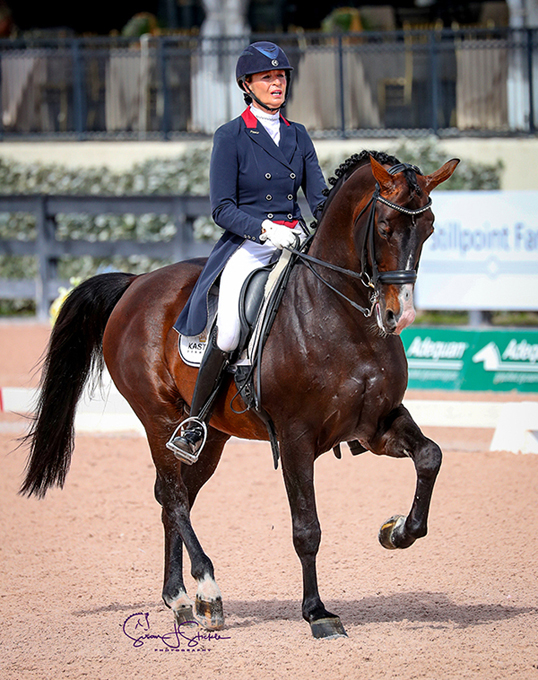 Earlier in the day, Charlotte Jorst (USA) and Nintendo, a 16-year-old KWPN gelding by Negro owned by Kastel Denmark, won the Grand Prix CDI3*. The pair earned a score of 71.891%.
Adrienne Lyle (USA) and Harmony's Duval, a 11-year-old Dutch Warmblood gelding by Rosseau owned by Duval Partners LLC, came in second with a score of 69.500%. Rebecca Waite (USA) and Doktor, a 16-year-old Oldenburg gelding by Diamond Hit owned by Patricia Stempel, came in third with a score of 68.391%.
In the Prix St. Georges CDI3* Jaimey Irwin (CAN) and Laurencio won with a score of 71.324%. Irwin rode his wife Tina Irwin's usual mount, a 12-year-old Oldenburg gelding by Laurentio, as Tina sustained a hand injury in a trailer accident just a few days ago.
- GDF press release, edited by Eurodressage
- Photos © Sue Stickle
Related Links
Scores: 2019 CDI-W Wellington
Tina Irwin Sidelined Due to Hand Injury