2019 CDI Sopot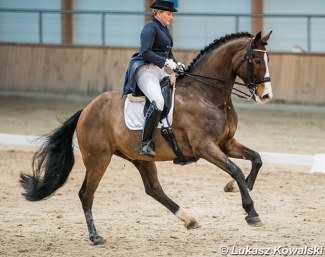 Lithuanian Sandra Sysojeva was in charge of the small tour classes held at the 2019 CDI Sopot in Poland on 7 - 10 February 2019. 
Trailering two horses - Furst and Boss Diamant - the distance to Poland, Sysojeva saw her efforts rewarded. Competing in a group of 10 small tour riders, Sysojeva grabbed three trophies and two more ribbons out of five rides.
"The competition in Sopot was the first CDI this year for my horses," Sysojeva told Eurodressage. "In spite of this, both behaved very well and I am very happy about the results."
Aboard the 11-year old Westfalian bred Furst (by Florenciano x Furst Piccolo) she pulled a hattrick and won the Prix St Georges with 69.059%, the Intermediaire I with 70.000% and the Inter I kur to Music with 72.360%.
On her second horse, the 12-year old Ukrainian warmblood Boss Diamant (by Sandro's Diamant x Areal) she was fourth in the Prix St Georges on 66.382% and second in the Intermediaire I with 67.412%.
"You never know what can happen in competitions during the test, but of course every time when I compete, I always try to show the best what I and my horses can show. This time went well," said Sandra about her expectations of winning the division.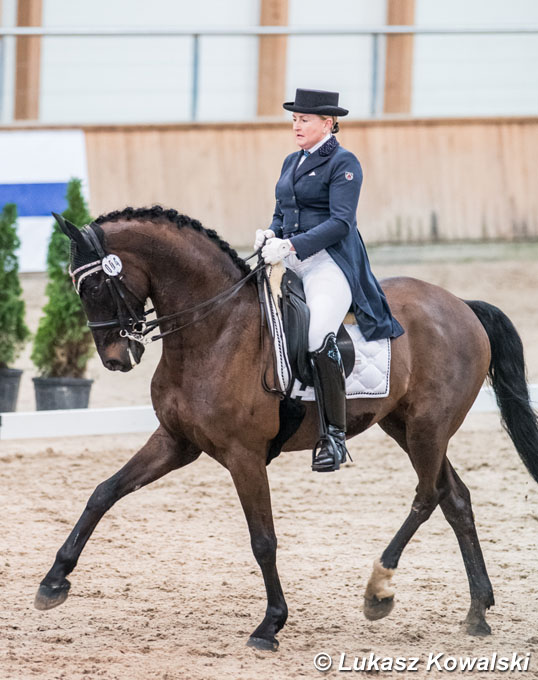 The 35-year old has been riding Furst for the past five years and the pair had a 14-month break from competition, returning back to the arena in Sopot. "He is my favorite horse, he is my best friend," she added. Boss Diamant is her new ride since 2018 and she aims at Grand Prix level with him this season. 
For the Vilnius based Sysojeva, competing in Western or Central Europe is a necessity if she wants to ride herself in the picture and gain mileage. 
"We have just some riders in Lithuania competing at international level," she explained. "It is always a honor to represent our small country by winning international competitions. In May we will have a CDI in Lithuania. My plans are to come back to Grand Prix level, but we will see how it will go. Later in summer we will come back to CDI in Sopot."
Photos © Lukasz Kowalski - More photos below or view the complete photo gallery of the 2019 CDI Sopot here
Related Links
Scores: 2019 CDI Sopot
Haid-Bondergaard, Isachkina, Esping and Sabitov Win at Windy 2018 CDI-W Sopot
Kozanowski, Skjaerbaek, Esponisa Share the Spoils at 2018 CDI Sopot
Gustafsson and Sportlife Finish Young Riders' Time with Hattrick at 2018 CDI Sopot
Photo Report: Milczarek and Cichon Top the Board at 2018 CDI Sopot