2019 CDI-W Neumunster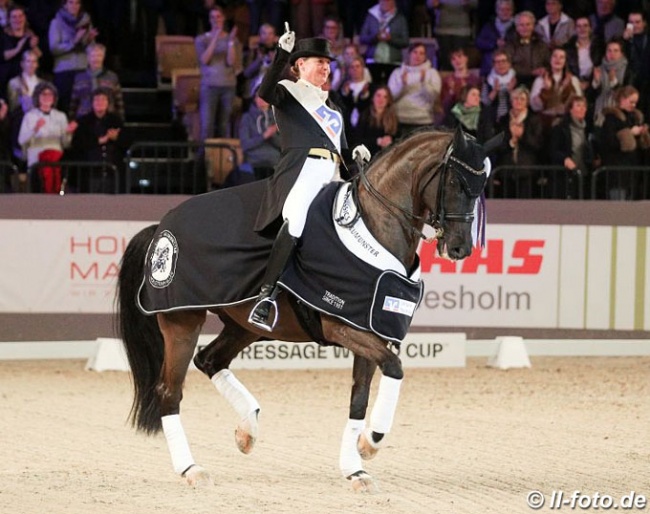 The undeniable queen of Dressage, Isabell Werth (49), won the ninth and penultimate leg of the Dressage World Cup™ 2018/2019 Western European League on home ground at Neumünster (GER) with her multi-medalled mare Weihegold.
On a day when the German star and her accomplished compatriots claimed six of the top seven places in a super-hot competition however, Ireland's Judy Reynolds (37) lifted the hopes and dreams of enthusiasts around the world when snatching third spot with her brilliant little gelding, Vancouver K.
Werth and her super-mare are defending FEI Dressage World Cup™ double-champions having stormed to victory in Omaha (USA) in 2017 and again in Paris (FRA) last season. They took the lead with a score of 86.810 when fourth-last to go this morning, and their closest challengers were the 2018 Neumünster winners Helen Langehanenberg (36) and Damsey FRH who were last into the arena, posting a mark of 83.825 for second place.
That pushed Reynolds and the little Dutch-bred gelding she calls JP down to third, but this was a sensational result for the pair who fly the flag of a horse-loving country that is really only waking up to the excitement of the sport of Dressage. Yesterday they became the first-ever Irish partnership to take a podium placing in a Western European League Grand Prix, and today they broke the Irish international Freestyle record score they set in Amsterdam (NED) last month when putting 82.750 on the board.
"I was in the arena training this morning at 6am, and Patrick (her husband) and I were chatting before we got down to work. We were wondering do people say "if she can get into the middle of the Germans, then maybe I can too," Judy Reynolds IRL (3rd).
"JP is a relatively normal pony but he's getting in there and shaking them up a bit!" Reynolds added with a laugh today. She temporarily slotted into runner-up position behind Werth whose performance was met with a roar of approval from the knowledgeable Neumünster crowd. You could hear a pin drop during every test in the compact Holstenhallen.
"It's outstanding - it's like riding in a hot-spot and there's a special emotion here, special people, special spectators, supporting us all the time," Isabell Werth GER (1st) explained. Werth said after posting her fourth winning score of the season and her fifth victory at this German venue.
The crowd clearly enjoyed every moment, and the lady who won the first of her four World Cup titles in Gothenburg (SWE) in 1992 with Fabienne, is now planning to give Weihegold a break but will bring her other top ride, Emilio to the last leg of the series at 's-Hertogenbosch (NED) next month as a kind of insurance policy.
"Just in case, it's always good to have two horses qualified," said the multiple champion who has a super-talented string to choose from and who will be returning to the Swedish city where she posted that first memorable win 27 years ago to defend her title in April.
Langehanenberg's second-place finish leaves her lying second on the Western European League leaderboard, behind compatriot Dorothee Schneider who lined up fifth with Sammy Davis Jr this morning and who is celebrating her 50th birthday today. The biggest dilemma that German team manager Monica Theodorescu has now is to decide which two of the five German riders currently in the leading pack will join Werth at the Final, because each nation is only permitted to field three horse-and-rider combinations.
Today's result leaves Reynolds on the edge of the qualification zone, with only the top nine from this league making the cut. One more good run at the last leg in 's-Hertogenbosch should seal it for the Irishwoman whose new Freestyle music and floorplan are going down a storm with both judges and spectators alike. This was only the third time for them to perform to their "Lord of the Dance" soundtrack and, at 17 years of age, the sometimes quirky Vancouver K looks to be still growing in comfort and confidence in the ring.
"JP is in the best form he's ever been in! It was never our plan to do so many shows so close together but it seems to suit us better and he's loving it!" said the rider who, as Ireland's sole representative at the very top end of the sport right now, is inspiring many others in both her own country and elsewhere to strive to also be the best they can be.
text by Louise Parkes for the FEI - Phots © LL-foto
Related Links
Scores: 2019 CDI-W Neumunster
Easy Win for Werth and Weihegold in 2019 CDI-W Neumunster Grand Prix
Eurodressage coverage of the 2018-2019 World Cup Dressage Show Circuit