2019 CDI Wellington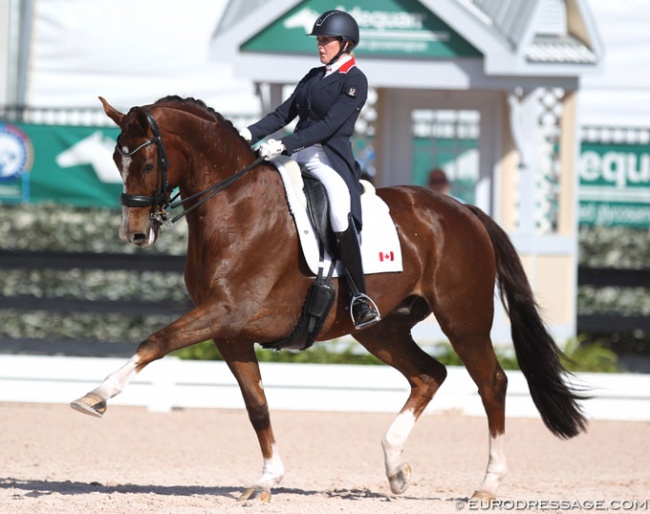 Week 5 of the 2019 Global Dressage Festival (AGDF) started on Thursday, February 7, with CDI5* dressage competition at the Palm Beach International Equestrian Center in Wellington, Florida. A pregnant Brittany Fraser and a focused Adrienne Lyle moved into the winner circle in the two small 5* big tour classes.
Fraser-Beaulieu Sparkles With Win in the Grand Prix for Kur 5*
Brittany Fraser-Beaulieu (CAN) and All In won the Grand Prix 5* to qualify for the five-star freestyle on Friday night. The pair earned a score of 71.304%.
"I was really pleased with my test today. This year I'm not going to the Pan Ams because I'm pregnant, and I wanted to really just focus on nit-picking the movements apart to see where I can get more points. It's paying off," said Frasier, who competed for Canada at the FEI World Equestrian Games Tryon 2018 (WEG). "The last show and this show have been probably my best Grand Prix [tests] that I've ever had. So I'm really thankful for that."
"The first part I thought was pretty strong – the trot, the half passes – my piaffe I thought is getting better. My changes were also much better," commented Frasier about her test. "The whole thing just seemed easier. He's a big horse, and it takes a lot of energy to get through the Grand Prix, and everything just started to feel a little bit easier, which is nice."
This might have been Frasier's last competition before her pregnancy. "I feel fine, the doctor says I'm fine, but I'm just going to take it as it comes. Ideally I would love to do Nations Cup, but I can't say yes or no to that right now," added Frasier. "I think the highest score I've gotten in my freestyle is almost 77%. I would love to beat that score. I really love riding my freestyle and coming out here on Friday night with the atmosphere. It's really a fun time."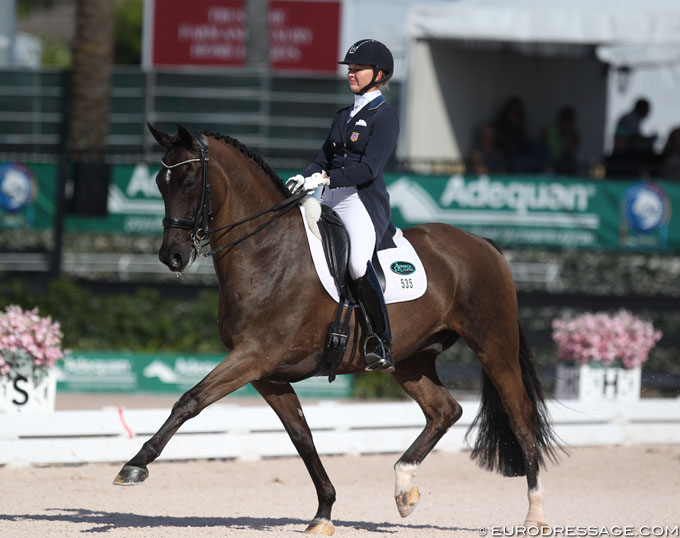 Second place went to Katherine Bateson-Chandler (USA) and Alcazar, a 14-year-old KWPN gelding by Cantango owned by Jane Forbes Clark, with a score of 70.696%.
"He wanted to be quite hot today, which he goes back and forth from being hot. I'm going to make sure that I give him a little ride in the morning tomorrow to see how electric he's feeling," commented Bateson-Chandler about Alcazar. "I'll make sure that I have him in the right spot for tomorrow night to give everyone a run for their money I hope."
"Brittany and I, we did the first International II at the national side at the same time, and we did our first Grand Prix at the same time on the national side," Bateson-Chandler pointed out. "I always group those two horses [All In and Alcazar] together for some reason, because they did their first international together at the same time and they sort of came up on the same trajectory together.
"We both sort of struggled a little at the beginning and now they're both 14 and both coming into their prime. You know it just takes that long," added Bateson-Chandler.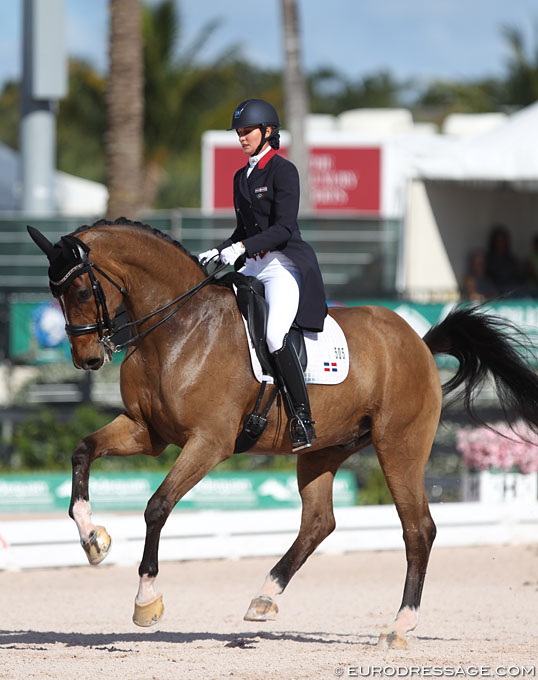 Yvonne Losos De Muniz (DOM) and Foco Loco W, her 14-year-old Belgian Warmblood gelding by Sierappel, came in third with a score of 69.696%.
"The test today felt actually a little better than what I was expecting. He's there and ready to go, but I'm being a little greedy as I'm jumping into the ring so fast and I do need to get into a little better shape," commented De Muniz, who injured her shoulder and was out of the saddle for three months in 2018. "I'm really happy with the way he's going."
De Muniz said of her goals for the Friday night freestyle, "The atmosphere is still a lot for him. I don't want to say he's hypersensitive; he's actually a chicken. [I just want] to keep him with me and together, [that will] will be absolutely my goal. And to have fun, as these guys [Fraser-Beaulieu and Bateson-Chandler] were saying, the five-star is just so much fun."
Adrienne Lyle and Salvino Win in the 5* Special Qualifier
In the Grand Prix CDI5*, the qualifier for the 5* Special, Adrienne Lyle (USA) and Salvino won with a score 74.565%. 
"I'm really pleased with Salvino, for going in for the second time he doesn't seem to have lost any of his spark so far this season," Lyle said of her WEG team silver medal-winning partner, a 12-year-old Hanoverian gelding by Sandro Hit owned by Betsy Juliano LLC. "I'm really proud of the way he's training and schooling. There's still a lot of little things in the ring that I as a rider need to figure out how to polish to get the scores up to where I know he's capable of, but this is just the start of our season."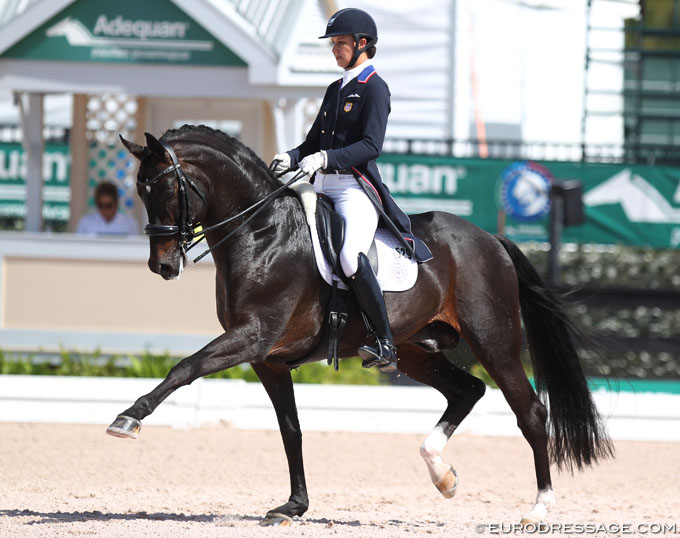 "Having a five-star in the States is really something that's incredible, and I really appreciate that we're able to have this venue and have this level of competition here," commented Lyle of this week at AGDF.
Lyle noted that her goals for Friday night's Special class are "trying to polish up the way I ride the corners and the way I prepare for movements." She continued, "Today we had a little short change behind in the twos, little stuff like that, which is unfortunate because he's normally quite good in those. I really feel like his attitude is the best it's been, and he's really enjoying going in there. That, to me, is the number one priority, because then everything else will come along with that."
Holzer and Student Rizvi Win 3* Classes
Earlier in the day, Ashley Holzer (USA) and Valentine, her nine-year-old Oldenburg mare by Sir Donnerhall, earned a score of 74.265% to win the Prix St. Georges 3*.
In the Grand Prix CDI3* Holzer's student P.J. Rizvi (USA) and Breaking Dawn, her 18-year-old KWPN gelding by Akribori, won with a score of 68.152%.
James Koford (USA) and Adiah HP, a 12-year-old Friesian Cross by Nico owned by Sherry Koella, earned a score of 67.804% to come in second place. Third place went to Devon Kane (USA) and Destiny, a 16-year-old Danish Warmblood gelding by Diamond Hit owned by Diamante Farms. The pair earned a score of 67.696%.
Text GDF press release, edited by Eurodressage
Photos © Astrid Appels - No reproduction allowed without permission/payment
Related Links
Scores: 2019 CDI Wellington
Photo Report: Horse Inspection at the 2019 CDI 5* Wellington