2019 CDI-W Boneo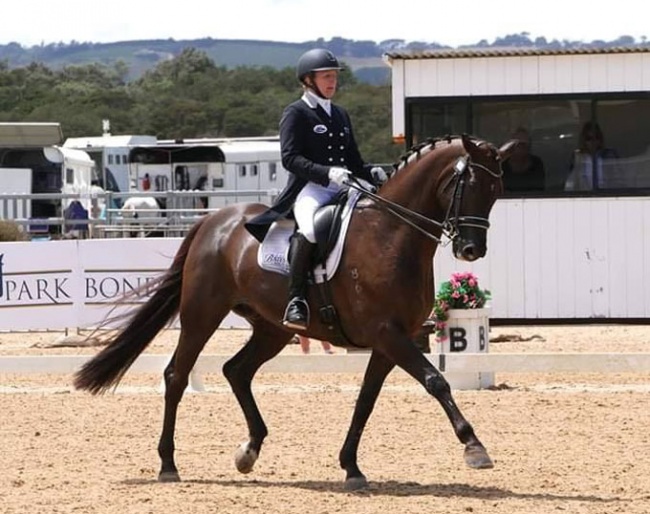 Rozzie Ryan and Jarrah R became the winners of the 2019 Pacific League World Cup Finals on 27 January 2019 at Boneo Park, which earned them a ticket to the 2019 World Cup Finals in Gothenburg, Sweden, the first weekend of April.
Aboard the 13-year old home bred Australian warmblood Jarrah R (by Jive Magic x Salute x Ludendorff), Rozzie won the warm up Grand Prix with 67.543% and nailed it in the Kur to Music finals with a 72.710%. She rode to music from a Beautiful Life and No Reservations.
"I was really pleased with Jarrah at Boneo. He felt a bit hot in the GP but settled for the Kur," Rozzie told Eurodressage. 
Owned by Raymond and Edna Bevan in partnership with Ryan, Jarrah R made his international Grand Prix debut in September 2015 and over the years has slowly been improving and getting higher scores. 
""I did not expect to win but he has improved at every outing and just keeps getting better," said Ryan. "He did quite a lot of miles last year and that has helped his confidence. He is a real worker and tries very hard."
With a thinned out field of merely five combinations competing in the World Cup Finals' qualifier at Boneo, the Pacific League Finals were a bit lacklustre. However, this did not take anything away from Ryan's achievement to twice finish at the top of the board.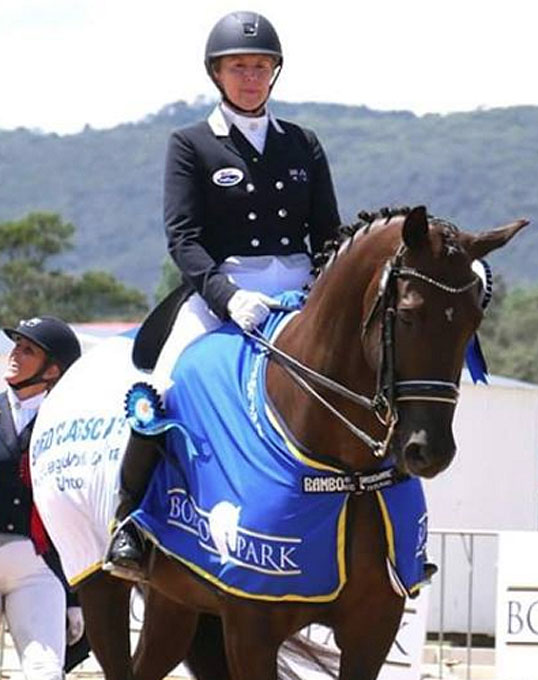 "Unfortunately many of our Grand Prix horses have been sold or changed riders so it was a small field," Ryan admitted about the low attendance at Boneo.
The trip to the 2019 World Cup Finals in Gothenburg would be the horse's first competition away from the Australian continent, but Ryan will most likely not take up the opportunity to travel to Sweden. 
"I still haven't spoken to Jonah and Edna Bevan who also own Jarrah with Heath and I, but I think we will probably not take Jarrah to Sweden," she admitted. "The trip to Europe is huge and then another long trip up to Gothenburg I think is maybe too risky and expensive for us at this time."
Australian 2016 Rio Olympic team rider Sue Hearn and her 17-year old Australian bred Remmington (by River Dance x Imperial Prince) were second in the Boneo Grand Prix (66.522%), but overtaken in the freestyle by Holly Cutler and the 13-year old Oldenburger mare Diva Royale (by Don Schufro x Sevillano xx). Cutler scored 68.695% for second place in the Kur. Holly is now in her third year competing Diva Royale at international Grand Prix level.
Related Links
Scores: 2019 CDI-W Boneo
Mary Hanna Earns Berth for 2018 World Cup Finals at CDI-W Boneo
2017-2018 Pacific League World Cup Dressage Final to Be Held at Boneo Park
Pacific League World Cup Final Returns to New Zealand with Seven Combinations in the Running
Rozzie Ryan's GV Bullwinkle Sold
Rozzie Ryan and GB Bullwinkle Rocked on the Road to the Olympics
Rozzie Ryan and Jive Magic Win 2010 CDI Sydney Grand Prix