KWPN
The first day of dressage licensing in the second and third phase at the 2019 KWPN Stallion Licensing has come to a completion: 33 colts have been approved for the mandatory stallion performance testing where they can achieve a licensed status.
The 2019 KWPN Licensing kicked off on Wednesday 30 January 2019, but Friday 1 February was the first dressage day with a second and third phase for a large group of colts. 
The licensing committee, consisting of Bert Rutten, Arie Hamoen (replacing an ill Marian Dorresteijn) and Reijer van Woudenberg  approved 33 colts and four have been invited to the premium ring on Saturday.
Bordeaux became the top producing sire with no less than 5 sons accepted, amongst them the crowd favourite of this year's edition Le Formidable (by Bordeaux x Ferro x De Niro), bred and owned by Saskie Poel.
Grand Galaxy Win had four sons approved, amongst them the premium ring select Lennox W (out of a Rousseau dam, bred and owned by Bas Wilschut).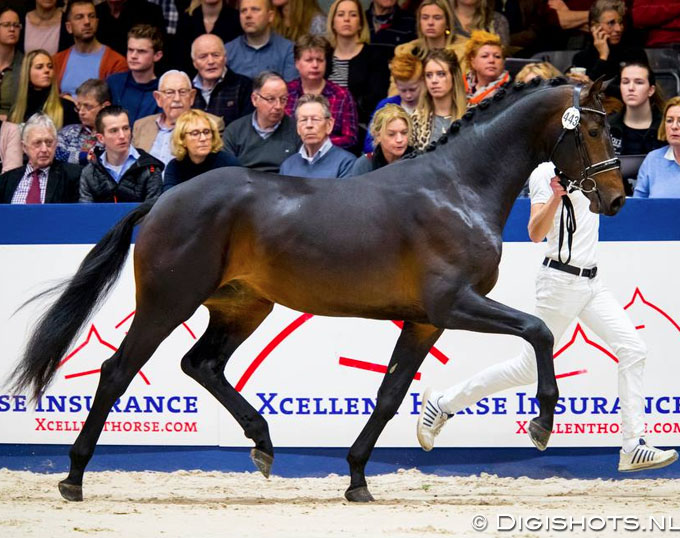 Governor sired last year's champion Kremlin MD and this year he has two sons approved so far, amongst them the premium ring invited Lugano (out of a Johnson dam), bred by P. Buwalda. 
World Young Horse champion Glamourdale has two sons through, one to the premium ring: Lance VOD (out of Davino VOD, bred and owned by Ad van Os).
Three older stallions were accepted for the shortened 5-day stallion performance test as they have already proven themselves in sport. They are All At Once (by Ampere), Crosby (by Chippendale) and Cum Laude (by Apache).
Photos © Digishots
Approved for the stallion performance test are:
Liverpool (by Apache x Ferro)
Livius Utopia (by Bordeaux x Vivaldi)
L'Avenue (by Bordeayx x Connaisseur)
Legend (by Bordeaux x Florencio)
Le Formidable (by Bordeaux x Ferro)
n.n. (by Bordeaux x Sir Donnerhall)
Cum Lade (by Apache x Weltmeyer)
Legend B (by De Niro x Jazz)
Liberty (by Desperado x Jazz)
Leerava (by Florencio x Negro)
Lennon (by Glamourdale x Jazz)
Lance VOD (by Glamourdale x Davino VOD)
All at Once (by Ampere x Gribaldi)
Legend (by Desperado x Ehrentusch)
n.n. (by For Romance x Don Schufro)
Quiz Me Quick van de Kempenhoeve (by Governor x Rousseau)
Lloyd (by Governor x Charmeur)
First Date (by Furstenball x Dancier)
Lugano (by Governor x Johnson)
Legacy S (by Hennessy x Trento B)
Crosby (by Chippendale x Flemmingh)
Lord Lorenzo DB (by Gotcha Utopia x Uphill)
Leopard M (by Gotcha Utopia x Jazz)
Le Grand Ayden HB (by Grand Galaxy Win x Uphill)
Lennox W  (by Grand Galaxy Win x Rousseau)
Lotus S (by Grand Galaxy Win x Juventus)
Livingstone  (by Grand Galaxy Win x Uphill)
Lifestyle (by Hometown x Ampere)
Le Roi SW (by Morricone x Florencio)
Lest of Lantana (by Sir Donnerhall x Hemmingway)
Linvasion (by Sir Donnerhall x Krack C)
n.n. (by Totilas x De Niro)
n.n. (by Millennium x Donnerball)
Related Links
Thirty-One Colts So Far Selected for Third Phase 2019 KWPN Stallion Licensing
Hamoen to Replace Dorresteijn at 2019 KWPN Stallion Licensing
Fourteen Colts Late Additions to Lot for 2019 KWPN Stallion Licensing
Ninety-Two Colts Accepted on Pre-Selection Days for 2019 KWPN Stallion Licensing
Thirty-Nine Colts Accepted at First Two 2019 KWPN Licensing Pre-Selection Days