Danish Warmblood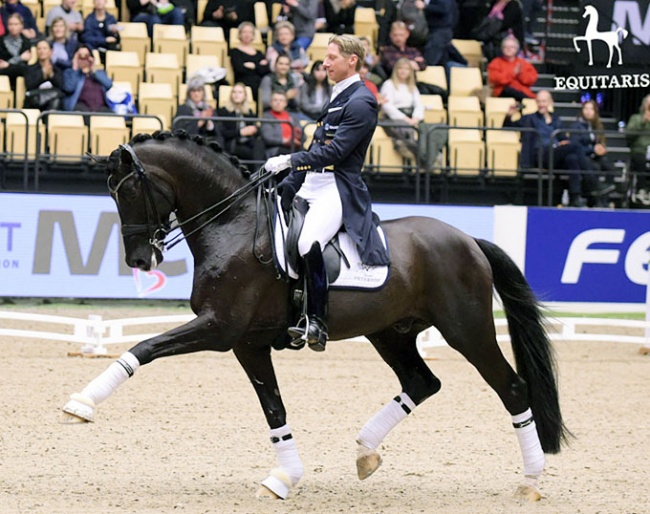 The popular Danish warmblood breeding stallion and small tour horse Sezuan will not stand at stud in 2019 and only be available via frozen semen.
The 10-year old Sezuan (by Zack x Don Schufro) will be focused on his Grand Prix training and debut, according to a press release issued by owner Arlette Jasper-Kohl of Gestut Peterhof.
Sezuan is the triple World Young Horse Champion under Dorothee Schneider (2014-2016). In 2017 the horse competed at just one international show, the CDI Darmstadt in September 2017, where he won the Prix St Georges and Intermediaire I.
In the winter of 2017 the collaboration between Schneider and Jasper-Kohl ended and Sezuan briefly moved to Patrik Kittel's yard where the stallion was supposed to get prepared for a Grand Prix level debut in 2018.
Unfortunately the crowd pleasing Sezuan did not compete last year. He was presented in a stallion show at the 2018 Danish warmblood licensing in March, but then disappeared from the scene.
Rumour had it that the stallion got injured and returned to Peterhof for rehabilitation. Eurodressage inquired with Peterhof for more information, but they declined to comment. Eurodressage also inquired with Kittel about the horse's current location and training condition, but he referred to Peterhof.
Sezuan was only temporarily available via fresh semen in 2018 (until 31 May) and will not be available via fresh semen this year. Frozen semen at a price of 3,000 euro (+ 7% VAT) is sold through the Schockemöhle stallion station in collaboration with Helgstrand, who discovered the horse and sold it to Jasper-Kohl.
"In the past, there was strong demand from breeders worldwide," said Jasper-Kohl in her press release. "This was a strong double burden. We don't want to impose this on Sezuan on the way to the Grand Prix. The well-being of our horses has always been our top priority. And for this reason we ask our breeders for their understanding that we only keep frozen semen from Sezuan". 
"We are very pleased to have found this solution in the spirit of our stallion," the press release further mentioned. "Sezuan is now being prepared by Patrik Kittel/SWE for his first starts in the Grand Prix arena."
Photo © Tanja Becker
Related Links
Sezuan to Stand for Only Four Months this 2018 Breeding Season
Patrik Kittel Assisting in the Training of Sezuan
Dorothee Schneider and Gestut Peterhof Part Ways