Japan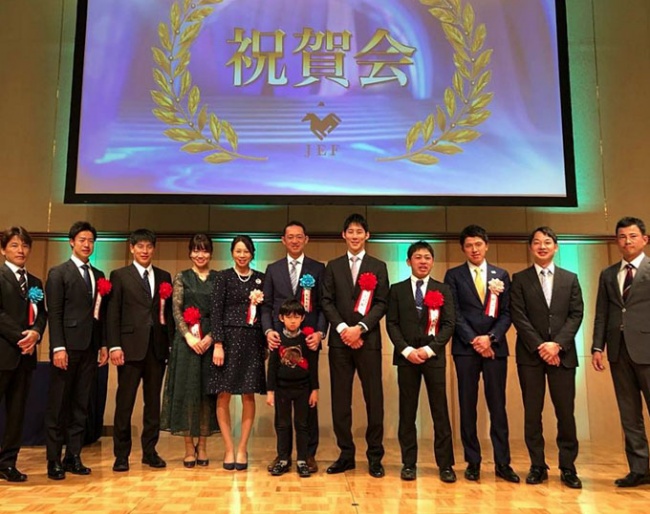 The riders on the Japanese dressage teams that competed at the 2018 Asian Games and 2018 World Equestrian Games were honoured in a special ceremony at the 2019 Japan Equestrian Federation Gala.
The Gala was held at the Grand Prince hotel Takanawa in Tokyo on 26 January 2019 and is an annual event.
Japan won team gold at the 2018 Asian Games and was represented by Shunsuke Terui, Masanao Takahashi, Akane Kuroki, and Kazuki Sado. At the 2018 World Equestrian Games by Masanao Takahashi, Kazuki Sado, Shingo Hayashi, and Kiichi Harada.
Eleven athletes and the owners of their horses were awarded the special award from Her Imperial Highness Princess Hitachi, Honorary President of the Japan Equestrian Federation, this year. For dressage these were the Asian Games' team gold medalists Takahashi, Kuroki, Sado and Terui. 
"I am full of gratitude for winning this special award. I would like to be able to come back to this place again, and I will be able to focus my mind and practice hard," said Kuroki, who has retired her 19-year old KWPN gelding Toots from competition sport. Toots has been shipped to Colorado, U.S.A. where he now serves as a schoolmaster.
Related Links
Japan Wins Team Gold at the 2018 Asian Games
Japanese Team for 2018 World Equestrian Games Selected
Kuroki and Toots Win Japanese Selection Trial for 2018 Asian Games