Opinions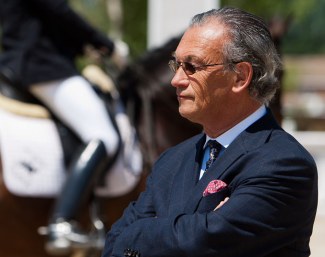 French 4* dressage judge, trainer and Grand Prix chef d'equipe Alain Francqueville recently took to Facebook to disclose his opinion on the 19 recommendations which the Dressage Judging Working Group have made to the FEI.
As possible ways to improve the judging system, Francqueville is in favour of more monitoring of the judges' performances and of a downgrade system if judges make too many mistakes 
Alain Francqueville: "We Need More Control on the Judging and a Downgrade System"
It is not the judges' position that has to do with differences in the mark, it is more about concentration and competence. We need more control of the judging, especially because at the lower levels there is no evaluation system. At the end of a show, each judge should get a report card with statistic of their judging and clear indications of their score discrepancies if there are any. These report cards could be published. 
At the moment there is in fact no official control of judging, while there is in gymnastics. We need to monitor the judges' performances: how many mistakes in marks, in the percentage, in the ranking. Without control, there is no progress. It is the same like checking car drivers if they stick to the speed limit. 
Better than changing the rules, it will be more efficient to create an official control of marks and percentages for all international judges, even for the best ones, the 5* judges!  Unfortunately there is no chance that this will ever pass, because they don't like such transparency. 
I believe it is important for judges who fail on their report card, will need to re-do the judge's exam and until then downgrade a star-level. At the moment there is no competency test every two or four years to check if the judges are still on point and competent  in their judging. As long as there is no evaluation system, there is no chance for improvement of the system. In fact, those problems concern few judges, but it's a real problem for the discipline.
We do not only need recommendations, but we need effective control. I know that judges don't like to be controlled or judged or categorized, because they risk getting a bad label and they don't want that. But both we judges, as well as the FEI, have to change mentality. 
Unfortunately there is too much money and ego involved in dressage system. Nobody is perfect. Riders, owners, and sponsors deserve a better system. Control of the judges' performances is maybe one point, but it is a point that is essential, vital.
The 19 recommendations of the DJWG could be more improved. In the "new" dressage judging system the FEI must introduce an evaluation of the judging with a group of specialized judges and clear statistics for individual assessment. It should be a rule.
- by Alain Francqueville 
Related Links
Hans Christian Matthiesen: "Eliminate the Need for Band-Aids for Dressage Judging"
19 Recommendations of the Dressage Judging Working Group 
Dressage Judging Working Group Makes Recommendations for 2018 Rule Amendments
Bernard Maurel: "Can Scientist, Riders and Trainers Understand Each Other?"
Kyra Kyrklund: "Create a More Fair and Consistent Method for Dressage Judging"