Opinions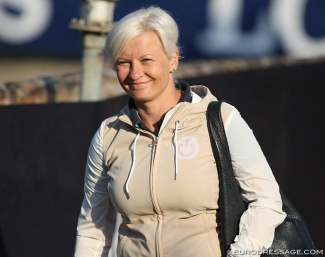 In the IDRC endorsed series to promote the 19 recommendations of the Dressage Judging Working Group, former FEI Dressage committee member, Grand Prix rider and horse dealer Anna Campanella has put her name behind recommendation number seven. 
The DJWG recommended to embrace technological innovation more for the improvement of dressage judging. 
This is what the IDRC wrote about Recommendation 7:
The DJWG recommends the FEI set up a sub-group to provide advice on development, innovation and use of modern technology in order to assist judges and improve accuracy and therefore fairness to athletes. The DJWG recommends that new and existing technology is reviewed to, among other things, assess the impact upon cognitive load for judges.
Think about it, is it really the highest and best use of an international judge to count 15 one time changes or whether the piaffe has 11 steps. Isn't more important for humans to judge harmony and quality rather than quantity? Maybe at some point there is a way to bifurcate the "was it done" from the "how well it was done" using technology.
In addition, I wonder if technology can help lead to consistency in judging. Maybe there is a value to be placed on whether the poll is the highest part versus whether the haunches have been lowered or whether the front hooves are as high as the mid cannon bone in the passage.
Even if used just to train the eyes of judges and spectators alike, I wonder if there would be a value to "anonymous" rides. Some of the best studies on unintended bias come from the world of orchestras and they found that having musicians audition behind a curtain so that the conductor could not see gender, age etc created more diverse orchestras. Here are some links to some of those studies. I wonder if technology could be used so that one or two of the 5 or 7 judges at elite competitions would be judging without knowing who the horses or riders were (so judging in silhouette or by motion capture). I suspect that technology if not currently available would be in the near future …to have riders' identities hidden behind a digital screen. Would passage trots in the GP half passes pass muster? Or swinging changes? It would be interesting to see if even as an experiment.
I am not really making suggestions here but I would like to get people started thinking about how technology could help our sport in terms of training and in terms of judging.
-- Anna Campanella
Related Links
Dressage Judging Working Group Presents 19 Recommendations to Improve System
Kyra Kyrklund: "Create a More Fair and Consistent Method for Dressage Judging"
Imke Schellekens: Show If Judges' Perspective Influences Outcome of Class