France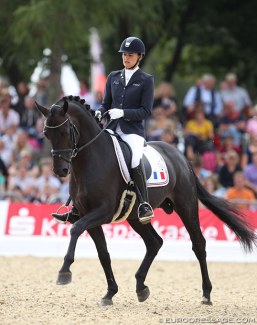 Jessica Michel-Botton's only remaining Grand Prix horse, Hermes de Hus, has been sold to Great Britain. 
Hermes de Hus is an 11-year old Hanoverian by Hotline out of Roselie (by Rohdiamant). He is bred by Heinrich Giesselmann.
Trained from young horse level to Grand Prix by French Jessica Michel-Botton, Hermes de Hus was one of France's most successful young horses.
He was fourth at the 2012 French Young Horse Championships as a 4-year old. He won the title as a 5 and 6-year old in 2013 and 2014 and was twice reserve champion at the PRO 1 level in France. 
The pair represented France at the 2013 World Young Horse Championships in Verden, Germany. They were 7th in the final for 5-year olds.
Hermes de Hus never competed internationally at FEI level. The pair made its national Grand Prix debut in France in 2017. In 2018 they competed at two national events, in Le Lion d'Angers and Vierzon. 
Michel-Botton is head rider of the dressage horses at Xavier Marie's Haras de Hus in Petit Mars, France. The owner of the property has made it clear that since the untimely death of its top Grand Prix stallion Don Juan de Hus, the focus of dressage barn at De Hus is now more on business and sales than international top level dressage sport.
Two months ago one Fusion de Hus sold as a Grand Prix hopeful to Australia for Brett Parbery to ride and now the Grand Prix level confirmed Hermes de Hus moves to the U.K. Both horses were brokered by Diederik van Silfhout in The Netherlands.
"It is my job to sell the horses I train! and I must be also proud of my work and not only sad to lose my friend," said Jessica. "I'm certain that he will give as much happiness to his new rider."
Hermes de Hus has been sold to a British youth rider. 
Photo © Astrid Appels
Related Links
Eurodressage Photo Database: Hermes de Hus
Brett Parbery's DP Weltmieser Sold, Three New Horses in the Barn
Quaterdance, Kojak, Hermes de Hus Win 2014 French Young Horse Championships
Kojak, Hermes de Hus, Django de Charry Win 2013 French Young Horse Championships
Don Juan de Hus, Danciero de Hus, Dona Primera Win 2012 French Young Horse Championships
Haras de Hus: Strength Lies in Calmness
Hexagon's Fusion Sold to Haras de Hus