2013 French Young Horse Championships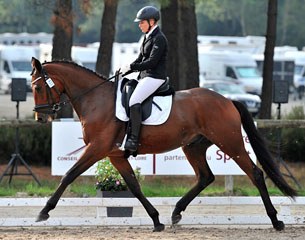 The 4-year old Kojak, the 5-year old Hermes de Hus and the 6-year old Django de Charry were the winners of the young horse championship classes held at the 2013 French Dressage Championships in Saumur, France, on 26 - 29 September 2013. Thirty-five horses in total gathered in Saumur for the young dressage classes to contest the National Young Horse Championship.
In the 4-year old division Clemence Cathala and her own Trakehner bred Kojak (by Grand Passion x Kennedy) became the overall winner after finishing second in the first round (83.00) and third in the second round (85,40). With an average score of 85.000 Kojak became the 4-year old  French young horse champion. The gelding edged out Jessica Michel aboard her own Hanoverian bred Divine Star (by Desperados x Rohdiamant). The duo was only 11th in the first round (77.00) but climbed its way up to first place in round two with 86.40 to finished on the second highest average of 84.833%.  Pierra Volla and his own Hanoverian gelding Don Meyer (by Don Frederico x Weltmeyer) were third with 84.667%.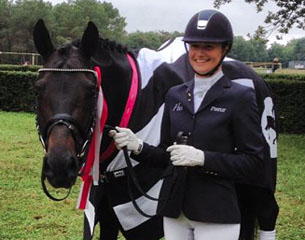 Leaving her top 5-year old and last year's French 4-year old champion Don Juan de Hus at home to give the licensed and actively breeding stallion a break after World Young Horse Championships in Verden, Jessica Michel steered her other Verden mount Hermes de Hus (by Hotline x Rohdiamant) to victory in the 5-year old division. The combination averaged 85.609%, winning round one with 88.33 and placing second in round two with 85.20. Jean Etienne Suisse de Sainte Clair finished second aboard the Hanoverian Domingo H (by Don Henrico x Baryshnikov). They were only 13th in the first round with 73.17% but improved dramatically in round two to post a winning score of 86.60%. Maeva Hoang and Nicolas Verstraeten's Dutch warmblood registered Diolita DN (by Tango x Glendale) were third with an average of 77.043%.
In the 6-year old category Jean François Combecave steered the bay Hanoverian gelding Django de Charry  (by Dancier x Londonderry) to victory with an 82.561% scoring average. The pair finished only 21st in the first round with 70.17% but won the second round with 83.80%. They edged out Bernadette Brune on the Oldenburg gelding Di Magic (by Dimaggio x Rohdiamant) by a fraction of a point. Brune scored 82.33% in the first round to rank third and 82.20% in the second round to finish second. She averaged 82.212%. Bertille Pelardy and the bay Hanoverian Hilario Saint H (by Herzensdieb x Acorado) slotted in third after ranking ninth in round one (75.50) and third in the second round (79.00). They were third with an average of 78.682%.
Photos © Les Garennes / private
Results - 2013 French Young Horse Championships
4-year olds

1. Clemence Cathala - Kojak (by Grand Passion x Kennedy) - 83.00 - 85.40 --- 85.000
2. Jessica Michel - Divine Star (by Desperados x Rohdiamant) - 77.00 - 86.40 --- 84.833
3. Pierra Volla - Don Meyer (by Don Frederico x Weltmeyer) - 80.00 - 85.60 --- 84.667
4. Catherine Noel - Selda (by Soliman x Rotspon) - 80.50 - 80.40 --- 80.417
5. Guillaume Recoing - Lancelot de Hus (by Lord de Hus x Ehrentanz) - 75.50 - 80.60 - 79.750
6. Gilles Botton - Eldorado de Hus (by Diarado x Balou de Rouet) - 82.000 - 78.80 --- 79.333
7. Christine Nolden - By My Side (by Belissimo x Argentinus - 76.50 - 79.60 --- 79.083
8. Gildas Flament - Al Capone (by Belissimo x Lauries Crusador xx) - 81.50 - 76.80 --- 77.583
9. Magdalena Pommier - For You Only du Riwan (by Furstenball x Rohdiamant)  - 84.50 - 75.40 --- 76.917
10. Ludovic Martin - Vermillion de Massa (by Maestro x Impissivel BN) - 80.000 - 75.80 --- 76.500
11. Wiedeke Zijp - Lexus Gold (by Locksley II x Donnerhall) - 74.00 - 76.40 --- 76.000
12. Renaud Ramadier - Vistoso (by Maestro x Xaquiro) - 78.33 - 75.00 --- 75.556
13. Jean Etienne Suisse de Sainte Clair - Daikiri du Fayard (by Rifaisos x Royal Diamond) - 68.00 - 76.60 --- 75.167
14. Damien Pichon - Freedom (by Furst Nymphenburg x Londonderry) - 76.50 - 74.000 --- 74.417
15. Bernadette Brune - Doc Hollywood (by Don Schufro x Sandro Hit) - 81.83 - 69.40 --- 71.472
5-year olds
1. Jessica Michel - Hermes de Hus (by Hotline x Rohdiamant) - 88.33 - 85.20 --- 85.609
2. Jean Etienne Suisse de Sainte Claire - Domingo H (by Don Henrico x Baryshnikov) - 73.17 - 86.60 --- 84.848
3. Maeva Hoang - Diolita DN (by Tango x Glendale) - 76.00 - 77.20 --- 77.043
4. Odile van Doorn - Undreo de Ber (by Sandro Hit x Ehrenwort) - 74.00 - 77.000 --- 76.609
5. Myriam Kusters - Dante (by Faustinus x Goodtimes) - 37.50 - 81.000 --- 75.326
6. Guillaume Philip - Maestoso Beja (by Maestoso Basowizza x Siglavy Dagmar) - 77.00 - 74.80 --- 75.087
7. Jaime Amian - Revue Girl (by Riccio x Latimer) - 79.33 - 72.40 --- 73.304
8. Marina Subileau - Souvenir Reel Oaklor (by Sir Donnerhall x Pik L) - 70.33 - 73.20 --- 72.826
9. Charles Edouard Renaud - Dancing Danka T (by Lord Leatherdale x Democraat) - 81.50 - 71.50 --- 72.804
10. Thomas Plessy - Daarjeeling de la Guiche (by Don Henricox x Salvano) - 74.50 - 71.80 --- 72.152
11. Mathilde Bayor - Utalia da la Baronnie (by Hostens de Bel x Weltmeyer II) - 72.33 - 71.40 --- 71.522
12. Alexandra Arcamone - French Ebony (by French Kiss x Giorgione) - 69.83 - 70.80 --- 70.674
13. Sara Magnusson Lostria - Happy Lady (by Hochadel x Londonderry) - 76.17 - 69.80 --- 70.630
14. Laurence Balay - Lys de Paris (by Lissabon x Primeur's As) - 74.33 - 69.00 - 69.696
15. Bertrand Liegard - Chaina de Deminche (by Stedinger x Donnerhall) - 71.33 - 68.20 --- 68.609
16. Ludovic Martin - Ultrableau de Massa (by Rubin Royal x Almondo Mac) - 71.83 - 67.00 --- 67.630
6-year olds
1. Jean François Combecave - Django de Charry (by Dancier x Londonderry) - 70.18 - 83.80 --- 82.561
2. Bernadette Brune - Di Magic (by Dimaggio x Rohdiamant) - 82.33 - 82.20 --- 82.212
3. Bertille Pelardy - Hilario Saint H (by Herzensdieb x Acorado) - 75.50 - 79.000 - 78.682
4. Jessica Michel - Dimension de Hus (by Desperados w Bolero) - 82.17 - 78.20 --- 78.561
5. Fabien Godelle - Tempo (by Brentano II x Donnerhall) - 77.17 - 78.20 --- 78.106
6. Jean Philippe Siat - Lovesong (by Locksley II x Wolkenstein II) - 83.67 - 77.40 --- 77.970
7. Guillaume Recoing - Symphonie de Hus (by Samba Hit II x Argentinus) - 87.50 - 76.80 --- 77.773
8. Hugues Mary Rousseliere - Sir Weltmeyer LH (by Sandro Hit x Weltmeyer) - 78.67 - 77.20 --- 77.333
9. Fabrice Zafour - Tzarine de Mesille (by Don Frederico x Sherlock Holmes) - 71.33 - 74.80 --- 74.485
10. Jean Paul Largy - Special Dream (by Samarant x Likoto xx) - 74.83 - 71.60 --- 71.894
11. Fabien Godelle - Themis (by Hotline x Donnerhall) - 75.67 - 67.80 --- 68.515
12. Laurence Albert - Tarantino Fleuri (by Hohenstein x Weltmeyer II) - 74.66 - 65.60 --- 66.424
13. Marc Brule - Temesis (by Ciel d'Espoir x Voltaire) - 69.00 - 64.20 --- 66.424
14. Nadege Bourdon - Saphir de Hus (by Solero x Lauries Crusador xx) - 79.17 - 61.20 --- 62.833
Related Links
Don Juan de Hus, Danciero de Hus, Dona Primera Win 2012 French Young Horse Championships
Blacktime, Grand Passion, Socrate de Hus Win 2010 French Young Horse Championships
Rock N Roll Star, Socrate de Hus and Wodan are 2009 French Young Horse Champions
Jessica Michel, Triple French Champion with Prime Time, Noble Dream, Riwera at 2007 French Young Horse Championships