Opinions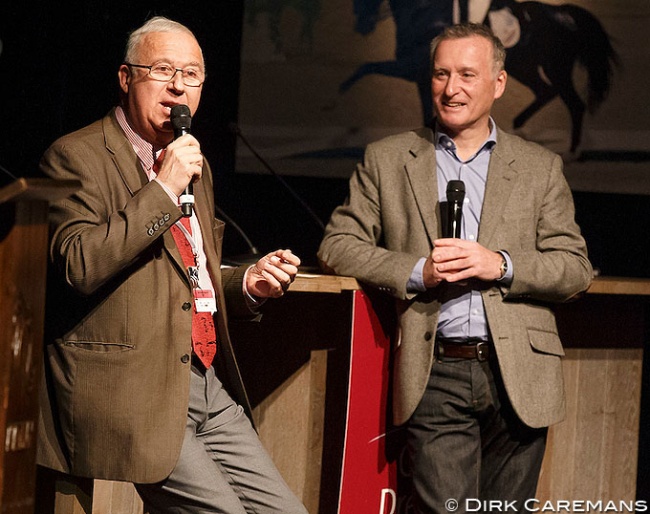 Guest columnist of the week is French 5* dressage judge Bernard Maurel who is also Head of French Equitation UNESCO Project and Documentation Department.
"Can scientist, riders and trainers understand each other?"
The two articles written by scientists and published on Eurodressage "The use/misuse of leadership and dominance concepts in horse training" and "Effect of noseband positioning to the fascial and neural dynamics of the head" are very interesting. Their content could be useful but I doubt that the trainers and riders will consider both articles as really helpful.
It appears that my job since around 40 years in the French National studs gives me many opportunities to work with scientists, about all specialties, feeding, breeding, animal behavior, bio-mechanic … All their work has the objective to give information for all people involved in horse breeding or horse riding. However, it was particularly difficult to transfer the results of the most interesting studies and make it applied in a practical way by the people, either amateurs or professionals who are horse owners or take care every day of horses.
Why ? Because it seems that scientist and horsemen don't understand each other very well : they have different way of thinking, different priorities; it's, excuse me, as if they don't use the same language …
When I was professionally involved in the European State Studs association, we had contacts with WHW and their very friendly and efficient chief executive Roly Owers. He was one of the few people able to translate in practical terms the EU rules about animal welfare and make it an improvement for the life of the horses and their transportation. I also have met Janne Winther Christensen when I invited her at Saumur National Riding School 3 years ago as a respected scientist about animal behavior and horse welfare. She can talk with all the trainers and riders presents, except the ones who don't speak English (or Danish !). When I read the article where she try to argue with Richard Davison, I had the same feeling that they can't understand each other ... despite the fact that Richard is one of the best connoisseur of our sport and of course he wants, like everybody involved, the dressage to be more popular and easier to promote.
So, is that possible to have scientist and horse people in general, dressage people in particular, communicate more and working together ?
At first, some examples of possible misunderstandings : about horse training, if you read the "ISES guidelines" it's nothing wrong for an experienced horseman and it fits quite well with the classical riding principles of the old masters ! But the language is so different : to reward a horse who is doing well, the scientists speaks about positive reinforcement and negative reinforcement ; what does it means ? You need ½ hour to understand that the first one is giving a sugar or a carrot, a pat or a compliment, when the second one is not to apply any more the action that was asking the exercise. How a reward could be called "negative" ?
About horse behavior, we, as dressage officials, stewards or judges, have to look at the horses in competition, stewarding at the warming up place or judging during the test in the arena. And in our "job" we take in account visible criteria of pain or discomfort of the horses (* here enclosed an article "how to judge harmony"). However, this observation has to be done following the FEI rules, and within the time where we are in function …. An heavy and loud breathing with excessive sweating can be penalized only if the paces are not correct (rhythm, tempo, symmetry), or if the contact looks very tense (very open or nervous mouth, unsteady head, blue tongue, strong and permanent grinding …) or if the general carriage is too restricted, or if the back doesn't work fluently ; but these criteria have to be evaluated instantly and by an human eye, that's totally different as a scientific approach… An other good example : the tightness of the noseband can be controlled by an official if the horse seems uneasy or resisting clearly ; but to find the correct place and the best way to measure if it is still comfortable shows the difficulty to have scientists, riders, trainers and organizers able to find an agreement together !
But the development of our dressage sport is a fact . Some years ago we had many forums, thanks to Joep Bartels, with participation of scientists like Hilary Clayton who analyses so well dressage biomechanics. Nowadays, we have to consider the place of the social networks and their free space of discussions. The interest of the medias, and the evolution of FEI as the sport governing body makes the times changing. Not to forget that most of the competitions are largely open to the general public who wants to see the horses and the riders as much as possible, because they are the stars of our sport ; and they can take videos and photos and send it quickly everywhere !
That's why I do hope that we could find again some places to organize meetings in between all categories of people involved, riders and trainers of course, with scientists who are well aware of the conditions of our sport. The officials are here to help them to speak together, and to propose to FEI the adapted rules to improve the image of dressage . And may be the coming year could see a better communication between scientists and horse people…! At first, a practical way to check nosebands could make Richard Davison and Jane Winther–Christensen find a common proposal ! Then this open discussion could lead to other points to improve our sport, and follow the objective of dressage as mentioned in the FEI rule, to show happy athletes on our arenas … It's my best wish for 2019 and may be later !
by Bernard Maurel - Photo © Dirk Caremans
Related Links
Bernard Maurel: "Why Make it Simple If It Can Be Complicated"
Bernard Maurel: An Independent Authority to Nominate Judges, Not Show Organizers
Bernard Maurel Appointed Head of French Equitation UNESCO Project and Documentation Department