Training Your Horse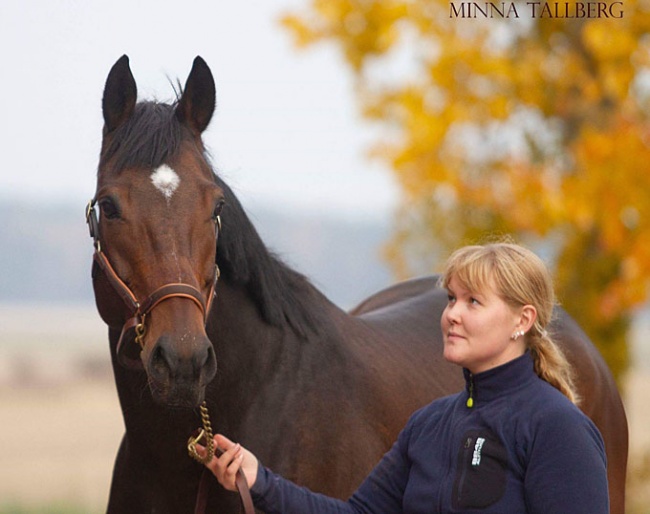 Meet Niina Kirjorinne, a classical dressage rider who is studying physiotherapy in the U.K. and treats horses with also treat horses with Stecco Animal Fascial Manipulation ® method. She recently posted one of Eurodressage's all-time most read articles "Effect of Noseband Positioning to Fascial and Neural Dynamics of the Head." 
Kirjorinne will be a regular contributor with articles about classical dressage training combined with equine physiotherapy.
Kirjorinne Introduces Herself
Every horse has a purpose for his rider, and it is our responsibility to find it. My previous horse was a heavy type warmblood gelding, descending from Cor de la Bryère and this horse completely changed my view on riding and especially dressage. "Capital" was trained to move against the bit, and this had caused a variety of problems in balance, straightness and suppleness of the horse. We used to compete on M-level, and the Capital was struggling through the classes because of the basic problems – tension and balance. 
Silence is golden in our northern culture. This perspective worked in the arena, but at the same time it made me uncomfortable. The same tension problems stayed there, I kept asking the horse the same way, while I was wishing to get another answer. To solve this problem became a turning point in my riding and it should turn out a turning point in my life..
During 2013 I met a new trainer in northern Finland. Colonel Christian Carde offered peaceful and effective solutions to my big questions, and this didn´t only change my riding technique, but also my attitude towards riding and horses overall. He helped me to find the logic and the joy behind the daily exercises, and ever since I didn´t have to worry about any challenges, because there is always an effective way to improve the situation. His approach has given me a very systematic, simple but precise way to work with horses, and it gave me again courage to focus and trust my feelings while I am riding. I returned to all possible clinics with Colonel and started traveling to other countries to get on his clinics with kindly borrowed horses to learn more. Since then every new horse gave me useful nuances and wider spectrum to understand a bit more about the system.
Even though I undoubtedly had found the approach I was looking for, I continued travelling to get also training from Australian based Spaniard Manolo Mendez, a former member of the School in Jerez and German I-judge Angelika Frömming who both widened my equestrian horizon and were no doubt compatible with the principles of Carde—classical is classical.
Before my education allowed me to achieve my goal of getting a freelance riding instructor, I have been working in security business for many years and adopted from there the principles of minimum intervention and proportionality: you do as little as possible, the thing must be done in a correct, calm and effective way, causing as little harm as possible. That idea works well when you need to correct something with horses. You need to be polite but effective, soft but clear, calm but demanding, always in a positive way. When you know where you are going, you need to start taking small steps towards that goal, first you need to be happy with small improvement and soon you will notice it just gets easier. For this you need to trust your horse and your gut feeling and simply know where you are going. You need good training and riding to build a horse that performs well. Best things are simple, but not always easy to achieve.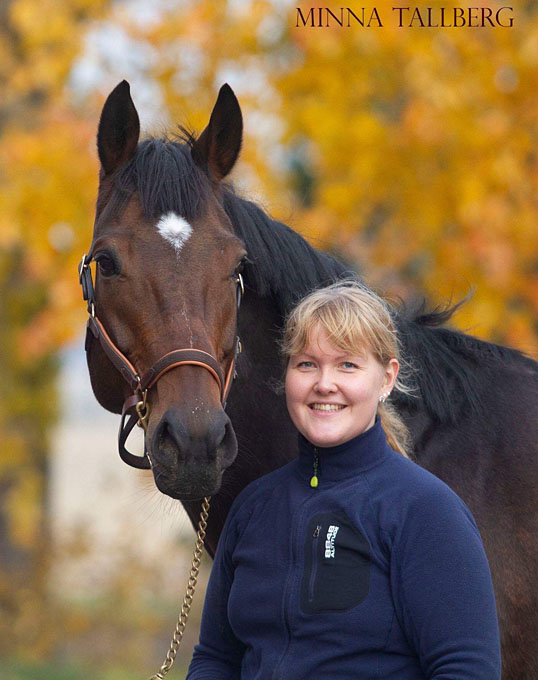 I am studying animal physiotherapy at the College of Animal Physiotherapy in Aylesbury, England and have been traveling around the world for years to find answers and gain good education about horse and rider anatomy, physiology and biomechanics. I combine and learn to understand different methods and to create useful and flexible practical skills. With Colonel Carde's system I can always mirror these things to his training and notice that the principles and elements of functionality are already included in various ways. Specially the education about different fascia concepts combined to good riding techniques have given me valuable understanding of how movement is created and how it can be improved. This is a solid ground to stand on and from there it is possible to develop the knowledge constantly. We need to be able to make the exercises logical and pleasant for the horse in an interesting way, with lots of variation in training. Good exercises help us forward and we need a peaceful, but brave mind with our hands out of pockets.
Working as a freelance riding instructor in Finland, I am giving clinics and lectures both myself and in co-operation with veterinarians and physiotherapists. My main interest is in finding individual posture and movement solutions for different kind of horses and riders to improve their joined performance. I teach professionals and all kind of riders in their own disciplines, I also treat horses with Stecco Animal Fascial Manipulation ® method. You can always improve your riding, so enjoy the journey!
Photos © Minna Tallberg
Related Links
Effect of Noseband Positioning to Fascial and Neural Dynamics of the Head
Christian Carde Clinic in Finland: "Good Riding is Good Riding"
Colonel Christian Carde, Classical Dressage as Horsemanship - Part I
Fromming & Stammer Seminar 2016: A Get-Together of Biomechanics and Classical Dressage Training