2018 CDI-W London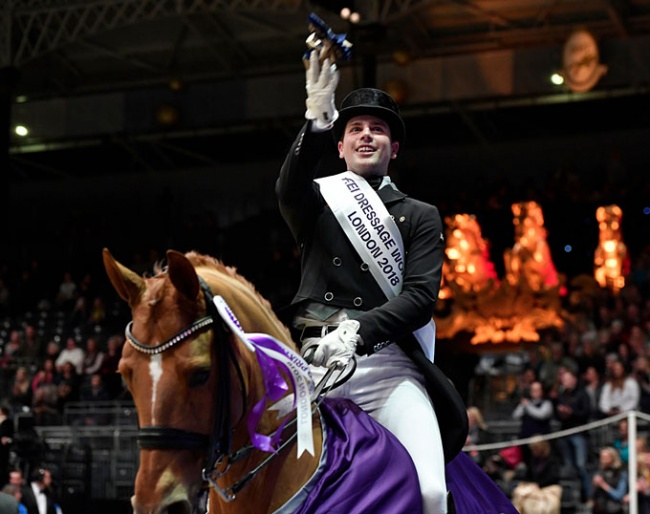 Germany's Frederic Wandres (31) and the aptly-named gelding, Duke of Britain, created a major sensation when reigning supreme in the sixth leg of the Dressage World Cup™ 2018/2019 Western European League at the London International Horse Show in Olympia (GBR) on Tuesday night 18 December 2018.
Not just because the man who rides for the world-famous Hof Kasselmann produced a spectacular personal-best score of 80.030 on his way to victory, but also because he matched the result posted by British superstar Charlotte Dujardin (33) riding Hawtins Delicato and pinned her into runner-up spot when achieving higher artistic marks.
"To reach the magical 80 percent is a real WOW for me," said Frederic Wandres (GER).
Wandres, however, has been rapidly rising to the top of sport over the past year. So much so that he is now listed in the German B squad going into 2019. He only posted his very first big international win at the Central European League FEI Dressage World Cup™ qualifier in Zakrzow, Poland two months ago, but his consistently impressive performances with the 11-year-old Duke of Britain have not gone unnoticed.
Third-last to go in the field of 12, he broke the mould when sporting a bow-tie throughout his lovely test that oozed "partnership" from start to finish. And he knew he'd done a good job when he rode to a halt and broke into a huge smile.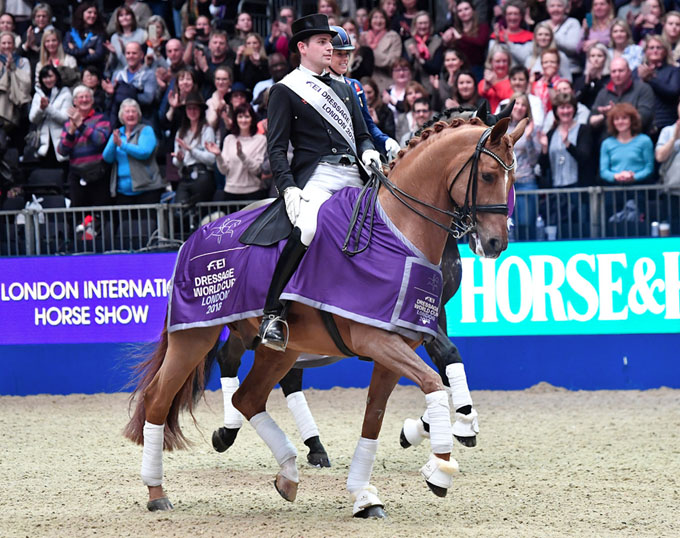 On a night when the electric Olympia atmosphere proved difficult for many others, Duke of Britain was in his element.
"That's his big plus - I can always trust him, he's completely chilled and not at all spooky, and if I don't make a mistake then he won't either," Wandres added.
Yesterday Olympia hosted the pilot for a shortened Grand Prix, together with a whole new presentation concept which was trialed for the first time in the London venue, including in-arena athlete interviews immediately after their test. Almost instant scoring, while the athletes were still in the arena, proved a real crowd-pleaser, and it was The Netherlands' Hans Peter Minderhoud who came out on top ahead of Dujardin in second and Wandres in third.
Last to go today however, the Dutchman's 10-year-old stallion Dream Boy, who showed fantastic spring, power and elevation, was tense and sometimes hesitant, and their score of 77.990 was only good enough for third this time around.
When Dujardin was asked if she'd ever been beaten by another rider who posted exactly the same score, the three-time Olympic gold medallist replied tonight "no never - that's the first time! It was extremely close and I feel like a joint-winner really!"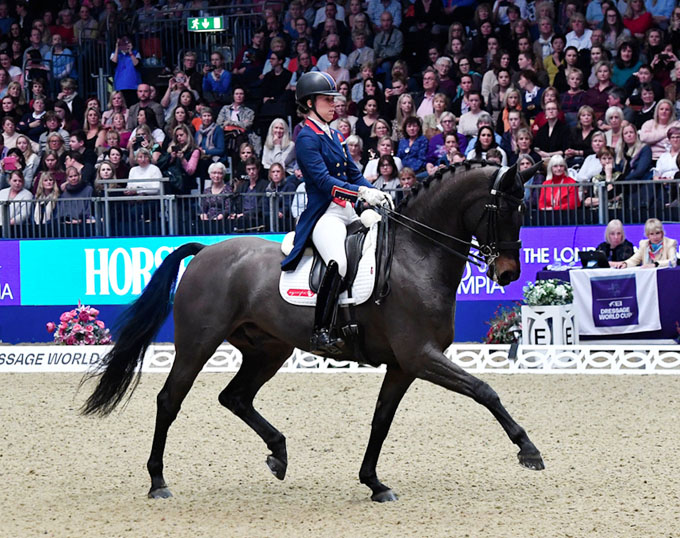 "I was really happy with Delicato, he's a young inexperienced horse. I rode him as a youngster through Small Tour levels and he did his first Grand Prix in January and then Carl (Hester) took over the ride. I literally got on him three weeks ago… I didn't know what to expect from him in this environment and I'm pleased with our clear round, there's so much more to come from him", she said of the 10-year-old which, ridden by Hester, helped clinch team bronze for Britain at the FEI World Equestrian Games last September.
Wandres, who also specialises in producing young horses, has been riding Duke of Britain for three years. "Last December we competed in the Louisdor Cup Finals for developing horses in Frankfurt, and the way he has developed since then to win two World Cup classes is really unbelievable! It speaks for the character, the ability and the willingness of this horse!" he said.
But now he finds himself in exactly the same position as compatriot Benjamin Werndl who won the previous leg of the Western European series in Salzburg, Austria two weeks ago and currently leads the league table. Only three riders per nation are permitted to compete at the FEI Dressage World Cup™ 2019 Final in Gothenburg, Sweden next April, and the battle between the leading Germans is a ferocious one. Even though today's result has catapulted him to third on the leaderboard, it's no guarantee Wandres will make the cut. He's going to give his horse an eight-week break and bring him out again for penultimate qualifier of the 10-leg series on home ground in Neumunster in February and see how it goes from there.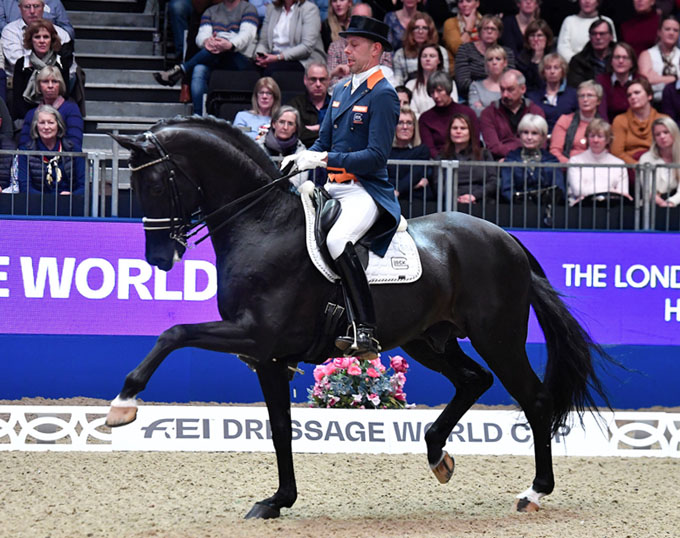 "I spoke to Monica (Theodorescu, German team coach) and she said if you have the chance to ride at these super shows then you take it, so that's what I'm going to do. Because in the end you never know what might happen, and for sure I want to go to Gothenburg if I can!" he said.
by Louise Parkes - FEI Press release
Photos © Kit Houghton
Related Links
Scores: 2018 CDI-W London
Minderhoud and Dream Boy Win Pilot Shortened Grand Prix at 2018 CDI-W London
Eurodressage coverage of the 2018-2019 World Cup Dressage Show Circuit