KWPN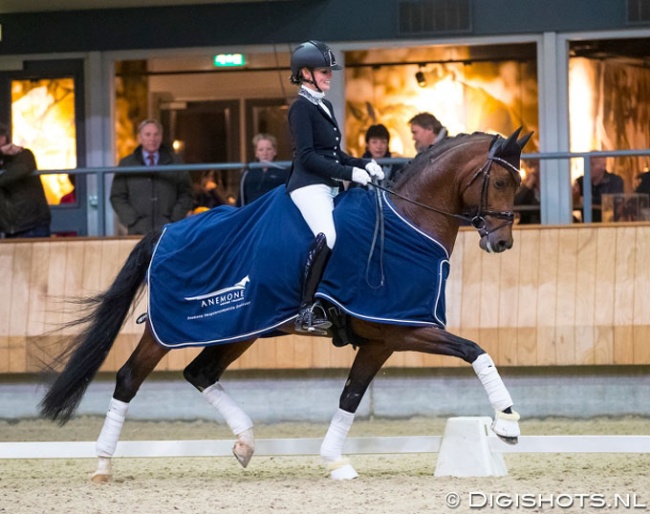 The 4-year old Jameson, the 5-year olds Imposantos and In Style, and the 6-year old Hermes became the winners of the second qualifier for the 2019 KWPN Stallion Competition Finals to be held at the 2019 KWPN licensing in 's Hertogenbosch in February.
The second qualifier of three took place in Ermelo, The Netherlands, on 12 December 2018.  The KWPN Stallion competition is mandatory for Dutch warmblood licensed stallions born in 2014 and 2015.
In the L-level division for 4-year olds, Marieke van der Putten and Jameson RS2 (by Zack x Negro) reigned supreme after scoring 94 points. The black stallion got a 10 for canter, 8.5 for walk and 9.5 for trot.  Just Wimphof (by De Niro x Riccione) landed second place under Renate van Vliet on 87 points. 
"He's a fantastic horse, I can be brief about it," said Van der Putten. "I had my hands full in the warm up. It is of course much colder now and he's quite stalliony. Jameson is quite a horse to ride. In the test he stays focused, which is so special about such a horse. I have the feeling that I can present him beautifully."
Two horses tied in first place in the M-level division for 5-year olds: Imposantos and In Style.  Judge Adriaan Hamoen rewarded Renate van Vliet with In Style (by Eye Catcher x Lorentin I) a 9 for trot, canter and general impression. The walk earned 8.5. Bart Veeze and Imposantos (by Wynton) finished on a same winning total of 88 points. 
In the Z-level division for 6-years olds, rider Dinja van Liere captured first and second place. She won the class aboard Hermes (by Easy Game) with 84 points. With Geniaal (by Vivaldi) she finished second on 81 points. 
"Right before the test the alarm went off, which meant that I didn't have same level of contact I had in the warm up. We both lost our concentration a bit," said Van Liere about her ride on Hermes. "Still he kept doing his thing and pay attention, even though you notice it can be better. It was definitely good, but not as nice as last time."
Photo © Digishots
Results - 2018-2019 KWPN Stallion Competition - Ermelo
4-year olds/L-level
1. Marieke van der Putten - Jameson RS2 - 94
2. Renate van Vliet - Just Wimphof - 87
3. Kim Koolen - For Ferrero - 85
4. Renate van Vliet - Johnny Depp - 85
5. Franka Loos - Jayson - 83
6. Gerrel Vink - Jheronimus - 80
7. Kirsten Brouwer - Joyride - 79
8. Theo Hanzon - Johnny Cash - 79
9. Emmelie Scholtens - Jamaica - 77
10. Dinja van Liere - Joop TC - 76
11. Eric van den Wildenberg - Jones - 76
12. Eva van der Linde - Jerenzo Texel - 75
13. Bart Veeze - Jerveaux - 74
13. Kimberly Pap - Jersey - 74
5-year olds/M-level
1. Renate van Vliet - In Style - 88
1. Bart Veeze - Imposantos - 88
3. Emmelie Scholtens - Indian Rock - 86
3. Joyce Lenaerts  - Iconic B - 86
5. Laura Reija Belart - Imagine - 83
6. Charlotte Fry - Inclusive - 78
7. Femke de Laat - Intro K - 78
8. Diederik van Silfhout - Impression - 77
8. Diederik van Silfhout - Il Divo - 77
10. Hans Peter Minderhoud - Dettori - 77
11. Nicky Snijder - Im' Perfect STF - 74
12. Franka Loos - Inverness  - 73
6-year olds/Z-level
1. Dinja van Liere - Hermes - 84
2. Dinja van Liere - Geniaal - 81
3. Riccardo Sanavio - Trafalgar - 79
4. Remy Bastings - Hennessy - 77
5. Jennifer Sekreve - Hitmaker - 74
Related Link
Jameson, Imposantos, Hermes Win First Qualifier for 2019 KWPN Stallion Competition Finals