Sweden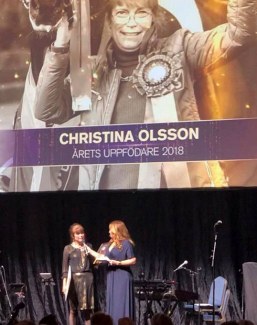 Well Done de la Roche, Patrik Kittel, Christina Olsson and Josefine Ander were honoured for their dressage achievements in 2018 at the 2018 Swedish Riders Gala in Stockholm, Sweden, on 28 November 2018.
More awards than ever were given in several new categories at this year's Swedish Riders Gala, but it were mainly the show jumping personalities that were the most decorated.
The Horse of the Year award went to the Swiss owned 10-year old Swiss warmblood mare Well Done de la Roche (by Furstentraum x Walt Disney, which Swedish Patrik Kittel rode to fifth place in the Grand Prix Special at the 2018 World Equestrian Games.  
Patrik Kittel was also named 'Rider of the Year' for dressage. Four riders were honoured in four disciplines as rider of the year.
Christina Olsson was named Breeder of the Year. Olsson has bred the World Young Horse Championship finalist Astoria (by Sir Donnerhall II x Quaterback), who also won the Swedish Young Horse Championships. Her breeding product Athena (by Temptation x Master) won the 5-year old Swedish Championships.
Josefine Ander of Lovsta Stuteri was named Groom of the Year. Tinne Vilhelmson-Silfven praised her young horse rider and care taker as "careful, solution driven and always putting the horses first."
Related Links
Bergakra Berglund and Quatermain Fly the Dressage Banner at 2017 Swedish Riders Gala
2016 Swedish Riders Gala To Relocate and To be Hosted in 2017
Lord, Dolk, Kyrklund Honoured at 2017 Swedish Riders Gala
Kristoffersson, Kittel, Haward, Etzner, Dan Brown and Don Auriello Honoured at 2015 Swedish Riders Gala
Aldenfalk, Strolchi, Darcia VH Honoured at 2014 Swedish Riders' Gala
Marina Mattsson Honoured at 2013 Swedish Riders' Gala
Lette and Hagman Award Recipients at 2012 Swedish Riders' Gala
Cecilia Dorselius Nominated to Become 2011 Comet of the Year
Kittel, Telde, Hofmann Honoured at 2010 Swedish Riders' Gala
Bergstrom Kallstrom, Comet of the Year at the 2009 Swedish Riders' Gala