2018 CDI-W Madrid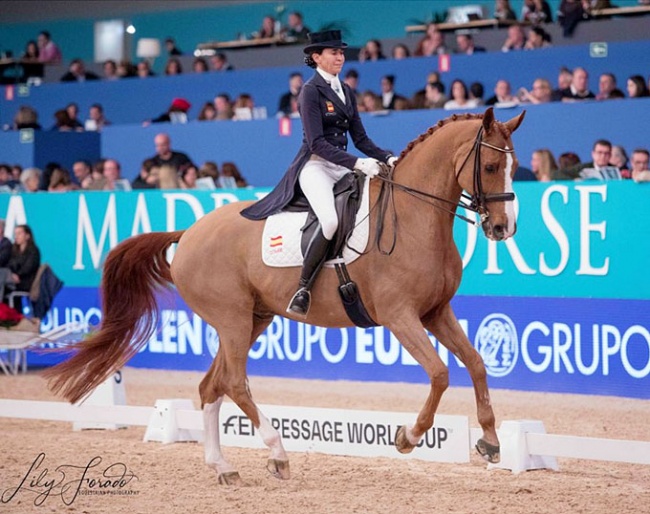 Spanish dressage legend, Beatriz Ferrer-Salat (52), posted a definitive victory with Delgado when the Dressage World Cup™ visited Madrid, Spain for the very first time on Sunday 25 November 2018.
Host nation riders dominated at this fourth round of the 10-leg 2018/2019 Western European League series when Claudio Castilla Ruiz (35) finished second with Alcaide ahead of Portugal's Maria Caetano (32) and Coroado in third.
Showing some lovely work with her 11-year-old Lusitano stallion, the Portuguese rider went to the top of the scoreboard with a mark of 77.655 when sixth to go of the 14 starters. And she stayed out in front despite the best efforts of 2016 FEI Dressage World Cup™ champion Hans Peter Minderhoud from The Netherlands when he posted 76.110 with Zanardi in the closing stages.
But Castilla Ruiz raised the temperature dramatically when next into the ring, starting out with one-handed one-tempi changes down the centre line that drew a gasp of amazement from the crowd. He smiled in delight as his impressive 13-year-old stallion showed great activity in his piaffe/passage, and when the Spanish showman completed his test with another display of one-handed control then the audience rose to their feet and roared with approval as he posted the new leading score of 78.915.
Ferrer-Salat's style has always been more understated, but the level of excellence shown by this consummate horsewoman has brought her many great moments including team silver and individual bronze at the Athens 2004 Olympic Games with the wonderful Beauvalais and individual bronze at the FEI European Championships 2015 with Delgado.
At 17 years of age the Westphalian gelding is now in the twilight of his career, but he showed he's not finished yet when placing 13th in the Grand Prix Special at the FEI World Equestrian Games™ 2018 in Tryon, USA in September. And today he rose to the occasion once again, working in complete harmony with his rider as he pumped out his trademark clockwork passage to post the winning score of 81.285 despite a single error in canter.
When the penultimate partnership of Great Britain's Richard Davis and Bubblingh retired after the 12-year-old Dutch gelding reared in over-excitement at the start of their test, then the Spanish rider could be seen walking Delgado on a long rein in the warm-up area as they prepared to enter the arena - cool as a pair of cucumbers.
"Before he does his test I always let him walk so he can relax and breathe, and then he's ready to perform. I talk with him a lot and it's always a wonderful feeling with him, he trusts me and I trust him," Beatriz Ferrer-Salat (ESP).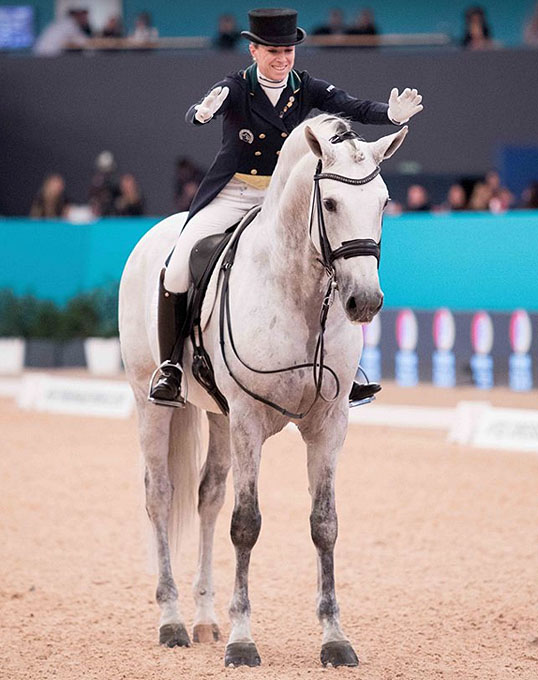 She is thinking ahead to Delgado's retirement - "sometime next year, depending on how he feels", she said. And she has a "very nice nine-year-old" who she hopes will begin to follow in his footsteps at the beginning of next year.
But tonight she was delighted that he performed so well in front of her home crowd once again. "Delgado is very fresh lately and willing to perform - he's very much with me still and I'm very proud of him!", Ferrer-Salat said.
The FEI Dressage World Cup™ 2018/2019 Western European League now moves on to Salzburg (AUT) in two weeks' time.
by Louise Parkes - FEI Press release
Photos © Lily Forado
Related Links
Scores: 2018 CDI-W Madrid
Eurodressage coverage of the 2018-2019 World Cup Dressage Show Circuit