Brightwells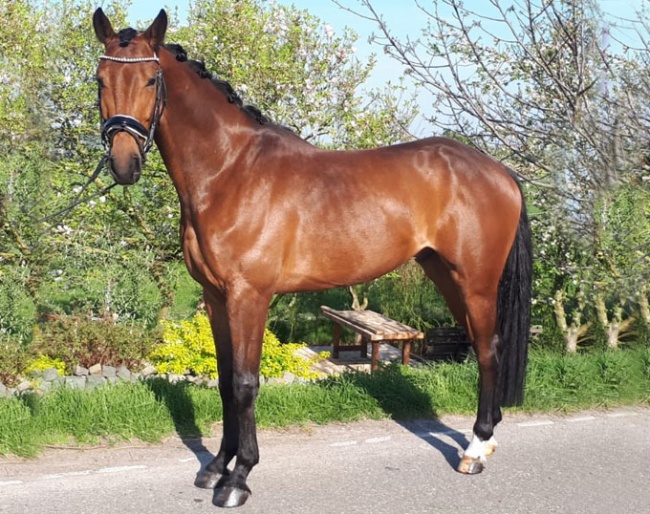 Brightwells is hosting an Elite Dressage Sale on Saturday 1 December 2018 at Addington Manor, UK.  This is a unique opportunity to purchase high quality, young dressage prospects, that have been produced carefully for the sale.
2018 Brightwells Auction Horses In the Spotlight: Jaguar 
Lot 15 Jaguar, a 4-year-old gelding by Everdale – Flemmingh - Nimmerdor
Jaguar is a son of the popular dressage stallion EVERDALE, who is competing at Prix St. George & Inter 1 level with Charlotte Fry of Great Britain.
Jaguar's mother Cynola M is an Elite, Prok & IBOP mare. Jaguar is a half-brother to; Gynola M (by Rousseau); Prok & Keur & competing at Novice level, Hynola M (by Charmeur); IBOP & Elite mare & I am the King (by Chippendale); Prok mare.
Jaguar's grandmother Cynodor is a Prest, Pref & Elite mare. She is also the dam of; Libido B (by Democraat); competing PSG, Jiri (by Ekstein); competing Advanced Medium, Hinola (by Voltaire); competing 1.30m level jumping & Advanced Medium dressage, Dynola M (by Johnson); Elite, Pro & Sport & competing Medium dressage, Unola (by Ferro); competing 1.45m jumping, Igor (by Ekstein); KWPN Licensed stallion & competing 1.20m jumping.
Jaguar is an upstanding, powerful young horse, who is ready to go out and compete with success.
Auction horse in the spotlight: Kay
Lot 35 Kay, a 3-year-old gelding by Fairytale – Flemmingh - Wisconsin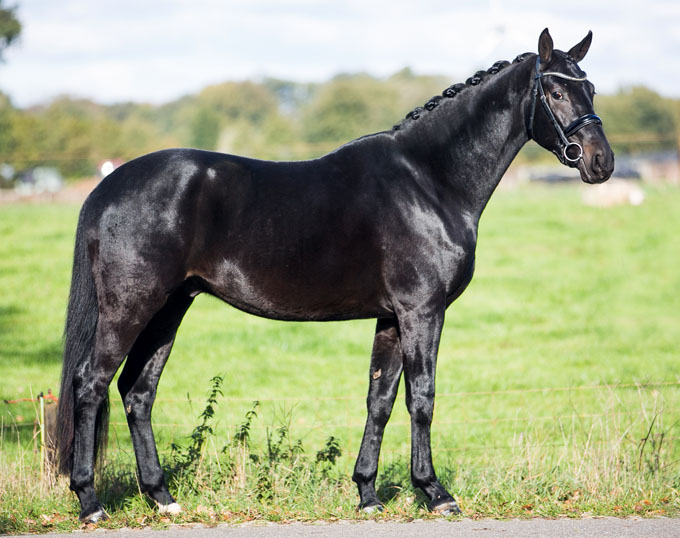 Kay is a son of Fairytale. He is a half-brother to Felicia (by Wup), who is competing at Medium level dressage.
Grandmother Fiolita D.B. is a Sport & Ster mare who competed herself at Advanced level.
Great grandmother Wendy, is a Keur mare, who has produced dressage horses jumping horses. The 1.60m level jumper, CABRIELA Z comes from this motherline.
Kay is a striking young horse. A beautiful model, who shows athleticism, three good gaits and super rideability. He is one for the future!
Click here to view all photos and videos
Timetable of Events
Friday 30th November
9am Stables open for viewing Trial rides by appointment throughout the day
1pm Vets office open
6.30pm Presentation of the Dressage horses under saddle
Saturday 1st December
9am Stables open for viewing
10am Vets office open Trial rides by appointment throughout the day
5pm Auction of Dressage, Show Jumping & Event Horses
Viewings & Trial Rides
We welcome you to view and try our auction horses at Addington on Friday 30th & Saturday 1st December prior to the auction.
All horses have undergone clinical examination including X-rays, which are available to be viewed.
Addington Manor Equestrian Centre is situated 1 hour from London Heathrow Airport.
For further information contact
Sarah Johnson
Tel: 0044 1568 619777
Mobile: 0044 7900 784014