2018 German Developing Pony Rider Championship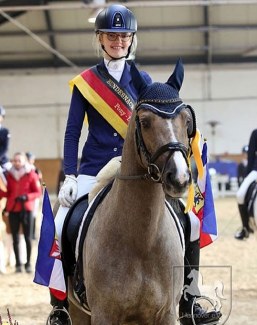 Alegra Schmitz-Morkramer became the winner of the 2018 German Developing Pony Rider Championships held at the indoor competition in Verden, Germany, on Saturday 17 November 2018. Aboard the 11-year old German riding pony mare Loreley, she scored the highest overall total of 17.9 points.
A total of 24 pairs qualified to compete in the Developing Pony Rider Championships, which are the stepping stone for young pony riders to FEI level pony sport. The combinations have to contest two L-level tests and the results are totalled for the final ranking. 
The 12-year old Alegra Schmitz-Morkramer and her mare Lorely (by Don't Worry) were the winners after two rounds. Especially in the second round the combination reigned supreme with a 9.2 score after already posting 8.7 in round one. 
"With this pair the very fine aids and optimal position of her legs are praise worthy. She rides incredibly well to the movemens of her ponies and she executed the movements in the arena very correctly," said youth team trainer Hans-Heinrich Meyer zu Strohen. "The canter on the long side was ridden energetically and the transitions were fluent. Also the giving of the reins went well."
The runner-up in the Championwhip was Clara Paschertz on Da Capo's Dancing Boy. The pair scored 8.0 and 8.8 to earn the silver medal with 16.8 points
The bronze medalist  is 11-year old Rose Oatley, daughter of Australian Olympian Kristy Oatley. Rose rode Daddy Moon (by Daddy Cool) to 8.6 and 8.0 for a third place with 16.6 points. 
Two combinations tied in fourth place with 16.5 points: Mette Schön on Jokers Jungle Prince and Laura Amelie Borges on Der kleine König.
Photo © Tina Pantel
Related Links
Finalists Announced for 2018 German Developing Pony Rider Championship
Johanna Kullmann Wins 2017 German Developing Pony Rider Championship
Elisa Mae Deilmann-Walsh Wins 2016 German Developing Pony Rider Championships
Nele Lobbert Wins 2015 German Developing Pony Rider Championship
Jule Marie Schönfeldt Wins 2014 German Developing Pony Rider Championship