2018 CDI-W Stuttgart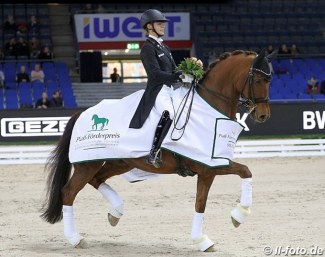 Jil-Marielle Becks became the winner of the 2018 Piaff Förderpreis Finals, the German Under 25 Championships, held annually at the international comptition in Stuttgart. 
The 2018 Piaff Förderpreis Finals took place on Friday morning 16 November 2018 with a field of a standard 8 riders invited for these Championships following a national show qualification circuit in Germany in the spring and summer.
Becks qualified for the Finals with two horses, Damon's Delorange and Damon's Satelite. She opted to take the latter to Stuttgart. 
After winning the warm-up round on Thursday with a massive 5% lead to the second placed pair, Becks and her 10-year old Westfalian Damon's Satelite (by Damon Hill x Rubin Royal) were the hot favourites for the title on Friday.
Becks and Damon's Satelite lived up to the expectations and the judging panel, consisting of Plewa, Umbach, Lehrmann, Fransen-Iacobaeus and Eisenhardt, unanimously scored them the highest with a winning total of 73.400% for their classic Grand Prix test. 
"Of course it's a good feeling to come to the Finals after two victories on different horses, but the arena here is a very nerve wracking environment so mistakes can happen easily and mistakes are expensive," Becks stated. "So one can't be too sure of oneself for the victory."
Bred, reared and trained by the Becks' family, Damon's Satelite was consistently trained by Jil-Marielle who was able to rely in 2012 and 2013 on Helen Langehanenberg's support. Since then he 21-year old has trained the horse independently, though she has worked with Klaus Balkenhol for fine-tuning. This summer she won team and individual test gold at the 2018 European Under 25 Chamionships.
"Damon's Satelite is a very special horse for me," said Jil-Marielle. "My family has bred the dam, just like they bred him and we own the sire. We almost grew up together, experienced everything together, from the Bundeschampionate to the first S-level tests. And now I have the good fortune to grew to Grand Prix together." 
Florine Kienbaum and her 14-year old Hanoverian gelding Doktor Schiwago (by Don Frederico x Weltruhm) were the runners-up with 70.160%.
Anna Magdalena Schessl and her 14-year old Westfalian Bred Biedermeier (by Belissimo M x Rubinstein) landed the third place with 68.680%.
Photos © LL-foto
Related Links
Scores: 2018 CDI-W Stuttgart
Lisa Maria Klossinger Wins 2017 Piaff Forderpreis Finals
Franziska Stieglmaier Wins 2016 Piaff Forderpreis Finals for German Under 25 Riders
Sanneke Rothenberger Wins 2015 Piaff Forderpreis Finals for German Under 25 Riders 
Schurmann Wins 2014 Piaff Forderpreis Finals for German Under 25 Riders
Nadine Husenbeth Wins 2013 Piaff Forderpreis Finals at CDI-W Stuttgart
Stella Charlott Roth Wins 2012 Piaff Forderpreis Finals
Sprehe Defeats Favourite Engelen in 2009 Piaff Forderpreis Finals
Matthias Alexander Rath Wins 2006 Piaff Forderpreis
Ellen Schulten-Baumer Wins First Ever Piaff Forderpreis at 2001 CDI Stuttgart