2018 French Youth Riders Championships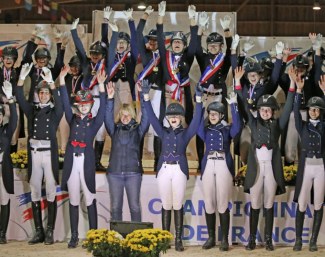 Children rider Cloé Jawurek, junior rider Léa Bonifay, young rider Capucine Noel and Under 25 Grand Prix rider Cedric Gallinard became the winners of the 2018 French Youth Riders Championships held in Le Mans, France, on 26 - 28 October 2018. 
Five combinations competed in the Children's division for 12 to 14-year olds on horses. New combination Cloé Jawurek placed herself on the highest step of the podium with an average of 73.874% after three rounds. Jawurek took over the ride on the 12-year old Belgian warmblood  Gayento van het Bloemenhof (by Samba Hit II x Ritmeister) only this year after purchasing the junior riders' competed horse from the Cadusseau family. At her first Nationals in Le Mans she won all three rounds with 72.233%, 73.733% and 75.656%. The silver medal went to Emilie Le Niger on the Selle Français bred Qoreane de Lauture (by Rosenprinz D x Donbito van de Helle). They averaged 68.657% for silver, while Anne Louise Bertagne and the Hanoverian bred Sergio LH (by Sir Donnerhall x Rotspon) earned bronze with 66,431%.
The junior riders' category was the best occupied one with thirteen combinations battling for the title. French pony and junior team routinier, Léa Bonifay, aced the division as the only rider to achieve a total average over 70%. Aboard the 10-year old Oldenburg bred Fantastique (by Fidertanz x Dream of Heidelberg), the Belgian based junior scored 69.216%, 71.289% and 72.375% to average 70.960%. Bonifay, who is trained by Virginie Deltour, was only beaten once in the Kur to music by silver medal winning Eugenie Burban on her new horse, the 7-year old KWPN licensed stallion Galaxie (by Jazz x Future), which her family purchased last spring. Burban scored 66.946% and 69.421% in the first two rounds and they won the freestyle on Sunday with 72.475%. Her 69.614% average landed her second place overall. Manon Ameye and her new ride of 2018, the 9-year old Rhinelander bred Juriana (by Jazz Rubin x Don Bedo) finished with bronze right on the heels of Burban with an average of 69.117%.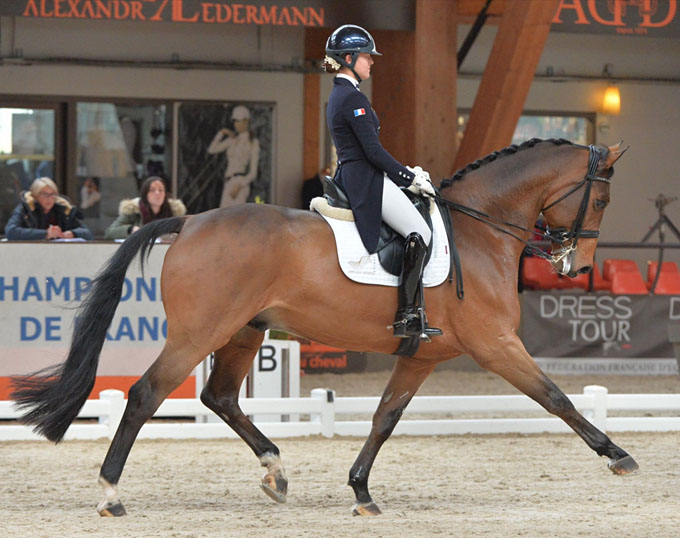 After winning the junior title in 2017, Capucine Noel and the 12-year old Hanoverian mare Soleil Noir vom Rosenhof (by Stedinger x Weltmeyer) captured the Young Riders title in a division with just four combinations. Noel averaged 72.486% after scoring 69.211% in the team test, 72.947% in the individual test and 75.300% in the Kur to Music. Mado Pinto and the 13-year old Lusitano bred Rafale du Coussoul landed silver with an average of 68.702%, while dressage new comer Lucie Demonet got the bronze. Demonet is a former international eventing pony rider and she switched to show jumping as a junior. Aboard the 9-year old Selle Francais bred Vegas du Chaillou (by Quite Easy x Ferro), she is making her first moves in dressage and got the bronze on an average of 67,117 %. Demonet's horse Vegas placed 26th at the 2015 World Young Eventing Horse Championships in Lion d'Angers three years ago!
Five pairs competed in the Under 25 Grand Prix division and Cédric Gallinard took highest honour aboard the 16-year old SBS Belgian warmblood bred Scherzo ZC (by Ferro x Romadour II). He scored 69.921% and 69.930% to average a winning  69,926% for the gold medal. The 20-year old Paul Lautier and the 15-year old Bavarian bred Rossini (by Rivero II) landed the silver medal with an average of 67.568%, while Pauline Guillem and Whisper Gold got bronze. Guillem has been putting her international competition career on the back burner and has only done one CDI in 2017 and one in 2018. At the Nationals she and her 15-year old Dutch warmblood (by Gribaldi x Wanderbusch II) averaged 64,947% for bronze.
Results - 2018 French Youth Riders Championships
Children
1.  Cloe Jawurek - Gayento van het Bloemenhof -  72,233% - 73,733% - 75,656% ---- 73,874%
2. Emilie Le Niger - Qoreane de Lauture - 68,333% - 69,700% - 67,938% --- 68,657%
3. Anne Louise Bertagne - Sergio LH - 66,767% - 65,900% - 66,625% --- 66,431%
4. Fleur Weijkamp - Devyne de la Fleuterie - 64,333% - 59,633% - 59,844% ---- 61,270%
5. Louna Ribot - Sunwave  - 61,800% - 63,600% - 54,406% --- 59,935%
Junior Riders
1.  Lea Bonifay - Fantastique - 69,216% - 71,289% - 72,375% --- 70,960%
2. Eugenie Burban - Galaxie -  66,946% - 69,421% - 72,475% --- 69,614%
3. Manon Ameye - Juriana -  69,757% - 68,368% - 69,225% --- 69,117%
4. Chiara Stefenel Orsini - Cicero -  66,108% - 67,132% - 69,475% --- 67,572%
5. Clemence Audi Bussio - Dujardin D'Arx - 66,811% - 65,895% - 69,700% --- 67,469%
6. Thomas David - Elegante Die - 66,432% - 65,895% - 70,000% --- 67,442%
7. Ella Lostria - Crymlyn - 65,405% - 65,105% - 70,425% --- 66,978%
8. Manon Giment - Wyoming -  65,270% - 65,947% - 67,000% --- 66,072%
9. Sarah Lopez - Diablo de Saint Val - 60,189% - 66,816% - 68,775% --- 65,260%
10. Charlotte Palas - Reiner Luxus - 64,730% - 66,737% - 64,250% --- 65,239%
11. Isoline de la Burgade - Reseda d'Arion - 64,784% - 64,316% - 66,500% --- 65,200%
12. Alice Delrieu - Alegro - 62,973% - 64,026% - 62,600% --- 63,200%
13. Camille Calibet - Arrow K - 62,919% - 62,474% - 60,575% --- 61,989%
Young Riders
1. Capucine Noel - Soleil Noir vom Rosenhof - 69,211% - 72,947% - 75,300% --- 72,486%
2. Mado Pinto - Rafale du Coussoul - 68,816% - 67,289% - 70,000% --- 68,702%
3. Lucie Demonet - Vegas du Chaillou - 67,105 - 66,395% - 67,850% --- 67,117%
4. Pauline Roth - World Champion du Loing - 65,842% - 67,079% - 68,075% --- 66,999%
Under 25 
1. Cedric Gallinard - Scherzo ZC - 69,921% - 69,930% --- 69,926%
2. Paul Lautier - Rossini  - 67,974% - 67,163% ---- 67,568%
3. Pauline Guillem - Whisper Gold - 64,895% - 65,000% --- 64,947%
4. Morgane Crouail - Zilverster - 62,895% - 62,744% --- 62,820%
5. Rachel Bastady - Fandango d'Arx - 63,763% - 61,488% --- 62,626%
Related Links
Milochevitch, Noel, Boireau, Le Gallais Win 2017 French Youth Riders Championships
Stickland, Dufil, Legallais Win 2016 French Youth Riders Championships
Pinto, Chevanne, Ducos Blanchet, Judet Cheret Win 2015 French Youth Riders Championships
Hel and Judet Cheret Win Gold at 2009 French Youth Riders Championships