2018 CDI-W Zakrzow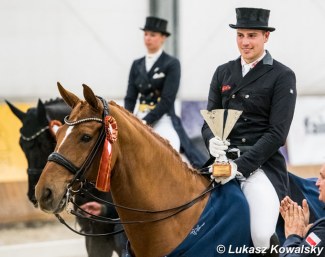 Frederic Wandres bagged their first international victory in his career at the Central European League World Cup Qualifier in Zakrzow, Poland, on 26 - 28 October 2018. Aboard Hof Kasselmann's 11-year old Duke of Britain, Wandres achieved a double whammy in the big tour.
Wandres won the warm up Grand Prix with a personal best score of 74.457%, besting a field of 16 riders. The Hof Kasselmann in-house rider upped the ante even more in the Kur to Music, which he dominated with a score close to the magical 80% barrier: 79.610%. With his Ralf Roder freestyle based on Burak Yete's Tuesday, Wandres kept fellow country mate Fabienne Lutkemeier on Fabregaz behind him. She was second on 77.850%, a bit ahead of Hamburg based Portuguese rider Boaventura Freire on Sai Baba (by Sir Donnerhall), on 75.385%.
"The trip to Poland was really long and tiring, at least for me, but Duke felt obvously good and focused like never before. He gave me that feeling in the warm up arena and we could keep that going for us into the arena."
Wandres began competing the sympathetic chestnut Duke of Britain in the spring of 2018 with significant starts in Hagen, Aachen, Rotterdam, Falsterbo and Donaueschingen. Over the summer Frederic focused on consolidating the basis on Duke. 
"In the summer saison we didnt focused on a special exercises, but we had an eye for improving the suppleness and conditional workout," Wandres explained. "We went a lot on our race track and did a lot of hacking in walk. It is very important for Duke that I keep him mentally happy."
Wandres hopes to compete at the CDI Stuttgart next and wants to focus on the winter World Cup competitions. "Any further shows will always be closely dicussed with team trainer Monica Theodurescu," Frederic added. 
Photos © Lukasz Kowalski
Related Links
Scores: 2018 CDI-W Zakrzow
Wandres and Duke of Britain Win Louisdor Cup Qualifier at 2017 CDI Hagen
Zucchero Flies to 5-YO Title with Event High Score at 2018 Bundeschampionate