2018 CDI Le Mans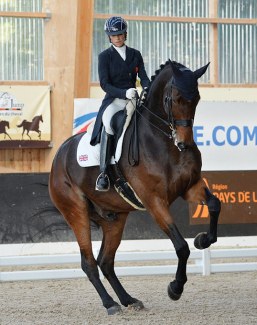 British Sarah Millis and Gareth Hughes enjoyed a highly successful trip to Le Mans CDI3*/2*/U25/Y/J/P/Ch-A in France on 18 – 21 October 2018. The duo scooped up the trophies in the Grand Prix level classes.
Gareth Hughes dominated the senior big tour. The World and European team medallist got off to a fantastic start achieving a one-two in Thursday's Grand Prix. With wife Rebecca's Briolinca (by Trento B x Royal Dance), the mare with whom he won the British Grand Prix title at Stoneleigh last month, he took the top honours with a score of 73.565%. With Claudine Kroll's Swiss-bred KK Woodstock (by Wolkentanz II out of Landiosa) he also impressed to take second, scoring 70.804%.
On to Saturday, Briolinca, with whom Gareth was also shortlisted for WEG this year, delivered a superb Grand Prix Special for a personal best score of 76.149%. In an unequivocal victory, the pair finished almost seven percent ahead of Germany's Juliette Piotrowski and Sir Diamond in second. Not to be outdone by his stablemate, KK Woodstock headed the Grand Prix Freestyle. The 12-year-old gelding was awarded 73.775% ahead of fellow Brit Louise Bell with Into The Blue who achieved 71.700% following their super 68.022% top-five Grand Prix.
In the Medium Tour divisions, World Class Podium Potential rider Sarah Millis and her rising star Behroez dominated. Sarah and the huge 12-year-old (by United x Gribaldi) who were unbeatable in the small tour at Le Mans last year, won the Inter B with a score of 69.825% followed by an Inter II victory with 70.88%.
"Great day in France with another win for Boss who tried his heart out in the CDI** Middle Tour Inter II with a plus 70%," said Sarah on Facebook. "So pleased with this super talented horse."
Related Links
Scores: 2018 CDI Le Mans
Wientzek-Plage Climbing the Board to 2018 CDI Le Mans GP Special Victory
Marlies van Baalen Sweeps the 2015 CDI Le Mans with Three Horses
Yoeki Bos In Command of Junior Classes at 2015 CDI Le Mans