2018 CDI-W Herning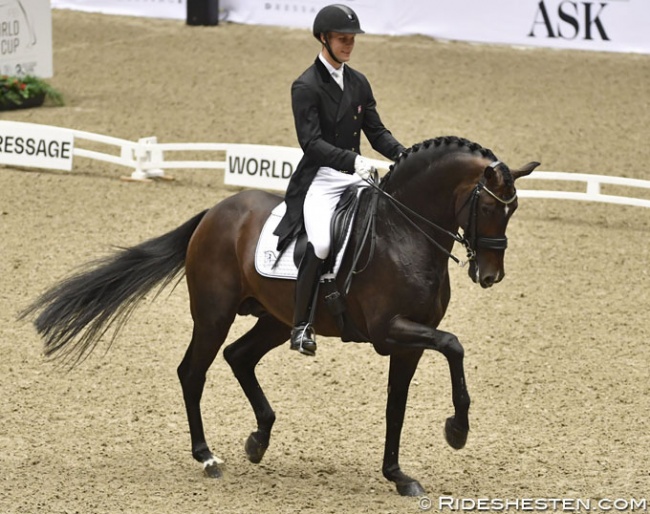 Daniel Bachmann Andersen (28) and Blue Hors Zack were definitive winners of the first leg of the new FEI Dressage World Cup™ 2018/2019 Western European League season on home ground in Herning, Denmark, on Sunday 21 October 2018.
All five judges put the Danish duo into pole position while Germany's Helen Langehanenberg (36) steered Damsey FRH into second spot ahead of Sweden's Tinne Vilhelmson Silfven (51) and Don Auriello in third.
"It was a fantastic Freestyle today - no mistakes and very easy, very light and smooth. Yesterday Zack felt tight during the Grand Prix and we had a few mistakes. But today he was suppled up a little bit more and that paid off a lot", Bachmann Andersen said.
Langehanenberg won yesterday's Grand Prix ahead of Vilhelmson Silfven in second and Bachmann Andersen in third. But the Danish rider who became part of the Blue Hors Stud team four years ago was determined to do better.
"I felt I had a chance to win today but I knew I had to be humble. Helen and Tinne could also do good so I had to ride really well - I took my chance and I rode my chance," said Daniel Bachmann Andersen (DEN).
The bar was raised to over 80 percent by six-time Olympian, Vilhelmson Silfven, when third-last to go with her 16-year-old gelding. The pair finished second at the FEI Dressage World Cup™ Final in Gothenburg (SWE) two years ago and were on the Swedish team that finished fourth at last month's FEI World Equestrian Games in Tryon, USA.
However their mark of 80.90 was immediately bettered by London 2012 Olympic team silver medallist Langehanenberg whose brilliant record at the FEI Dressage World Cup Finals includes victory with Damon Hill NRW in 2013. A score of 81.40 with the 16-year-old stallion Damsey FRH put her out in front when second-last into the arena today, but her advantage was short-lived.
Big marks included two scores of 9.9 for Degree of Difficulty from judges Katrina Wuest (GER) and Mariette Sanders-Van Gansewinkel (NED) as Blue Hors Zack soared to the top of the leaderboard on a final tally of 83.37 for victory. Bachmann Andersen was delighted with the horse who he says has "an amazing temperament, he's sharp and yet he's still very calm".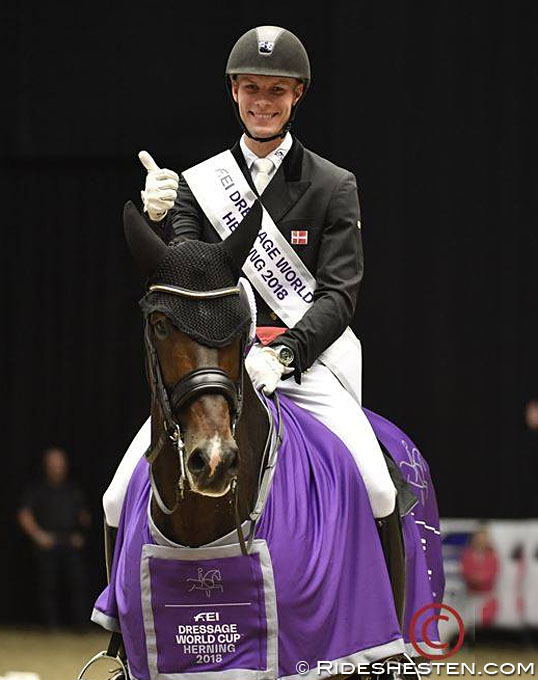 "He's also a breeding stallion and he's not just my horse, he's my friend and my partner, he's everything to me! He was given up a bit by other riders who had him before, he wasn't easy because he's very sensitive, so I had to get into his heart and get him to trust me - now what we have is very special," said Daniel Bachmann Andersen (DEN).
And Zack is also special because he's blind in one eye. "There were a few issues to work on and a lot of bumps along the way, and he was actually 12 years old when he made his debut at this level of of the sport but he just got better and better from show to show after that", Bachmann Andersen added.
However after today's great result, Zack will take a break because he's had a busy year, finishing seventh at the FEI Dressage World Cup™ Final 2018 in Paris (FRA), competing successfully in Aachen (GER) in July and finishing 10th individually in the Grand Prix and 17th in the Special at the FEI World Equestrian Games™ last month.
"My plan now is to give him a rest until the qualifier in Amsterdam (NED) in January, and I definitely want to make it to the Final in Gothenburg with him" the Danish rider said this evening.
by Louise Parkes - FEI Press release
Related Links
Scores: 2018 CDI-W Herning
Eurodressage coverage of the 2018-2019 World Cup Dressage Show Circuit
Dancing Shoes Dusted Off as 2018-2019 Western European League World Cup Circuit Begins in Herning