Danish Warmblood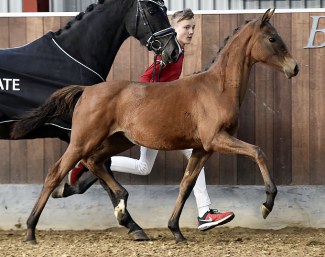 The Danish warmblood society is proud to show came a collection of stunning foals that will be auctioned at the inaugural Danish Warmblood World Cup Foal Auction at the 2018 CDI-W/CSI-W Herning on Friday 19 October 2018 at 17h00.
"The Danish Warmblood auction committee is working continuously to develop the auctions which take place in March, August and September," said DWB ceo Casper Cassoe. "During the last 10 years this has resulted in very good collections, generally increasing sales percentages, and average prices not to mention two major events attracting new buyers and audiences from both home and abroad."
Danish warmblood is now excited to add this World Cup auction to their programme:
Exquisite Collection of Twenty Foals
An exquisite lot of 20 jumping and dressage foals has been hand picked by the Danish warmblood selectors for this brand new auction at the Herning World Cup qualifier, the kick off event of the 2018-2019 Western European League World Cup show circuit.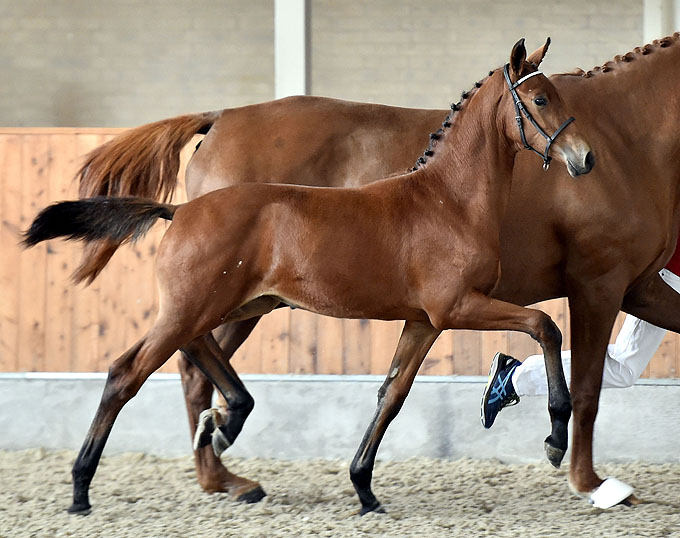 Highlights in the collection include filly Hesselhøj Vamilja (by Vitalis x Sir Donnerhall II) is extraordinary dressage foal: Very expressive, refined, feminine and incredibly well-moving in all gaits. She is absolutely extraordinary in her gaits and has very exciting bloodlines from one of Denmark's strongest mare line. Granddam Søbakkehus Kamilja is the dam to the licensed stallion and World Young Horse Championship medal winning Hesselhøj Donkey Boy. She is competing at highest level in dressage and is sold to Switzerland. Donkey Boy´s sister is competing at highest level in the United States. 
Worres Nina (by Franklin x Aquilino) is a beautiful, light-footed filly with excellent movement, carriage and form.   She is extremely well bred - the sire Franklin has already consolidated himself as the producer of offspring possessing their own excellent carriage and movement.  Dam Valløs Nikita competed at M level as 6-year-old, and so did Worres Nina´s halfsister Valløs Natalja, before the went into breeding.  
The impressive liver chestnut colt Frydenssangs Imola (by Ibiza x Don Schufro) is a leggy and refined dressage colt with a masculine expression. This foal is tall and elastic with excellent movement in trot and canter. He showed a clear up-hill tendency and good impulsion. He is out of well-bred dressage blood and derives from a very successful mare line. This line includes three elite mares within the first four generations and the granddam is also a bronze medal mare. She produced the stallion Hot Shot, which was approved for the stallion performance testing, and the silver medal mares Wrigley'z and Waikita.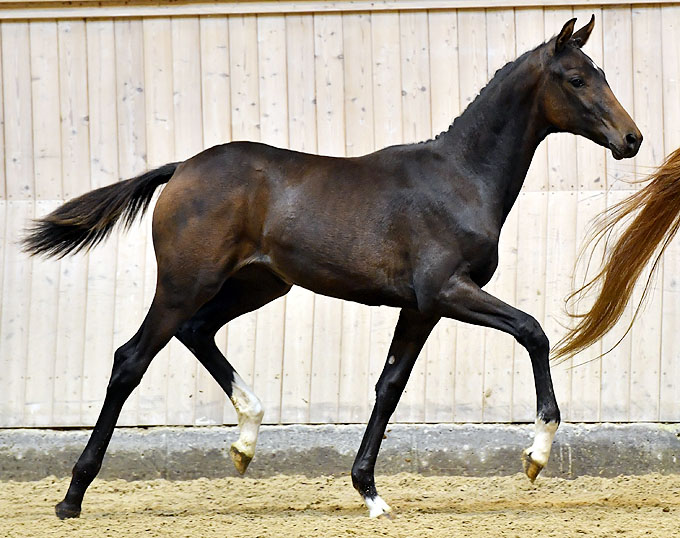 The dark bay filly Overgaards Australia (by Farrell x Zack) is an elegant, well-built filly with a very good type and three elastic gaits that show ground cover and engagement from behind in an uphill tendency. Her damline is probably one of the best lines in Danish Warmblood as it produced licensed stallions Blue Hors Zackerey, Overgaards Za Rak, Tailormade Zacksu and Zacman M. 
Certainly have a look at A.B. Formidable (by For Romance x Don Romantic). This long legged, harmonious and elegant filly has a rhythmic, ground covering walk and trot and a well-balanced canter. Dam Hexarin is out of the highly awarded Grønvang line. Great grand dam Hera was the winner of the Trakehner performance test and the TAF championship for 4-year-olds. She won her DWB ability test and won silver in the DWB Young Horse Championship with a 10 for rideability and 9 in potential. She also produced a gold medal mare, 2 bronze medal mares and a horse competing at advanced level in dressage.
Foal Presentation and Bidding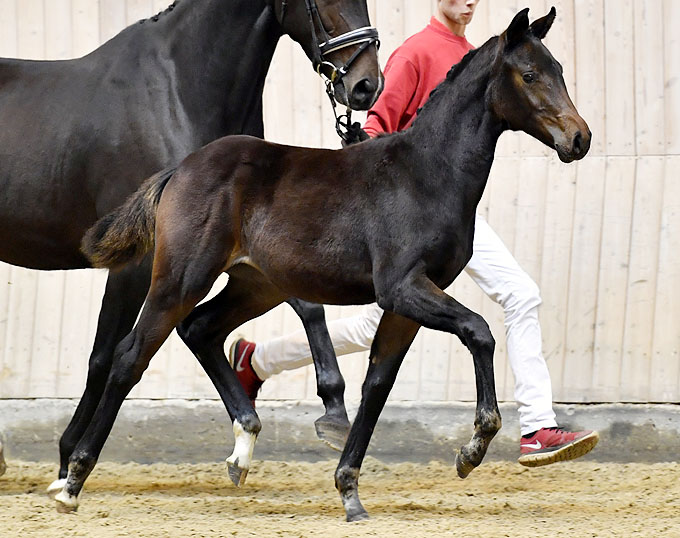 A live presentation of the collection will be on Friday noon time. The jumper foals will be presented at 12.50h in the Nathalie Horse Care Arena M in Herning, while the dressage foals will be shown to the public at 13.10h in the Jyske Bank Boxen arena.  The presentation of the foals as well as the auction will be streamed live on zibrasport.dk.
The auction starts on Friday afternoon at 17h.
Visitors who cannot attend the auction, can bid over the phone.  For information on bidding and foals please contact Louise Ringsbo via lrb@varmblod.dk or call +45 61679493
Explore the complete collection with photos and videos on www.varmblodauktion.dk. Follow the auction also via Facebook.