Oldenburg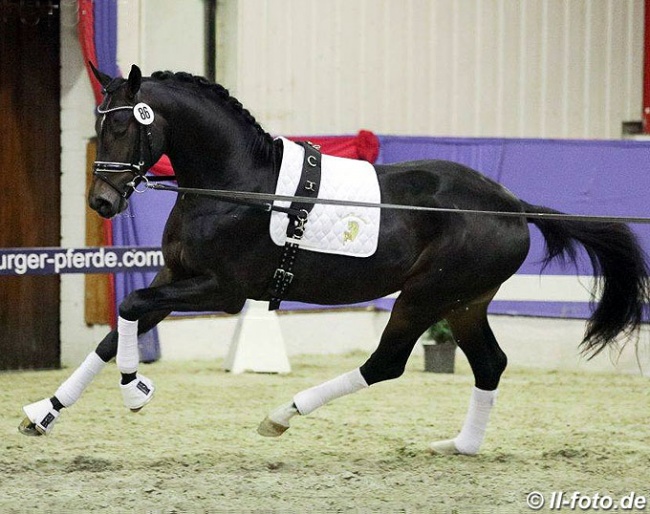 Forty-eight dressage bred colts have been accepted to participate in the 2018 Oldenburg Stallion Licensing, which will take place in Vechta, Germany, on 22 - 24 November 2018. 
Over 190 young dressage colts were presented at the three pre-selection days in Vechta, and 48 of them have been successful and were accepted by the Oldenburg Stallion Licensing committee to present themselves at the licensing.
The best represented sire at the 2018 Licensing is the 2011 licensing champion For Romance (by Furst Romancier x Sir Donnerhall) with six sons selected. The second best represented sire is the 2014 licensing champion Morricone (by Millennium x Rubin Royal) with four sons selected.
Twelve of the 48 selected colts are bred outside Germany. Concerning colour spread, the entire collection consists of dark coated horses (liver chestnut, bay, dark bay, black) with the exception of just three chestnuts. No grey horses at all.
Photo © LL-foto
The selected colts for the 2018 licensing are:
Barroso x Sandro Hit x Worldmann --- Breeder: Schürmann jun., Resthausen
Belissimo M x Rohdiamant x Ex Libris --- Breeder: Heinz Ahlers, Hatten
Bernay x Santino x Wanderbursch II --- Breeder: Thedo Rewerts, Berumbur
Bon Coeur x Caprimond/T. x Donnerhall --- Breeder: Munch Nielsen, Jystrup (DK)
Bordeaux x Dacaprio x Glückspilz --- Breeder: Mount St. John Equestrian, Thirks (GB)
Bordeaux x Sir Donnerhall x Rubinstein I --- Breeder: Julia Zissel-Hermann, Hatzfeld-Eifa
Danone x Fürst Romancier x Florencio I --- Breeder: Katja Schiele-Jenei, Sieversdorf
Dante Weltino x Sir Donnerhall x Don Schufro --- Breeder: Gestüt Lewitz, Mühlen
De Niro x Rohdiamant x Grundstein II --- Breeder: Harli Seifert, Löningen
De Niro x San Amour I x Donnerhall --- Breeder: Gerold Gögele, Bleckede
Desperado x Diamond Hit x Apollonios xx --- Breeder: D.H. v. Heerde, Epe (NL)
Don Deluxe x Weltmeyer x Ludendorff --- Breeder: Johannes Westendarp, Wallenhorst
Diamond Hit x Florencio I x Sion --- Breeder: Bernhard Schrapper, Grönheim
Diamond Hit x Fürst Heinrich x Don Schufro --- Breeder: C. Arns-Krogmann, Lohne
Dimaggio x Calambo x Ragazzo --- Breeder: Dirk Michiels, Herent (B)
Don Romanov x San Amour I x Rohdiamant --- Breeder: Limbecker GmbH & Co. KG, Bernried
Fiderdance x Sandro Hit x Riccione --- Breeder: Gestüt Bonhomme GmbH & Co., Werder
Floriscount x De Niro x Matcho AA --- Breeder: Virginia Urbath, Hamburg
Florenz x Bordeaux x Fürst Heinrich --- Breeder: Andreas Kamphaus, Lohne
Formel Eins x Sandro Hit x Fidermark --- Breeder: Stefan Kupitz, Brilon
For Romance I x Stedinger x Friedensherr --- Breeder: S. F. Stud & B. S. LLP, Chard (GB)
For Romance I x Sir Caletto x Insider --- Breeder: Michaela Rehwald, Essen
For Romance I x Sevillano xx x Andiamo --- Breeder: Gerd Pigge, Lastrup
For Romance I x Contendro I x Carabas --- Breeder: Dieter Schmidt, Hude
For Romance I  x Sir Donnerhall x Lavauzelle AA --- Breeder: C. Arns-Krogmann, Lohne
For Romance I x Fidertanz x Wolkentanz II --- Breeder: Bernhard Gerdes, Lindern-Hegel
Franklin x Don Schufro x Akzent II --- Breeder: Dr. Jobst Hartmann, Holdorf
Fürstenball x Dancier x Sandro Hit --- Breeder: Thaden & Tienken-Thaden, Butjadingen
Fürstenball x Charmeur x Hotline --- Breeder: Gestüt Lewitz, Mühlen
Fürst Romancier x Sandro Hit x Langata Express xx --- Breeder: A. & C. Hinxlage, Garrel
Grand Galaxy Win x Don Schufro x Rawage Quintus --- Breeder: HH Horses, Solroed (DK)
Grey Flanell x De Niro x Rohdiamant --- Breeder: Västra Hoby Stuteri, Lund (SWE)
Jazz x Ampere x Michelangelo /T. --- Breeder: tatement Horses NL, Dalfsen (NL)
Johnson x Rohdiamant x Donnerhall --- Breeder: ZG Rouenhoff, Goch
Metall x Fürst Romancier x Desperados --- Breeder: Johannes Sabel, Gersten
Millennium/T. x Donnerball x Landadel --- Breeder: ernhard Schrapper, Grönheim
Millennium/T. x Rubin-Royal x De Niro --- Breeder: Heinrich Vahle, Friesoythe
Morricone x Fürst Romancier x Sevillano xx --- Breeder: R. & A. Ahlers, Hude
Morricone x Sandro Hit x Don Pikado --- Breeder: Konrad Kleine Piening, Damme
Morricone x Hotline x Davignon II --- Breeder: Agathe Stempflin, Folgensbourg (F)
Morricone x Sir Donnerhall x Diamond Hit --- Breeder: Gestüt Lewitz, Mühlen
Sezuan x Don Romantic x Caprimond/T. --- Breeder: JJ Horses DA, Mysen (DK)
Veneno x Don Romantic x Sandro Hit --- Breeder: Anke Schulze Henne, Ahlen
Vivaldi x Fürst Heinrich x Wolkentanz II --- Breeder: Heinz Lenter, Meppen-Kl. Fullen
Vivaldi x Johnson x Rosenkavalier --- Breeder: LOWI BVBA, Roeselare (B)
Vivaldi x Davignon II x Weltmeyer --- Breeder: MTY H. & J. Niiranen, Ypäjä as (FIN)
Quindale x Rohdiamant x Ramino --- Breeder: Gestüt Bonhomme GmbH & Co., Werder
Zack x Florencio I x Donnerhall --- Breeder: Paul Rode, Lindern
Related Links
Benefit, Champion of the 2017 Oldenburg Stallion Licensing
Furst Fabrice, Champion of the 2016 Oldenburg Stallion Licensing 
Bonds, Champion of the 2015 Oldenburg Stallion Licensing
Morricone, Champion of the 2014 Oldenburg Stallion Licensing
Don Deluxe, Champion of the 2013 Oldenburg Stallion
Follow Me, Champion of the 2012 Oldenburg Stallion Licensing
For Romance 2011 Oldenburg Licensing Champion, Tight Junction Steals the Show
De Martino Captures Champion's Title at 2010 Oldenburg Stallion Licensing
Fairbanks, Champion of the 2009 Oldenburg Licensing
Furstenball, Champion of the 2008 Oldenburg Stallion Licensing
Sieger Hit, Champion of the 2007 Oldenburg Stallion Licensing
Sandro Hit Euphoria At 2006 Oldenburg Stallion Licensing
Marketing Above Quality at the 2005 Oldenburg Stallion Licensing
Furst Heinrich Fledglings Fly High at 2004 Oldenburg Stallion Licensing
Don Kennedy, Champion of the 2003 Oldenburg Stallion Licensing