FEI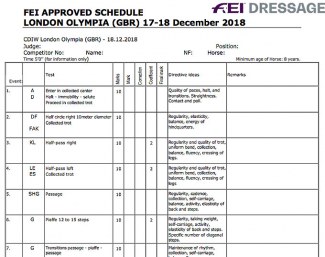 The show organization of the London Olympia Horse Show has published the FEI approved schedule for the 2018 CDI-W London, which includes new shortened Grand Prix test, that will be ridden for the first time at this event.
Last week's news of a new shortened Grand Prix test came as a big surprise to the dressage world. 
The FEI Dressage Committee has agreed to a new shortened Grand Prix on request of the FEI World Cup Organizing Committee (who are the members)
"The aim of this pilot phase is to maintain a pacey and interesting competition on the first day, keep the audience engaged, expose emotions with direct interview of the athletes still mounted at the end of the test," the FEI stated in a press release.
The new test has now been posted. See below.
Eurodressage will soon publish an editorial about this new project as numerous issues have arisen with the launch of the pilot project, that affect the sport and create an unlevel field of play.
Related Links
Olympia Reveals Details of Shortened Grand Prix Pilot Project
FEI To Test Shortened Grand Prix Version at 2018 CDI-W London