KWPN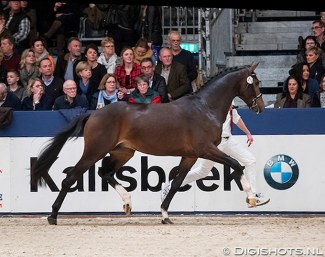 Twenty dressage bred young stallion prospects have begun the 2018 KWPN Autumn Stallion Performance Testing in Ermelo, The Netherlands, on 8 October 2018.
The majority of the stallions will do a 50-day testing, a few are allowed to do the 21-day shortened version as they have already proven themselves with first sport results. 
On 17 September a special saddle presentation was organized in Ermelo for performance test candidates and the committee accepted 27 colts in total to begin the testing. However, only 20 were delivered in Ermelo last Monday. Sixteen 3-year olds and four 4-year olds, including the 2017 KWPN Licensing Champion Jameson who will do the 21-day test after winning the Pavo Cup.
On 8 October 2018 at the beginning of the autumn test, the stallions were once more presented under saddle by their own riders and four of them were rejected by the licensing committee and/or veterinarian. They are Kityikana (by All At Once x Westpoint), Kenzo (by Ferguson x Vivaldi), Knappe Jonge (by Ferguson x Jazz), and a nameless San Amour x Zardin Firfod.
Four colts will do the shortened 21-day test: Jameson (by Zack) and Pavo Cup competitors Jheronimus (Dream Boy x Jazz) and Jason (Johnson x Negro). The 5-year old Pavo Cup competitor Ivanof (by Desperado) is a free entry for the testing and will also do the 21-day tract.
Beginning the 2018 KWPN Autumn Stallion Performance test are:
Kojack (by Arlando)
Karaat U.S. (by Bordeaux)
Kaygo (by Capri Sonne Jr.)
Kaiser DVB (by De Niro)
Kevin (by Dream Boy)
Kingly-Utopia (vby Expression)
Kyton Platinum (by Ferguson)
Fonq (by Fürst Fohlenhof)
Kingston JZ (by Toto Jr.)
Kostolany B (by Toto Jr.)
Kontender DSD (by Governor)
Kioto (by Governor)
Kratos de Jeu (by H-Ekwador)
Kjento V.O.D. (by Negro)
Kilian-Singapore (by Sir Donnerhall)
Wedgwood (by Woodlander Wild Child)
21-day testing
Jameson RS2 ( by Blue Hors Zack)
Jheronimus (by Dream Boy)
Jason (by Johnson)
Ivanof (byDesperado)
Photo © Digishots
Related Links
Twenty-Seven Colts Head to 2018 Autumn KWPN Stallion Performance Testing
Kremlin MD, Champion of the 2018 KWPN Stallion Licensing
Knock Out, High Scorer of the 2018 KWPN Spring Stallion Performance Testing