U.S.A.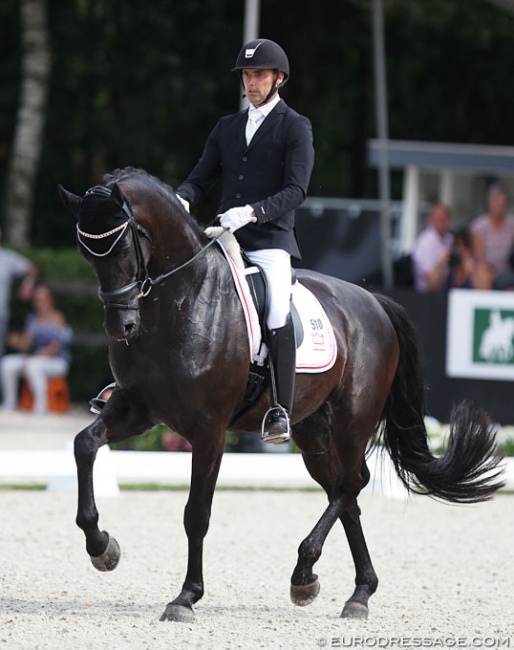 Danish born American Grand Prix rider and brand new 2018 U.S. Grand Prix champion Charlotte Jorst has returned to her horse source in Denmark, Helgstrand Dressage, for a new shopping spree.
The Reno, Nevada based rider returned with three new horses in her ownership: Zhaplin Langholt, Atterupgaards Botticelli and Grand Galaxy Win
Jorst has expanded her string of horses with three new irons in the fire: the 5-year old Danish bred Zhaplin Langholt (by Zonik), the 6-year old Danish licensed and WFFS positive stallion Atterupgaards Botticelli (by Benetton Dream) and the 7-year old KWPN licensed stallion Grand Galaxy Win (by Apache).
Jorst told Eurodressage that both Botticelli and Grand Galaxy Win will be standing at stud in the U.S.A once they have arrived.
"

There is no doubt that Zhaplin is a very special horse for me and that's because I had the pleasure of riding him myself," Andreas Helgstrand stated. It gives me great pleasure that Charlotte sees the same potential in Zhaplin that I do and I am very much looking forward to following Charlotte and Zhaplin in the future. We are very proud that our customers return time after time. We follow our customers closely on their way as they develop as a dressage rider and it makes us proud when they return to Helgstrand Dressage to find their new dressage prospect in order to fulfill their dreams."


Zhaplin has already arrived at Jorst's farm, while Botticelli will follow soon. Helgstrand states that Grand Galaxy will stay with him and continue his training under Severo Jurado Lopez. Jorst clarified the situation with Grand Galaxy Win as following: "Grand Galaxy will stay at least till next fall. However he will come to the us in December, go back in March, breed and get trained until I permanently bring him over."
In exchange, Jorst has sent her small tour horse Ray Dance to Denmark to be sold. The horse already moved to Europe right after the 2018 U.S. Dressage Championships in Wayne, ILL, in August. Joining Ray Dance in Denmark will be Severo Jurado Lopez' 2016 Spanish Olympic team horse Lorenzo, which Jorst purchased in May 2017 as Nintendo's successor. Lorenzo never got to compete in the U.S.A. due to injury. 
"Lorenzo is doing great. He is returning to Europe this month to be in his normal surroundings," Jorst told Eurodressage. "I'm not sure if I'll sell Lorenzo. Once he's back doing the Grand Prix, I probably would, but nothing is cast in stone."
Photo © Astrid Appels
Related Links
Yang and Jorst Claim Titles on Final Day of 2018 U.S. Dressage Championships
Charlotte Jorst's Lorenzo Injured, Six Months Off
Severo Jurado Lopez' Lorenzo Sold to Charlotte Jorst
Zhaplin Langholt Wins 2018 Danish Warmblood Young Horse Championships
Revolution Leads the Way in Spectacular 5-year old Field at 2018 World Young Horse Championships
Springbank II, Atterupgaards Botticelli WFFS Carriers, Helgstrand Stallions Partly Tested
Helgstrand Buys Half Ownership of Atterupgaards Boticelli
Governor, High Scorer of 2014 KWPN Autumn Stallion Performance Testing