Denmark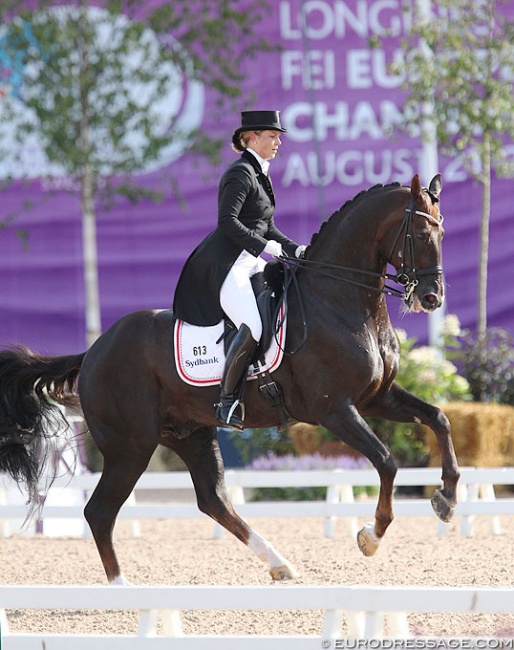 Anna Kasprzak's double Danish Olympic team horse Donnperignon has been retired from competition sport. The 19-year old Finnish warmblood will receive a special retirement ceremony at the 2018 CDI-W Herning.
Donnperignon is bred by Pekka Rasanen in Finland and is by Donnerhall out of Montserrat (by Mozart II). 
The liver chestnut was discovered by German Christoph Koschel as a 4-year old and he purchased it. The pair represented Germany at the 2005 World Young Horse Championships in Verden, Germany, where they finished 11th in the 6-year old consolation finals. The horse was then ridden with Toni and Marina "Meggle's" prefix as Koschel was connected to them as their rider.
In 2008 the combination made its international Grand Prix debut in Fritzens and went on team bronze at the 2010 World Equestrian Games in Lexington, UAS, and team silver at the 2011 European Championships in Rotterdam. They also won kur silver at the 2011 German Championships. 
In September 2011 Donnperignon sold to then young rider/u Anna Kasprzak as her Grand Prix schoolmaster. They made their CDI debut in Bremen in February 2012 and went on to represent Denmark at the 2012 Olympic Games in London, 2013 European Championships in Herning, 2014 World Equestrian Games in Caen, 2015 European Championships in Aachen, 2016 Olympic Games in Rio de Janeiro and the World Cup Finals in 2013 and 2016. The pair won the Danish Championships in 2013 and 2015. 
Their last competition together was already a year ago, the 2017 European Championships in Gothenburg, where Denmark won team silver.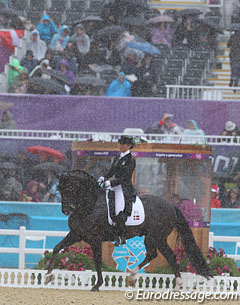 "I've always said that no results should decide when he's not going to ride competitions anymore," Kasprzak explained. "He has met all requirements, expectations and wishes. When we bought him, I hoped that he could teach me a lot, but I had not imagined that we should achieve that much together. He has been a great partner and I owe him the best retirement."
Kasprzak, who became a first time mom this year, will continue her show career with her string of horses which includes Quarton, Rock Star, Romanova and Patrik.
"Pepe has always made me feel safe because I know him so well," said Anna. "The same security is still under construction with my other horses, and it's an exciting time and something I'm looking forward to have with them, but with Pepe, I knew that he would always go to the arena and do his very best for me. Pepe was the one who showed me the way, but now I'm the one who leads the younger and more unutilized horses, and I'll have to get used to that. But I hope that I get a lot of good results with the new ones as well, though I will definitely miss Pepe when we go to the big events. But fortunately he is still in the stable at home for hopefully many years to come."
Photos © Astrid Appels
Related Links
Eurodressage Photo Database: Donnperignon
Kasprzak Withdraws Donnperignon from 2017 Danish Championships
Donnperignon Undergoes Second Eye Operation
Donnperignon Withdrawn from 2016 CDI-W Odense, Eye Issue Returned
Anna Kasprzak Diagnosed with Three Cracked Ribs
Kasprzak Takes the Grand Prix at 2015 CDI-W Odense
Anna Kasprzak Toasts Triple Victory and Wins 2013 Danish Dressage Championships
Anna Kasprzak's Donnperignon Operated On
Anna Kasprzak Wins the 2013 CDI-W Odense Grand Prix
Kasprzak to Miss 2012 Danish Championships, Donnperignon Injured
Photo Report: Kasprzak's Streak of Success Continues at 2012 CDI Mannheim
Christoph Koschel's Donnperignon Sold to Anna Kasprzak
Rath Secures National Title with Totilas at 2011 German Championships in Balve
Scores: 2005 World Championships for Young Dressage Horses