2018 French Young Horse Championships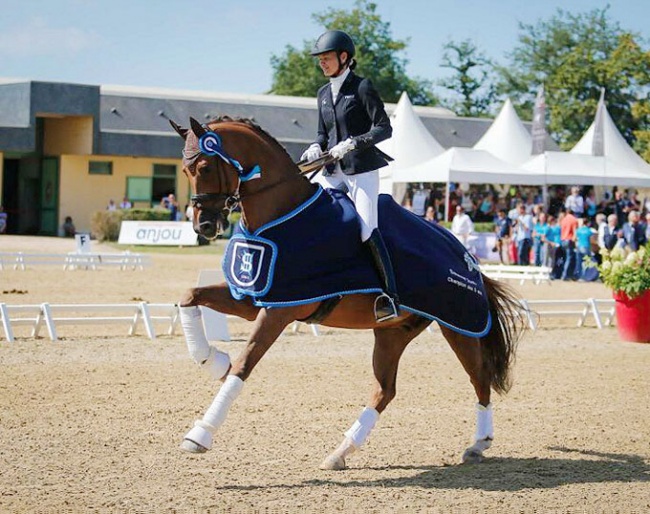 The 4-year old Join Me de Massa, the 5-year old Dorian Grey de Hus and the 6-year old First Step Valentin became the winners of the 2018 French Young Horse Championships held during the 2018 CDI Saumur on 7 - 9 September 2018. 
In the 4-year old division Renaud Ramadier steered the Portuguese Sport Horse bred Join Me de Massa (by Everdale x Rieto) to victory with an 86.8 total score. The combination was fourth in the preliminary round with 81.8% and won the finals round with 87.8%. Jessica Michel-Botton and Haras de Hus' Don Vito (by Don Juan de Hus x De Niro) became the reserve champions with 84.6 and 85.2 (total 85.1), while Michel also took home the bronze on her own Diva Star de Hus (by Don Juan de Hus x Rubin Royal). This mare scored 84.6 and 83.6 to total 83.8 for third place. Fifteen combinations competed in the 4-year old division and fair pairs scored an overall of 80 or more.
Fourteen combinations competed in the 5-year old divsion and the French star of the 2018 World Young Horse Championships, Jessica Michel-Botton and Dorian Grey de Hus, also shone brightly at their own nationals. Owned by Xavier Marie of Haras de Hus, Dorian Grey (by Don Juan de Hus x Sandro Hit) won both rounds with 87.9 and 89.6 to total a winning 89.4 points. This is the second, consecutive French title for Dorian Grey. Ermelo contestant Guillaume Recoing and the Hanoverian mare Star de l'Ocean (by Soliman x Carismo) were the runners-up with 86.8 and 88.4 to average 88.2 points. Maria Jose de la Chica Parras and the Selle Français bred Filarmonie de Malleret (by Furstenball x De Niro) scored the bronze with 78.2 and 83.6 (total 82.9 pts).
In the 6-year old division it was a Belgian pair that took the French national title! Larissa Pauluis and the Westfalian bred stallion First Step Valentin (by Vitalis x Fidermark) were strikingly absent from this year's 2018 young horse show circuit and not up for contention for Ermelo, after having been the top pair for Belgium at the 2017 World Championships. However, the duo returned to the public eye in France and won the French Championships with an 85.2 score in the Finals test. The liver chestnut Valentin has now won the French title three years in a row. French based Australian Rebecca Rooke grabbed the silver medal on Jean Moegen's Muschamp Royal Black, a Trakehner gelding by All Inclusive x Biotop. The duo scored 79.6 in the Finals. Alizee Rousseal and the Oldenburg bred Bel Amour (by Bretton Woods x Donnerhall) finished with bronze after posting 78.4 on the board in the Finals round.
Results: 4-year olds - 5-year olds - 6-year old
Photo © Les Garennes
Related Links
Dorian Grey de Hus, First Step Valentin, Flair Royal Win 2017 French Young Horse Championships
Valentin, Diamondgio, Barroso Win 2016 French Young Horse Championships 
Flair Royal, Quaterdance, Quaterbold du Payrol Win 2015 French Young Horse Championships
Quaterdance, Kojak, Hermes de Hus Win 2014 French Young Horse Championships
Kojak, Hermes de Hus, Django de Charry Win 2013 French Young Horse Championships
Don Juan de Hus, Danciero de Hus, Dona Primera Win 2012 French Young Horse Championships
Blacktime, Grand Passion, Socrate de Hus Win 2010 French Young Horse Championships
Rock N Roll Star, Socrate de Hus and Wodan are 2009 French Young Horse Champions
Jessica Michel, Triple French Champion with Prime Time, Noble Dream, Riwera at 2007 French Young Horse Championships