2018 British Dressage Championships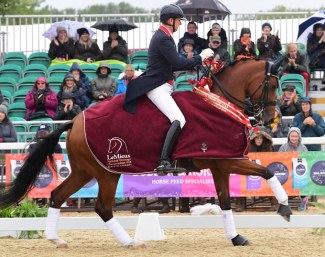 Super Saturday at the 2018 British Dressage Championships didn't fail to disappoint as Britain's finest future horses battled for elusive places in the Young Horse Finals. Spectators were treated to an exciting start to the British Grand Prix Championships, an ever-popular Intermediate I Freestyle plus an educational Master Class with Anna Ross.
Hughes Wins 2018 British Grand Prix Championship
It may have been a 20 mile journey to a Championship rather than the 3000 mile one he was hoping for at the beginning of the season but the trip was a profitable one for Gareth Hughes today as he took the British Grand Prix title with Rebecca Hughes's Briolinca (by Trento B x Royal Dance). In one of the most competitive classes of the show, Gareth earlier posted 70.4% with his first ride KK Woodstock (by Wolkentanz II x Landioso), owned by the Kroll's which set the early pace. 
Fellow World Equestrian Games reserve rider Lara Butler then knocked him off the top spot with the Bechtolsheimer's Rubin Al Asad (by Rubin Royal), 2017 winners of this class, with a score of 72.58%.
A few horses later, Gareth then came in with Briolinca and produced a crisp, lively test with her trademark piaffe and passage work really impressing the judging panel of Stephen Clarke (E), Peter Storr (H), Elke Ebert (C), Maria Colliander (M) and Nicky Barratt (B) who duly awarded an average score of 74.3% for the lead.
New Grand Prix sensations Sonnar Murray-Brown and Erlentanz followed immediately and looked to be on course to challenge for the lead but a final score of 70.58% meant they couldn't quite match Gareth.
The final rider was reigning National Champion Hayley Watson-Greaves with her own WG Rubins Nite (by Rubin Royal) and the duo were in fine form but again, just couldn't match Gareth. 69.62% was the score which left them fourth overall, some 4.3% behind the winner.
"She's had a great year but a foot abscess after Bolesworth must have been an influence on selection so it wasn't to be. I was out in Tryon and exceptionally proud to see them win the medal. I guess you could say this is a great consolation prize for not making the trip! I was really happy with her today; she's not been out since Bolesworth and being out in Tryon training two teams, I haven't done a lot of preparation with her ahead of today," said a delighted Gareth.
"It's a big atmosphere in there and she's proved she can do it; I'm really proud of her," he concluded.
Dujardin Scores Hattrick and Takes Out Intermediate I Freestyle Title
For the second consecutive year Charlotte Dujardin was crowned champion in the Intermediate I Freestyle. Her win with her own Florentina (by Vivaldi x Rubels x Larduc), taking the tally to three over two days, also added the Intermediate I Supreme Champion title to her immense National Championships collection.
Today's freestyle test saw the combination earn 76.67% from the experienced panel consisting of Sandy Phillips, Jenny Ward, Sarah Pidgley, Penelope Lang and David Trott.
Speaking about her Supreme Champion wonder horse Charlotte said, "Flora was a bit tired today but I was still pleased. We had no real mistakes and just the fact that she goes in there and she delivers every time is special. She's very consistent and has also dealt very well with me being away which proves her consistency."
Known for her ability to 'wing it' in a freestyle, today Charlotte proved her talent once again, "It was actually designed for En Vogue!" she said about her music created by talented composer Tom Hunt. "I just pinched it! I don't have freestyles for all these horses and I'm never organised enough to get anything done, I just borrow what I can."
Looking ahead to the final day of competition, Charlotte concluded "I'm looking forward to tomorrow. I've got four in the Advanced Medium so it's going to be a busy day!"
Second place in the competitive Intermediate I final went to Hannah Biggs with her own Don Caledonia (by Don Schufro out of What a Lark), whilst Alice Oppenheimer continued to build on her great form to claim the third spot with her mother Sarah's eight-year-old Headmore Davina (by Dimaggio out of Rubinsteena).
Text by British Dressage
Related Links
Dujardin and Florentina Make it Two at 2018 British Dressage Championships
Dujardin and Butler Take First Titles on Day One of 2018 British Dressage Championships