2018 World Equestrian Games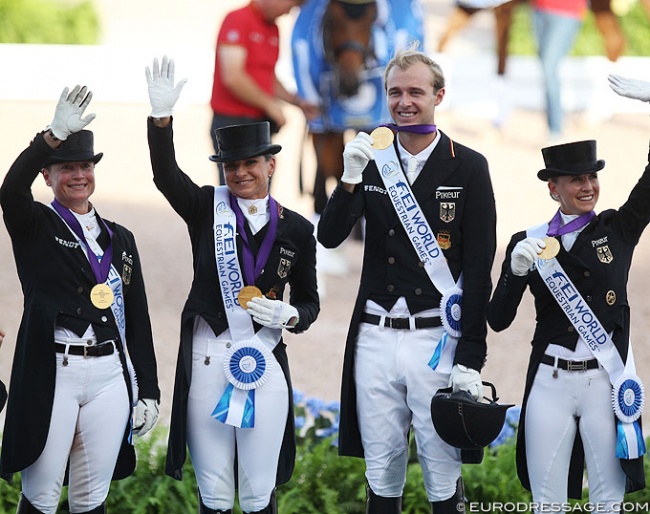 Germany won the team gold medal at the 2018 World Equestrian Games in Tryon on 13 September 2018. Silver went to the home team U.S.A, while Great Britain grabbed bronze.
The top 30 of the Grand Prix moves on to the Grand Prix Special, which is held on Friday 14 September 2018. The Special will count for an individual set of medals.
The top 18 from the Special (with a restriction of three riders from one nation) will move on to the Grand Prix Kur to Music on Sunday 16 September 2018. 
Here is the order of go for the Grand Prix Special
 
TIME
COMPETITOR
 
 
1.
10.30 hrs
Fil Rouge
Laurence Roos
BEL
 
 
 
dbay / 13y. / G / BWP / Stedinger / Argentinus / 102NO69 / Laurence Roos
 
 
 
2.
10.40 hrs
Coroado
Maria Caetano
POR
 
 
 
grey / 11y. / S / LUS / Rubi / Xaquiro / 103VQ51 / Juan Manuel Cordeiro
 
 
 
3.
10.50 hrs
Finckenstein TSF
Rikke Svane
DEN
 
 
 
black / 16y. / S / TRAK / Latimer / Kennedy / 103FA60 / Svane Rikke,Svane Rebecca
 
 
 
4.
11.00 hrs
Du Soleil
Kristy Oatley
AUS
 
 
 
chest / 14y. / G / HANN / de Niro 6 / Caprimond / 102ZI76 / Rosalind & Robert Oatley
 
 
 
5.
11.10 hrs
Dono di Maggio
Emile Faurie
GBR
 
 
 
bay / 11y. / G / OLDBG / Dimaggio / Santander H / 104QJ17 / Hof Kasselmann KG
 
 
 
6.
11.20 hrs
Vancouver K
Judy Reynolds
IRL
 
 
 
bay / 16y. / G / KWPN / Jazz / Ferro / IRL40808 / Joe & Kathleen Reynolds
 
 
 
7.
11.30 hrs
Mister X
Inessa Merkulova
RUS
 
 
 
bay / 14y. / G / TRAK / Egejus / Blank / 102YZ81 / Inessa Merkulova
 
 
 
8.
11.40 hrs
Apache
Emmelie Scholtens
NED
 
 
 
bay / 13y. / S / KWPN / Ub-40 / Krack C / 103TQ51 / A. Valk
 
 
 
 
BREAK
 
 
9.
12.10 hrs
Alcaide
Claudio Castilla Ruiz
ESP
 
 
 
chest / 13y. / S / LUS / Lobito / Novilheiro / 103DW31 / Claudio Castilla- Yeguada la Perla
 
 
 
10.
12.20 hrs
Don Auriello
Tinne Vilhelmson Silfvén
SWE
 
 
 
bay / 16y. / G / HANN / Don Davidoff / White Star / GER43436 / Lövsta Stuteri,Antonia Ax:son Johns
 
 
 
11.
12.30 hrs
Glock's Dream Boy N.O.P.
Hans Peter Minderhoud
NED
 
 
 
black / 10y. / S / KWPN / Vivaldi / Ferro / 104BI66 / GLOCK HPC Holding BV,Palmar BV,Stal
 
 
 
12.
12.40 hrs
Cennin
Madeleine Witte-Vrees
NED
 
 
 
chest / 11y. / S / KWPN / Vivaldi / Donnerhall / 104MY84 / N.F. Witte,J.E.J. Cuppen
 
 
 
13.
12.50 hrs
Suppenkasper
Steffen Peters
USA
 
 
 
bay / 10y. / G / KWPN / Spielberg / Krack C / 105DN05 / Four Winds Farm,Akiko Yamazaki
 
 
 
14.
13.00 hrs
Delgado
Beatriz Ferrer-Salat
ESP
 
 
 
chest / 17y. / G / WESTF / de Niro 6 / Weltmeyer / ESP40884 / Deliber S.L.
 
 
 
15.
13.10 hrs
Deep Impact 3
Severo Jurado Lopez
ESP
 
 
 
black / 15y. / G / HANN / De Niro / Rubinstein I / 104EJ06 / Helgstrand Dressage A/S
 
 
 
 
BREAK
 
 
16.
14.30 hrs
Dante Weltino OLD
Therese Nilshagen
SWE
 
 
 
black / 11y. / S / OLDBG / Danone 4 / Welt Hit II / 104VX30 / Dressurpferde Leistungsz,T. Nilshag
 
 
 
17.
14.40 hrs
Salvino
Adrienne Lyle
USA
 
 
 
bay / 11y. / S / HANN / Sandro Hit / Donnerhall / 103LR77 / Betsy Juliano LLC
 
 
 
18.
14.50 hrs
Buriel K.H.
Juliette Ramel
SWE
 
 
 
dbay / 12y. / G / KWPN / Osmium / Krack C / 104EF70 / La Pomme HB
 
 
 
19.
15.00 hrs
Super Nova II
Spencer Wilton
GBR
 
 
 
bay / 15y. / G / BHHS / de Niro 6 / 102UB50 / Jen Goodman,Spencer Wilton
 
 
 
20.
15.10 hrs
Sammy Davis Jr.
Dorothee Schneider
GER
 
 
 
black / 12y. / G / BAY / San Remo / Wenckstern / 105KW44 / Matthias Herbert
 
 
 
21.
15.20 hrs
Blue Hors Zack
Daniel Bachmann Andersen
DEN
 
 
 
bay / 14y. / S / KWPN / Rousseau / Jazz / 104KR71 / Blue Hors APS
 
 
 
22.
15.30 hrs
TSF Dalera BB
Jessica von Bredow-Werndl
GER
 
 
 
dbay / 11y. / M / TRAK / Easy Game / Handryk / 105AH62 / Beatrice A. Bürchler-Keller
 
 
 
23.
15.40 hrs
Goerklintgaards Dublet
Kasey Perry-Glass
USA
 
 
 
bay / 15y. / G / DWB / Diamond Hit / Ferro / 103NW13 / Diane Perry
 
 
 
 
BREAK
 
 
24.
16.10 hrs
Hawtins Delicato
Carl Hester
GBR
 
 
 
bay / 10y. / G / HANN / Diamond Hit / 104ES67 / Carl Hester,Lady Anne Evans,Ann Cor
 
 
 
25.
16.20 hrs
Glock's Zonik N.O.P.
Edward Gal
NED
 
 
 
dbay / 10y. / S / DWB / Blue Hors Zack / Romanov / 104AW69 / Glock HPC Holding B.V.
 
 
 
26.
16.30 hrs
Well Done de la Roche CMF
Patrik Kittel
SWE
 
 
 
bay / 10y. / M / CH / FURSTENTRAUM (Bayerischt warmb / Walt Disney / 104ZW30 / Françoise Trembley,Brigitte Bigar,M
 
 
 
27.
16.40 hrs
Verdades
Laura Graves
USA
 
 
 
bay / 16y. / G / KWPN / Florett As / Goya / 103CK84 / Laura Graves,Curt Maes
 
 
 
28.
16.50 hrs
Cosmo
Sönke Rothenberger
GER
 
 
 
bay / 11y. / G / KWPN / van Gogh / Fruhling / Landjonker / 103LZ60 / Rothenberger im Gestüt Erlenhof Gmb
 
 
 
29.
17.00 hrs
Mount St John Freestyle
Charlotte Dujardin
GBR
 
 
 
dbay / 9y. / M / HANN / Fidermark / Donnerhall / 105BZ34 / Emma Blundell,Jill Blundell
 
 
 
30.
17.10 hrs
Bella Rose
Isabell Werth
GER
 
 
 
chest / 14y. / M / WESTF / Belissimo / Cacir Aa / 103CM31 / Madeleine Winter-Schulze