2018 World Equestrian Games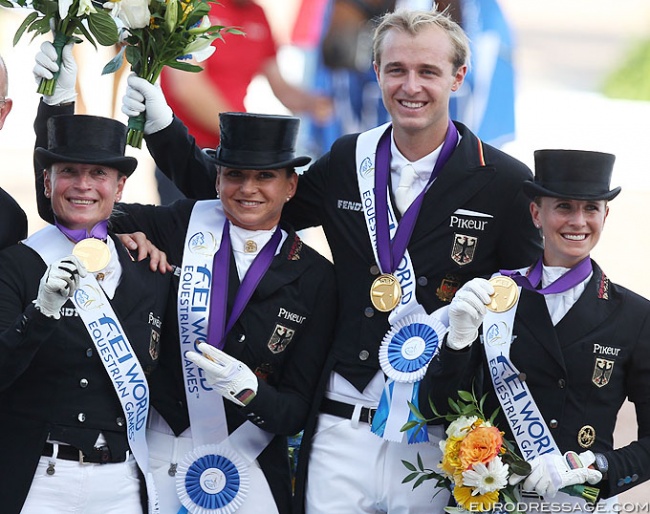 (FEI press release - by Louise Parkes) - Brilliant performances from Sonke Rothenberger (23) and Isabell Werth (49) secured the title for Germany in the Grand Prix, sponsored by Helgstrand Dressage, at the 2018 World Equestrian Games in Tryon, USA on Thursday 13 September 2018.
The defending champions threw down the gauntlet when Jessica von Bredow-Werndl's (32) leading score with TSF Dalera BB was backed up by another great result from Dorothee Schneider (49) and Sammy Davis Jr. yesterday. And this evening their national anthem rang out across the US Trust Arena when their compatriots wrapped it up to secure their 12th victory in the 52-year history of the world Dressage championships, and their seventh in the eight editions of World Equestrian Games™.
It was a gritty battle for silver and bronze, with only a whisper separating the British, Americans and Swedes going into the closing stages. And it was the Swedes who lost out on a podium placing when Laura Graves' last-to-go effort saw the host nation pin them back to fourth by an agonizing 0.15 points.
Werth has won more medals than any other athlete in equestrian sport, but today's success with her beloved 14-year-old mare Bella Rose, who was already rising to the very top before suffering an injury in 2014 that put her out of action for more than three years, was something very special to her. She burst into tears after posting 84.829 to put the result beyond doubt with the biggest score of the competition.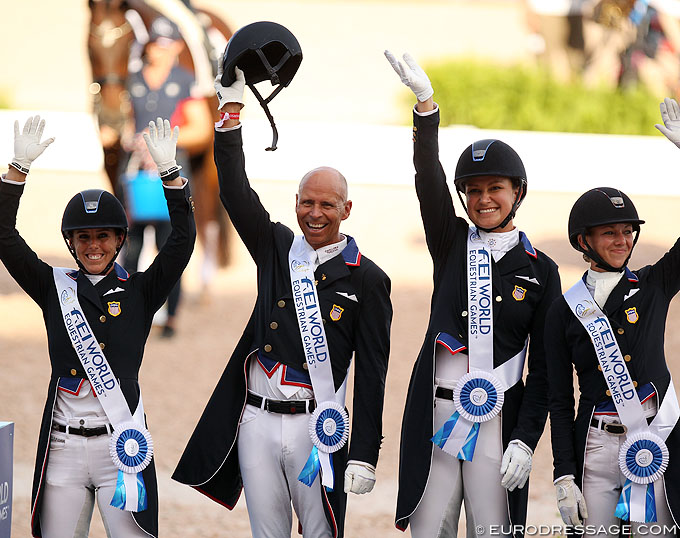 "Most people know that my heart is so close to this horse. She is a gift, I saw that when I first met her as a three-year-old and she has never lost it. Her lightness, her elegance, she never wants to make a mistake, she's full of power and energy, it is the greatest pleasure to work with her," said Isabell Werth (GER), the six-time Olympic gold medallist who was also on winning teams at the FEI World Equestrian Games at The Hague (NED) in 1994, Rome (ITA) in 1998, Aachen (GER) in 2006 and Caen (FRA) in 2014. 
Rothenberger, whose father, Sven, was also in that victorious German side in 1990, was delighted with his score of 81.444 with Cosmo. "He gave me so much in the last extended trot, I don't think there are too many horses that give so much and it felt really easy for me and that's what dressage is about" he said.
Once Werth had settled the destiny of gold it was a nervous wait for the British whose total score of 229.628 was already settled. The final riders from Sweden and USA could push them out of a medal placing, and Sweden's Patrik Kittel came very close to doing just that when putting 78.199 on the board, but it wasn't quite enough. And when Graves and Verdades produced the second-best mark of the day, 81.537, the British had to settle for bronze. But Carl Hester (Hawtins Delicato), Charlotte Dujardin (Mount St John Freestyle), Emile Faurie (Dono di Maggio) and Spencer Wilton (Super Nova ll) were well-pleased with what they achieved with three exciting young horses on their team.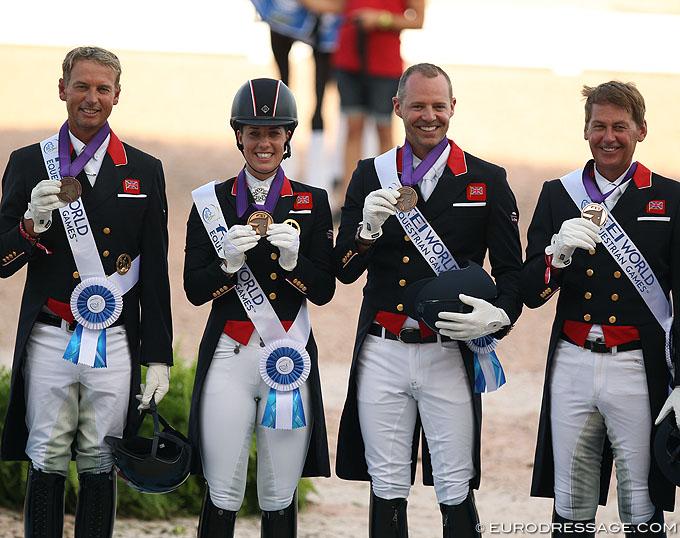 Graves was delighted to pull her country into silver medal spot backed up by great performances from Steffen Peters (Suppenkasper), Adrienne Lyle (Salvino) and Kasey Perry-Glass (Goerklintgaards Dublet). "I was feeling a bit under the weather today but adrenalin is an amazing thing, and this is an amazing team to ride on!" she said. 
Text by Louise Parkes for the FEI 
Photos © Astrid Appels  - No reproduction allowed
Eurodressage is on the scene to cover this event and take photographers. Interested in photos for social media use or prints, contact us
Related Link
Eurodressage Coverage of the 2018 World Equestrian Games