2018 World Equestrian Games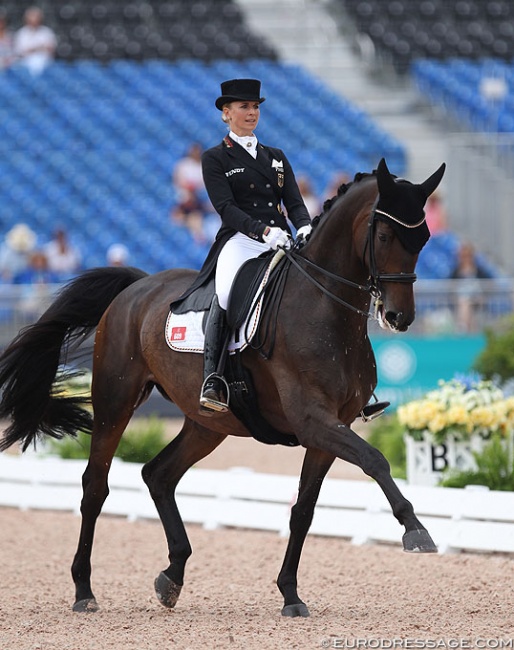 (FEI press release, by Louise Parkes) - Germany took the lead after the first day of Team Dressage at the 2018 World Equestrian Games in Tryon on Wednesday 12 September 2018, but the defending champions have only a narrow lead over Sweden in silver and the USA in bronze medal position when the battle resumes in the morning.
This halfway result is based on the best individual score for each team in today's Grand Prix, so there is plenty of room for dramatic change before the podium places are decided.
German domination was underpinned by the best performance of the day from Jessica von Bredow-Werndl (32) and the 11-year-old mare TSF Dalera BB whose mark of 76.77 gives her side a 1.4 point advantage over the Swedes.
A personal-best score of 75.248 from Juliette Ramel (31) and Buriel K saw them slot into second and dramatically boost Swedish chances. A total of 38 horse-and-rider combinations took their turn today, and another 39 will strut their stuff before the 2018 champions are crowned tomorrow evening.
The mighty Germans are chasing down their 12th world championship team title, and Von Bredow-Werndl has put them on track to achieve just that on her own world championship debut.
""I watched the first two horses from up in the stand with my brother Benni and I suddenly got the shivers and felt motivated because I realised how many other people would like to be in my shoes! So I went in there feeling full of power and Delera was just brilliant," said Von Bredow-Werndl.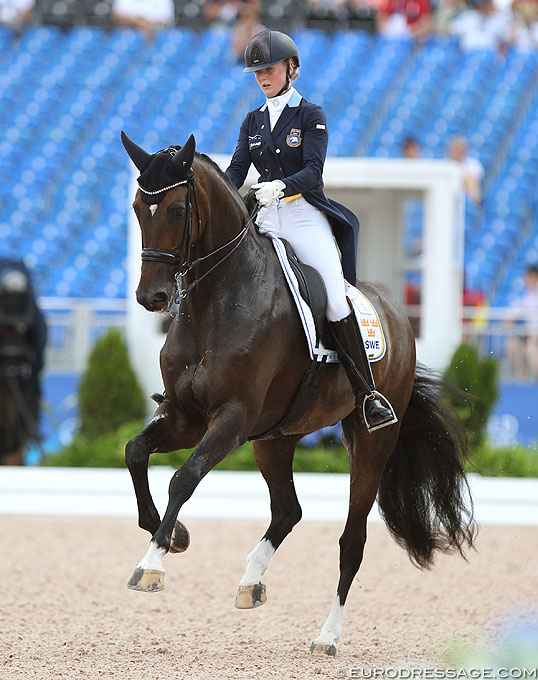 Ramel and Buriel KH were in the Swedish team that finished fifth at the Rio 2016 Olympic Games where they were hugely impressive. An accident while competing in Aachen (GER) last summer however put the horse out of action for quite some time. But the rider, who initially trained with The Netherlands' Edward Gal and Hans Peter Minderhoud and who is now coached by Swedish star Patrick Kittel, has made an impressive comeback with the 12-year-old gelding this season when producing consistently good results, particularly in the Grand Prix Special. The top 30 combinations in the team event will qualify for individual medals in Friday's Special, so Ramel will be one to look out for over the coming days.
The host nation snatched third place at this halfway stage of the team event when Adrienne Lyle finished individually fourth with Salvino this afternoon.
"I'm specially pleased with him since we warmed up in a complete downpour and then it was blazing hot the next second - fitness is a big factor here. He's a big dark horse and I did my best to get him as fit as I could, and I'm glad I did because it took every ounce of the fitness he had out there in that heat!" Lyle said.
It's far from over however, with the British threatening strongly in fourth place just 0.3 behind the Americans and looking set to rocket up the leaderboard when Carl Hester and Hawtins Delicato and Charlotte Dujardin riding Mount St John Freestyle take to the arena floor.
The Netherlands holds fifth place, Spain is in sixth and Denmark lies seventh of the 15 competing nations.
text by Louise Parkes - Photos © Astrid Appels  - No reproduction allowed
Eurodressage is on the scene to cover this event and take photographers. Interested in photos for social media use or prints, contact us
A Eurodressage original show report on the Grand Prix will follow on Thursday after the conclusion of the class. 
Related Link
Eurodressage Coverage of the 2018 World Equestrian Games