KWPN Foal Auctions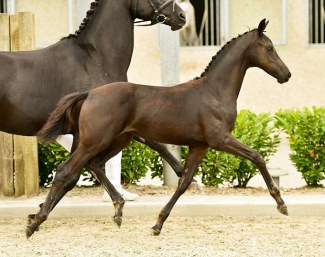 The black filly Nina Reina became the top selling foal at the 2018 Dronten KWPN Foal auction, which achieved mediocre prices with just three foals selling for over 10,000 euro in a collection of 63.
The Dronten Foal Auction was held in Ermelo, The Netherlands, on 8 September 2018 and it was the 28th edition.
Two dressage bred foals achieved the highest sales price. The top seller was Nina Reina (by Secret x Chippendale) which sold for 11,500 euro.
The second most expensive foal was filly Nohla Turfhorst (by Franklin x Jazz) which was purchased by Anita Janssens of FIRA Horses for 11,000 euro.
The third most expensive foal was the jumper colt Nainggolan TG (by Balou du Rouet x  Cassini I). Named after a Belgian soccer star, this colt sold for 10,000 euro. Two jumper foals sold for 9,500 euro: Nobolensky (by Cornet Obolensky x Concorde) and Carzella AWH Z (by Carrera VDL x Indoctro).
The average price for a foal at this auction was 5,600 euro.