Bits 'n Pieces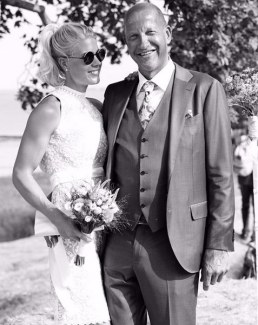 It's nice to compete at a CDI, don't you think. Check out the video embedded on the right of the 2018 CDI-W Saugerties in New York!
The 9-year old licensed Trakehner stallion Herakles (by Gribaldi x Michelangelo) has been sold at auction for 400,000 euro. The 2011 reserve licensing champion was trained up to Grand Prix level. Renate Weber purchased the stallion.
Right after competing Ibiza at the 2018 World Young Horse Championships in Ermelo, German Juliane Brunkhorst and her long-time partner and coach Hartwig Burfeind traveled to the mondaine island of Sylt in north Germany to get married. The 35-year old Brunkhorst started working as an assistant trainer at Hartwig Burfeind's yard years ago, but in November 2017 she began her independent business near Hamburg focusing on the riding of horses. The 52-year old Burfeind focuses on training and coaching. The pair continues to collaborate professionally and now they got hitched. Congratulations!
More wedding bells in August. Helen Langehanenberg and David Lichtenberg already got married in a civil ceremony right before the birth of daughter Malin two years ago, but on the weekend of 10-12 August they celebrated their union again in a ceremony with friends and family. Langehanenberg recently gave birth of second daughter Finja. 
Dutch stallion owner Joop van Uytert and dressage rider Renate van Vliet got married on Saturday 18 August 2018. The bride wore a beautiful gown with lace top while the bridesmaids were all in peach-pink.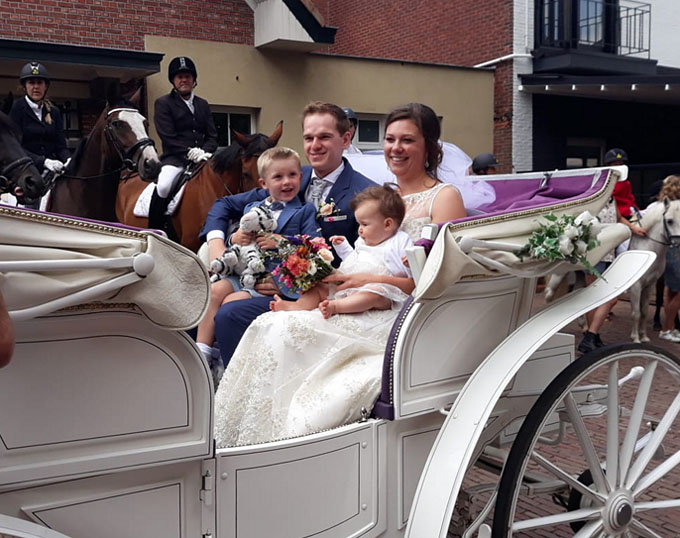 It was very busy times for Belgian Grand Prix team rider Laurence Roos on the weekend of 10 - 12 August. Not only did she compete at the 2018 Belgian Dressage Championships to win silver on Fil Rouge, but on Saturday 11 August the dentist by profession also got married to her partner of five years, Wim Buyens, a quality manager with the industrial bakery Lantmannen Unibake.  
The breeding yard of Frank Moormann in Wettrup, Germany, almost fully burnt down on 26 July 2018. All sixty horses were brought to safety but the complete feed storage, a part of the stable area and the house got destroyed. The horses are now housed and fed in the field and some stallions have been moved to Gestut Sprehe and Stable Ramsbrock in the area.
Horses.nl reported that the 24-year old NRPS licensed pony stallion Kanshebber (by Krimh ox) has passed away on 31 July 2018. The chestnut stallion was euthanized as he had developed epileptic seizures in July and was suffering too much. Kanshebber was owned by the Van de Laar family and bred by Wim Versteeg. Kanshebber's most famous dressage offspring is Orchid's Syria, who competed at the 2015 European Pony Championships under Belgian Dente de Schepper. Syria is now competed by Dutch Sanne van der Pols.
The Dutch newspaper De Gelderlander reported that the opposition parties in the Gelderland provincial government in Holland have raised major questions about the sponsorship "Province Gelderland" provides to equestrian events. This sponsorship happens in combination with major international gun corporation Glock. The political parties find it unacceptable that flags of Province Gelderland are waving next to those of Glock. Gelderland has invested two million euro into equestrian sport and events such as the Dutch Dressage Championships and Outdoor Gelderland receive tens of thousands of euros of support from the province. The Austrian based gun company Glock is also a sponsor of those two events.  The article interviewed a spokesperson of the Dutch Equestrian Federation (KNHS) and the KNHS sees no ethical issues in a gun company sponsoring Dutch riders (Gal, Minderhoud, Schröder) as there is "no connection with guns, but with the private stable of the Glock family."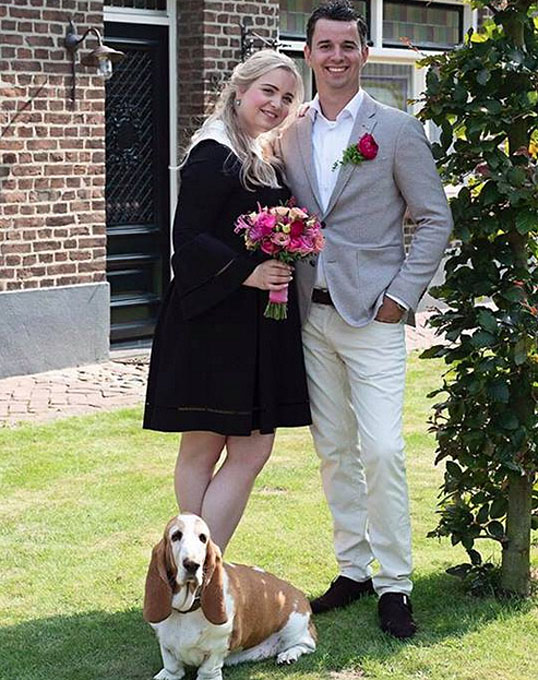 Former European Pony Champion Antoinette te Riele married Luc Claessens on 28 August 2018 after a short engagement. The 26-year old Claessens proposed to his long-time girlfriend on 18 July. The 24-year old Weert (NED) based Te Riele, who won gold at the 2009 and 2010 European Pony Championships on Golden Girl, rode her last international show 3 years ago, in December 2015, aboard Pimpernel.
Swedish WEG team reserve rider Antonia Ramel has acquired the 7-year old Amplemento (by Ampere x Sir Oldenburg) through her coach Patrik Kittel. The bay gelding was owned by Swedish Gunnarlunde Dressage and trained and competed by Swedish based Dane Jacob Nørby Sørensen. The horse finished 7th at the 2015 Swedish Young Horse Championships, 15th at the 2015 Danish Young Horse Championships and 4th in the consolation finals at the 2016 Danish Young Horse Championships.
The KWPN licensed stallion Westenwind (by Flemmingh x Contango) has been sold to Belgian para dressage rider Manon Claeys. Westenwind was originally owned by Adri Zekveld and first competed by Emmelie Scholtens. He represented the KWPN at the World Young Horse Championships and in the Pavo Cup Finals. In 2012 Belgian Tom Franckx received the ride and in 2016 he moved to Kirsten Brouwer's to be sold. This year he was competed by Ireen de Leeuw under the name Watch Me.
RS2 Dressage continues to invest in young horse stock. Saskia and Jacques Lemmens, sponsors of Dutch Grand Prix rider Robin van Lierop, have acquired the 3-year old Dutch warmblood Keano (by Governor x Krack C) which has been trained and competed by Yvonne Copal. RS2 Dressage's rider Marieke van der Putten will get the ride on the dark bay gelding.