KWPN Foal Auctions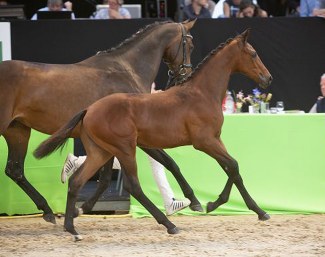 The bay colt Vesuvius van 't Zuyderbosch became the price highlight of the dressage collection at the 2018 Borculo Foal Auction held at equestrian centre Lichtenvoorde on Friday 30 August 2018. 
The bay colt by Valverde x Vivaldi sold for 81,000 euro to Austrian dressage sponsor Marianne Jerich. Adelinde Cornelissen made the final bid for Mrs Jerich. For Vesuvius' breeder Elbert Pater the sale was a shocking event as this was the first time ever he offered a foal for sale via an auction. 
"Marianne was very keen on this particular foal. It was so exciting! I've bought foals before over the telephone, but never for this sort of amount. The foal will now be going to Austria. And who knows, he might end up in my stables one day. I certainly wouldn't mind," said Cornelissen.
The colt Nashville LMD (by Desperados x Westpoint) sold for 56,000 euro to Dutch entrepreneur and investor Jan Pieter Dalsem.
The most expensive filly was Nina Felur van de Paulinehoeve (by For Romance x Jazz). She sold for 36,000 euro to the Dutchman Jan Kooi. He purchased seven foals in total at Borculo. 
The Borculo auction fetched more good prices. Nuance GS (by Franklin) sold for 29,000 euro, while Next Deniro H (by De Niro) switched owners for 27,000 euro. 
Filly Nalucienne STMT (by Quantensprung) sold for 19,000 euro to Dubai.
Related Links
KWPN Championships Promote Borculo Foals
Famous Dam Lines Define 2018 Borculo Auction Dressage Foal Collection
Mackenzie Texel, Price Highlight of the 2017 KWPN Foal Auction Borculo
Luxury Star-K van 't Kattenheye, Top Seller at 2016 KWPN Foal Auction in Borculo
Kyton, Top Dressage Seller at 2015 Borculo Foal Auction
Joolz, Price Highlight of the 2014 Borculo Foal Auction
I'm Special, Price Highlight of the 2013 Borculo Elite Foal Auction 
High Five, Price Highlight of 2012 Borculo Foal Auction
Gambo, Price Highlight of 2011 Borculo Elite Foal Auction
Excellent Average Price at 2010 KWPN Foal Auction in Borculo